Uncertainly certain about the future
In all my time at Steemit, it is now that I am the most uncertain about its future and the vision I had planned for my place within it. It was always a bit of a long shot but the odds are decreasing but, this doesn't mean they are non-existent. In some ways, I am glad this is happening now as Steem is still in its infancy.
In uncertainty is where life is really lived and the most valuable of it is when what is uncertain is the concept of the future itself. What I mean by this is that when we have our plans questioned heavily by circumstance we have the chance to step back, take stock and reevaluate our positions. Perhaps that is what I am doing now.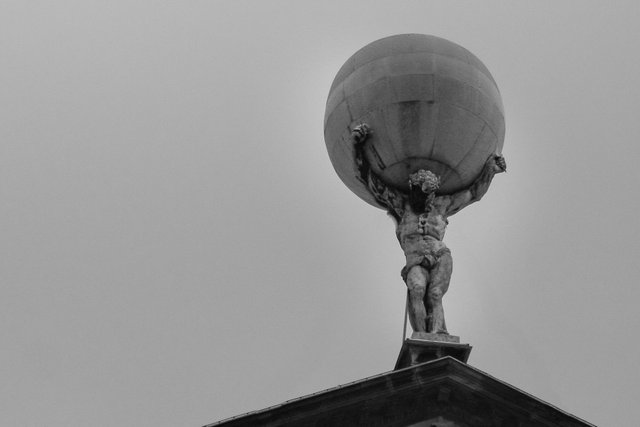 In no uncertain terms, the bidbots (at least in their current form) are the single largest threat to the community and if something isn't done, they will kill it. You might not care too much if you are a bidbot operator since you will make a pretty penny (if you own your own stake) and when it fails (due in large part to you), you will move on and justify your actions as "Lucky, you made it out with profit." For those using the bidbots however, I hope you have enough to retire on or your content is good enough that it can survive another platform.
If Steemit does fail, that will not be the end of this type of platform but, it may be the end of a decentralized version as a successful decentralized community requires members who self-govern for community development. That hasn't happened here yet and may never as greed overpowers community in the hierarchy of values. The next versions will take lessons from Steemit and likely say no to decentralization.
Funny isn't it? The thing that drew so many people onto the platform to begin with is probably going to be the nail in the coffin for the platform itself. Instead of using the decentralization to build a strong and equitable community, they use it to take all they can for individuals. Maybe the ability to maximize individual profits, not the distribution for community strength, was the real draw card for them and their pockets are never full enough.
The next platforms to come will solve many of the problems here but, don't expect users to have any control over it. Don't even expect you yourself to be able to earn at all. The next platforms will be monetized versions of the old where the ones who make the money are the already famous stars and those who are willing to sell themselves out for money and act in accordance with guidelines or, be demonetized. They will attract the masses but for the most part, the same old people will earn and just like the centralized/privatized bidbots, the owners will take the lion's share.
But, here is the uncertainty still, that final nail is not yet in the coffin, there is still a lot to hope for but, that hope swings on the community pulling together including the people who have the power to make real changes. It will be in these uncertain times that will make or break Steemit, not the times when everything seems like it will work out.
It is in the uncertainty that change actions can be taken to rebuild the foundations to weather storms and take advantage of future values. It just isn't happening now. To get it to happen people would need to take that big step back to really think about what they want and see if that is actually where we are headed. I think most will find that the future being created on this time line isn't going to be one where they are flourishing.
Our actions are no different here than the actions of past generations, of past millennia. Actions that continually lead to extremes in wealth and poverty. Actions that inevitably lead to system failure and collapse. That is why so many people ended up at Steemit in the first place, the outside systems are collapsing.
For the most part, you don't see the wealthy of the real-world buying in to Steem do you? No, they are the downtrodden, the shunned, the social outcasts who were failing in a system that didn't accommodate them adequately. They come in here and what do they do? Act the same as the oppressors on the outside at the first opportunity they get.
It is to be expected though as they have learned their behaviours like monkeys in a cage being hosed for trying to get the banana. Socialized to think that the only way to get ahead in life is to get rich by making others poor. The actions of governments, bankers and rent-seeking middlemen the world over. They are acting like programmed robots.
The irony.
They don't seem to understand that this learned behaviour is the control mechanism, they are never going to be free acting on what they have learned. It is through this behaviour that those in power continue to maintain and grow their positions, continue to win. It is CERTAIN.
The only way to break that system is to understand their manipulations and wear the cost of changed behaviour in the short term for long term benefits. The problem is that crypto people are not long-term thinkers, they are profit seekers. They are not generally hard workers, they are looking for easy paths to buy a Lamborghini. They are not community orientated, they want to get rich from a keyboard through a monitor.
And, it is these people running a social platform?
The reason that the other platforms have been so popular is that they focused on the people. No, it wasn't for those people's benefits but they understood the power of relationships and hacked human wiring to manipulate the majority into getting what they want. Assholes to be sure but, clever assholes.
Here, the same actions are taking place but they have forgotten to tie the community to the platform in the same way, the incentive was access to the pool but, that is dwindling away.
I have a question: What happens to the value of Steem if there are only bidbots and buyers. If everyone else that doesn't use or want to use migrated to another platform or just went back to Facebook, Instagram and all the other crap places that offer decent functionality?
Tell me, who is going to prop up the price of Steem? The pool becomes a pool of true monopoly money as no one on the open market is really going to want it unless, they are going to use it to buy bidbots. In that scenario, content is useless, ALL content. but, the system itself can't function.
It would be like me giving you 70 dollars and next week you give me 100 back but keep the 70 too. Tell me, where does that 70 come from? The pool right? Yes, but that pool needs to be backed by something otherwise it is just printing money, like banks. But, with no one to buy that added 70? The system can't work that way. It requires demand on that added value otherwise, the value decreases as the volume on the market increases and soon, nothing.
The only reason the bidbots can operate now is because there is a majority that don't use them and a sliver that do. the way to stop them is either no one use them (preferrable), or *everyone use them but never actually buy SBD for them. Just use what comes out of the pool. They will return losses of course so get prepared to wear it.
The other way to stop the bidbots is of course just abandon the platform altogether which many are doing. I talked about not onboarding anyone anymore as I just can't support them nor can I justify why to even start considering the pay to play culture and growing divides. The question of scam comes up and I no longer have an answer to give them.
Now I am trying to focus on keeping worthy people here instead. I don't care about those who leave because it is all too hard, good riddance. I care about those who are willing to deal in uncertainty and take some risks.
Most of the operators of bidbots aren't risk-seekers, they are rent-seekers and no matter their justifications, they are no better than the corrupt politicians and loan managers living off the interest of other people's money. Toxic members of any community. The ones who create the divides and collapse the systems in time. It is only their ability to brainwash the masses into supporting their habits again that they can move through generations repeating the actions.
There is a lot of uncertainty to come but, as far as I see it there is also a lot of certainty. The uncertainty is whether we as individuals can change our behaviours to improve the community. The certainty is that the current actions are going to destroy the possibilities for an equitable and ethical decentralized future.
At least at Steemit.
Taraz
[ a Steemit original ]