Start Here
So i may end up stepping out tomorrow. I may have a haircut too and a shave but who gives a hoot really. Not like i do either but its a push, however small and its something.
Yes, i am allowing something to push me.
From nothing, a steemian wants to interview me tomorrow and i am hoping this will successfully push me to step out (tomorrow). I will have to get a hair-cut finally, prepare some video devices etc and step outside into some "world".
I may learn a few things too.
I will have to download an app called zoom and go through with the process of a recorded conference call and i am told that this app allows a variety of stunts. In general, i am hoping to learn, from my participation in the interview as i will be carrying out more video-creation over time.
Recall, that i started a YouTube channel and a page on https://surpassinggoogle.com to fill up with videos related to "steem and life success" as well as rare INTEL. I haven't continued as planned but tomorrow will spark matters or at least, i am willing to let it.
Since i started the discord talks, several have stayed keen on attending these talks and have afforded missing my presence when i am not there. Well, i didn't know that i may be anything close to a good speaker but since the talks, several have declared "missing me on voice" and have recommended that i started doing podcasts etc
My few videos as well has managed to gain some traction and inspire action and not only does this encourage me but opens my eyes to how "videos" can play a large role in my vi-mission and our vi-mission overall.
I have never been good with making videos, taking shots etc but now it is something i have to learn a bit of. We now have TearSubsdropsTV and UloggersTV also, in preparation for the TeardropsSMT and the growth of steem through ulogs.org etc plus an entire world movement and we will need many videos.
If you are interested in contributing a video, you can do so to both TV(s). Reach out here:
In a short while, i will be going more fully into steem promotion. For now, i want to complete the setup of a great model, so that we can manage to host growth. For example, ulogs.org has to have attain a certain level of stability; be announced for use here on steemit and be able to sign-up some new members using our own verification and a delegation from @steemgigs etc
We must have established a level of excitement and buzz (courtesy of ulogs.org) internally, with the birth of #ulog-based communities across ulogs.org, putting "everyone" in the mix, by celebrating them and their dreams or attempted-dreams.
Look at this screenshot below: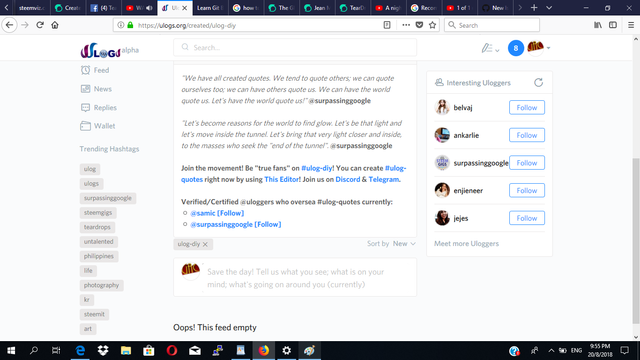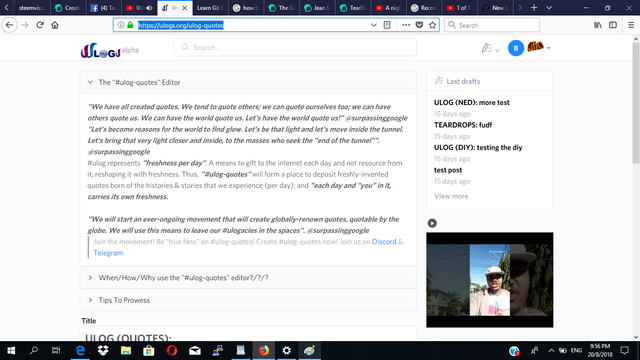 That is an example showing where we are headed. You will notice that #ulog-quotes is one ulog-based hashtag and growing community that gained traction quickly and has produced content daily and we have manage to adopt it onto the model of ulogs.org with its "specialized editor, its style-guide and it's overseas". 
For the short term, we will fill ulogs.org with words to instill a deeply-rooted culture and movement, before we go into full-blown design in the near future. We will use mostly apply the use of words for now, to hasten development, keep the website light-weight and maintain the current structure of the site on "mobile" etc
We haven't announced the use of the website yet but you will also notice that it is already among the top 15 most-used sites on steem.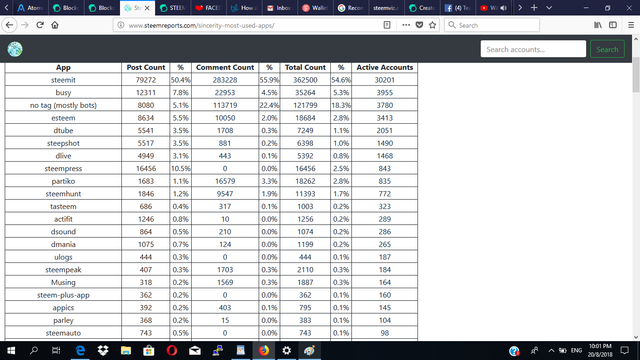 This is a good sign and incentive for us to push even more and not tire out now.
We will incentivize "everyone' to build their dreams on the steem blockchain, starting with #ulog-based communities. Then, we will extend this, tp all existing communities worldwide. 
In due time, we will make public a whole team and proceed from there. Now, it is time to lay the ground right and begin to create awareness by means of videos etc. We will also apply a budget for conventional Ads as well on every social front; then look to arrange at least one physical event this year, perhaps, a Uloggers' party or some reality show etc to promote steem in the real world.
We need to end the year strong.
Many things aren't entirely clear but each day, things get clearer. Things will never attain perfection; thus, we will not be waiting for perfection. We will run things un(dis)talentedly even now.
There is alot to do and we will do these things, however gradual. Overall, we want to pace things, perpetrating a global movement that is truly truly loved. We would like the teardrops SMT to be loved alike, thus, "gradual isn't that bad.
Notice that the route and curriculum involving the Teardrops SMT started from before "steemit" as is evident in my introductory post. 
Bottomline is, we will not tire out and UloggersTV and TeardropsTV are timely endeavor to make sure "tiring out" isn't the case. With these TV(s), we can incite #ulogging and #teardrops fun-activities based off of renown trends, adjusting the very world with our shine, even now.
Then, we will use our very shine to beautify blockchain technology.
These things we can still do in our "very tired times". So, do you want to contribute a fun video to UloggerTV and TeardropsTV today? You so can! 
Simply reach out below:
Your Boy Terry
Kindly vote for the "steemgigs" witness. 
Dedicating My Entire Steem/Steemit Journey To My Mum
If you want to support an extra witness and you support mine "steemgigs", it will be really helpful. 
To vote my witness, simply visit https://steemit.com/~witnesses and upvote "steemgigs" or simply click Here to do it on one click!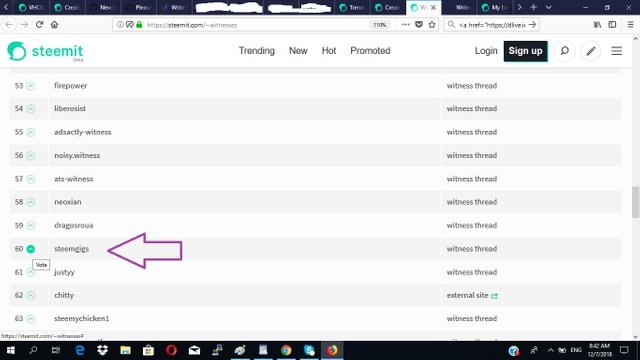 If you want me to make witness voting decisions on your behalf, simply visit https://steemit.com/~witnesses and type in "surpassinggoogle" in the second box for proxy.  

Subscribe to us on YouTube: UloggersTV