Steemit Lead Developer, Dan Larimer, Leaves as Steem Market Cap Declines to $18.8 Million..!!
STEEMIT NEWS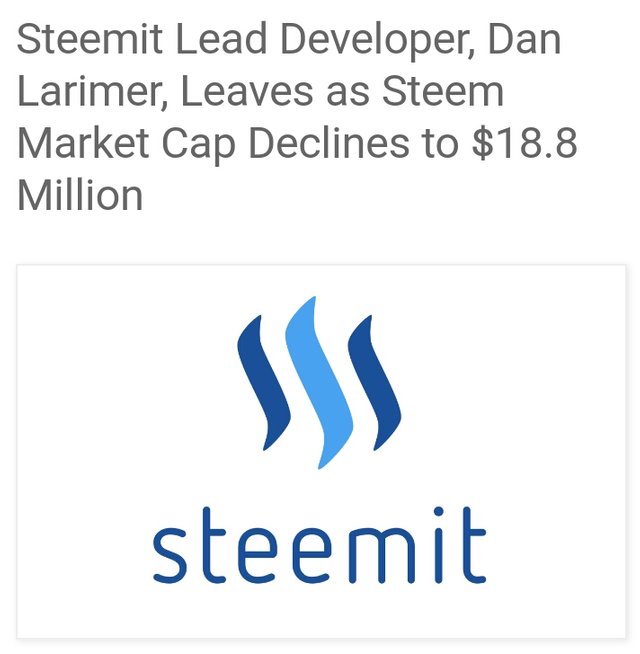 Credit:razor-forex
I was scanning my news feeds earlier and came across this article that I thought I would like to share.
http://www.razor-forex.com/2017/03/steemit-lead-developer-dan-larimer.html?m=1
Credit:razor-forex
As most of you will be aware by now Dan has resigned from Steemit Inc. today and I for one wish Dan every success with his new adventures.
HAPPY BIRTHDAY STEEMIT
STEEMIT will be One Year Old next Friday and I am looking forward to celebrating our first anniversary with you all.
Though I have never met Dan I have great respect for his decision to move on to pastures new and one I am sure he will take with everyone's support.
It is a shame I couldn't congratulate him on the first birthday.
STEEMIT MOVES ON
As STEEMIT evolves there will be people that will come and go and as long as the Captain of the ship continues to steer the Community on a steady course that is all that matters.
I am sure Ned will update us all when the time is right and in the meantime it is business as usual.
If anything it should strengthen the Community with a sense of resilience.
5-7 YEARS
For me STEEMIT was always going to be a 5-7 year project of which I am 6 months into and I was always aware that such a long journey would see people come and go.
As long as the core Management, core Developers and core Bloggers continue to do what they were doing I for one will still be here.
TAKING STEEMIT TO MARKET
Dan has helped develop what I believe is a World Class platform and it is up to Ned now to take STEEMIT to Market.
It is no good having a first class product if no one knows about it..!!
BANNER YEAR
I have always believed that 2017 was going to be a Banner Year for STEEMIT and despite todays sad news I stand by this.
Thanks again for reading.
Stephen