Well this week was a blur and it's hard to believe it is Friday already. I had a lot going on this week in the "real world" along with other community efforts I am involved in, so I did not post much this week past week. All-in-all things are looking bright and I want to thank everyone who has been supporting me and my efforts as I Celebrate my 20th Week on Steemit.
💰 As I mentioned in last week's wrap up post, keep your eyes open for opportunities to grow and expand your crypto-portfolio with random sharedrops and challenge giveaways. I am also using my earnings from Steemit posts to build up a diverse crypto-portfolio over on the Bitshares DEX as more and more project tokens and pre-crowdfund offerings are made available to us. I balance my post earnings to both gradually grow my SP and trade out to the DEX for diversification.
If you need some clues as to where to look for these hidden gems just swing by the 🐳 Whaleshares Discord and ask the friendly Admins and Mods. We are very open to share the opportunities we find with others - it's what we do.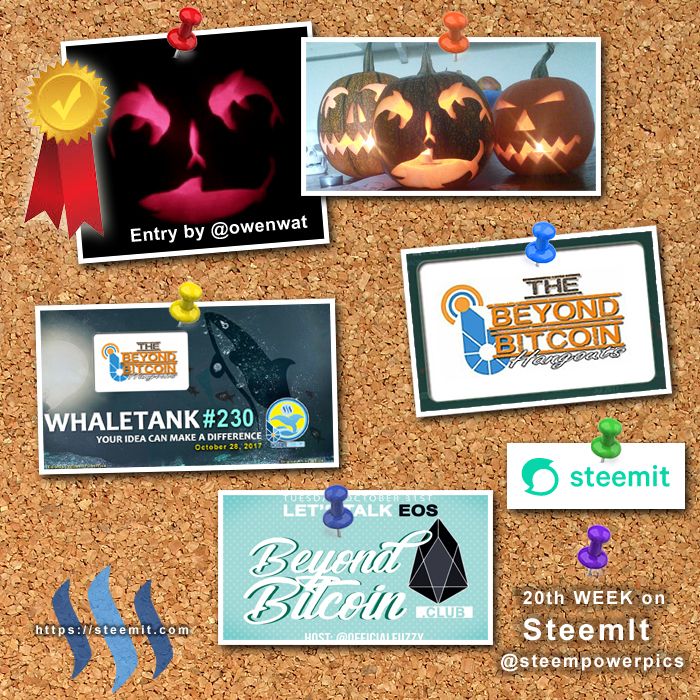 ---
🎃 Thank you to @owenwat for the great pumpkin carving entry, it was very creative using the Steemit minnow, dolphin, whale theme to make the eyes, nose, and mouth.
---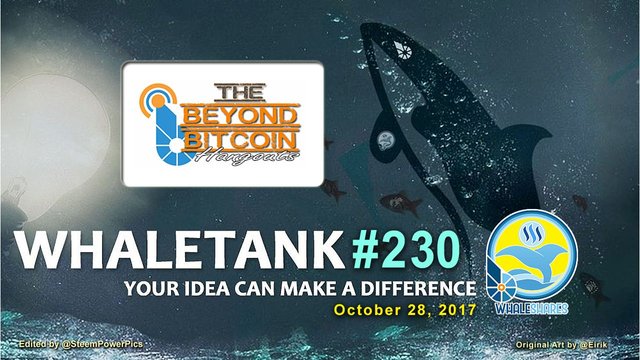 BeyondBitcoin/Whaleshares Community
Each week I will continue reach out to as many project and community leaders I can find on Steemit to help introduce them to the to the BeyondBitcoin/Whaleshares Communities. There are so many opportunities for people to find support, networking, promotion and funding from this great community once they understand what it's all about.
I also take the time each week to edit the audios and create a presentation video for the BeyondBitcoin Whaletank hosted by @OfficialFuzzy. I have posted the edited video presentaion from Whaletank Hangout #230 on Saturday October 28, 2017 in my links below. I encourage you to listen to the projects presented and learn how the BeyondBitcoin and Whaleshares communities support them using tokens created on the Bitshares DEX.
Please check out and support the projects presented, if you have a way to help them - feel free to contact them directly.
Be a part of the discussion, join us LIVE every Saturday at 10:30AM EST on Mumble. I create a post every Saturday morning to announce the hangout and show you how to join in.
These hangouts will now be STREAMED LIVE on Twitch.tv and YouTube.
www.BeyondBitcoin.club
🐳 Learn more with all of us on Whaleshares Discord Here:
https://discord.gg/zsdWYQX
---
💸 If you don't have a Bitshares account yet to collect your tokens - you should!
CLICK HERE to Create Your Account Now - It's FREE!
---
As I do every week, my @kalemandra #RainbowMontage @ColorChallenge image explores the colors from some of my favorite posts and topics I submitted during the week. Please enjoy and follow along with me as I continue my journey here on Steemit.
Here is my post from this past week - yup, just one:
🎬 Video Presentation of BeyondBitcoin Whaletank Hangout #230 on October 28, 2017
---
Witness Voting is IMPORTANT for ALL OF US!
@TheMarkyMark is one of the fastest growing witnesses on Steemit as he EARNs the respect and support of community leaders, developers, and members for his unrelenting efforts to improve the platform [including a new FULL Node] for us all.
Scroll the bottom of the Witness Page and type 'themarkymark' in the text box.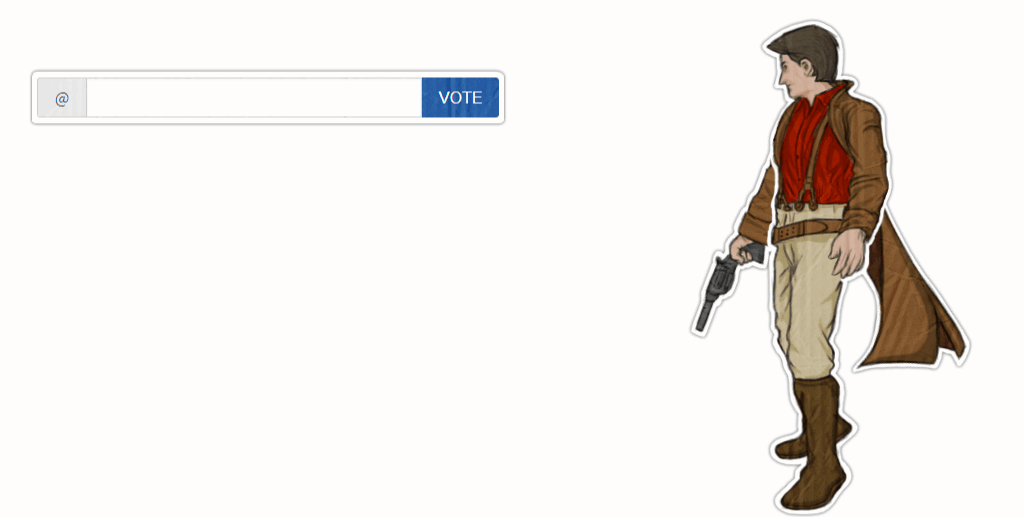 Other witnesses I support are: @timcliff @gtg @someguy123 @reggaemuffin @pharesim @ausbitbank @blueorgy @aggroed @cloh76.witness among others. So far I am voting for 19 of my 30 allowed as I continue to do my witness homework. Please take the time to find the ones you like and VOTE!
---
Let me know what you think, please leave your comments below.
As always, please upvote this post and follow me if you like my work and want to see more.
If you think others will enjoy this Please ReSteem it!
Thanks for reading!