Applications Now Open for the Steem Onboarding Translation and Video Team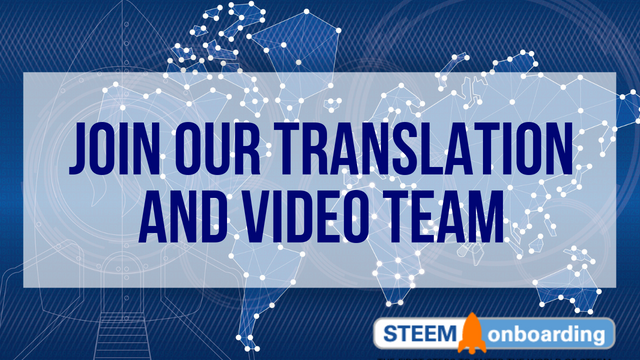 After much deliberation and conversation with members of the community - we decided to officially launch the Steem Onboarding project earlier this week. We want to say a massive thank you to the Steemit Community for the overwhelming support this project has received so far. One of the missions of the Steem Onboarding project is to create a consistent onboarding experience for new users globally. We plan to start with 10 languages for the beta test of our site and then continue to expand as we grow.

The First 10 Languages
---


After much deliberation - we have decided the first 10 languages to be featured on the site will be as follows:
English
Spanish
Korean
Cantonese
Japanese
German
Russian
French
Mandarin
Thai

Open Positions
---


For each language, we are looking for one team member to translate the video scripts and produce the video content. We would eventually like to expand the team for each language to add a second person to help with written translation. To start off though, whoever fills each position will need to do both the written translation and video content.
Over the last few months as we were cooking up the idea for Steem Onboarding - we reached out to a few people to test the waters and see if they would even be interested in translating and making videos for us. We want to say a huge thank you to @travelgirl, @ramengirl, and @fukako for believing in the project early on and being so willing to jump on board. You guys played a huge part in our confidence to move forward and we can't thank you enough.
This means that a few positions are already filled! The current team/open positions are as follows:
English - @coruscate
Spanish - @anomadsoul
Korean - @ramengirl
Cantonese - @travelgirl
Japanese - @fukako
German - OPEN
Russian - OPEN
French - OPEN
Mandarin - OPEN
Thai - OPEN
You are a good candidate for one of these positions if:
---
You live and breath the core values of Steem Onboarding. To provide a positive onboarding experience for new users that helps them to become valuable members of the Steem Community.
You are dependable, quick to respond, and able to meet deadlines.
You have a "can-do" attitude and are excited to bring this project to life.
You have the ability to produce quality video content for short, two minute videos.
You are able to translate short scripts in writing.
You are personable on camera and can easily build trust with your audience.

Expectations and Work Load
---


To start out, we will need the first 10 videos translated and filmed by December 15th. At that point, we will evaluate with each person to make sure the project is still a good fit for both parties and then move forward with additional scripts. The remaining scripts will be given to you in sections and will need to be translated and recorded within a short turnaround time. Exact dates TBD.
This project will be a lot of work up front to get the bulk of the onboarding videos created, and then will require some additional work throughout the year as new topics come up, changes are made, and new videos need to be created.
The Project Manager for organizing the video creation for each language will be Lea (@coruscate). Those who are selected will receive instructions from her on video expectations, where/how to send video files, communications on scripts etc.

Why Join The Video Team for Steem Onboarding?
---


First of all, this is going to be a massive community effort that will touch every single corner of the Steem ecosystem. Steem Onboarding is meant to support every other dApp and Steem based community by helping to not only onboard quality steemians - but connect them with communities and dApps that fit their needs. Being on the video team for Steem Onboarding will help to give you more visibility and notoriety within the Steem community.
Second, the goal of these videos is for you to explain the concepts of Steem - just like you would to your best friend, or even your grandma. Our desire is to make that easy for you by writing the scripts in a way that is personable and approachable to the average consumer. This also means that you will essentially be the face of Steem to the people coming onboard through your language. By the end of the trainings, they will have a special connection to you. This will help to grow your followership and engagement from new users coming on board.
Third, we are currently putting the final touches on our business plan which will help to fund and support the project. At this point - we understand that we may not be able to offer you what your time is worth to be on our team, but we look forward to helping to support you in your own Steem Journey as the project becomes more profitable. In the meantime - we are allocating funds from our own pocket to help thank you for your time. Details below.

500 Steem Bounty
---


We will be funding 500 Steem towards the creation of this first batch of videos. We will be paying 50 Steem to each of the video creators for their time translating and recording the initial 10 videos.
The Steem bounty will be paid out to the creators upon completion of the assigned videos.
Legal Disclaimer
All video and written content created for Steem Onboarding is the exclusive property of Steem Onboarding and may not be used for any other purpose without written consent.

How to Apply
---


Please leave a comment on this post and send a private message to @coruscate via Discord or Steem.chat.
Discord - @Coruscate#6642
Steem.chat - @coruscate
Simply send her a message letting her know you are interested, and then you will have a 1:1 conversation about expectations to make sure you are a good fit. If we have multiple people interested from the same language - a final decision will be made by @anomadsoul and @coruscate.

Special Thank You
---


We are absolutely overwhelmed by all the love and support our announcement post received. Beyond the current partnerships we had developed when launching the project - we have made some new exciting partnerships this week! We want to say a special thank you to the following people for providing support on this project:

Want to Support the Project?
---


Every upvote, re-steem, and delegation goes a long way to supporting the development of this project. Our mission is to create a tool that not only helps to onboard new users - but to connect with with communities and dApps that fit their needs. This means that we are here to add support and value to all of the other dApps on the Steem blockchain.
Do you have a dApp?
Please get in contact with us so we can discuss collaboration opportunities.

To The Moon
---


Getting the right team in place to translate and produce video content is a big next step in the development of this project and we are excited to see who all applies. If you have any questions at all, please don't hesitate to leave them in the comments below or send a direct message to @anomadsoul or @coruscate.
Again, we want to thank the Steem Community for all of their support on this project.

@anomadsoul and @coruscate
Steem Onboarding Founders