Tron and Steemit Join Forces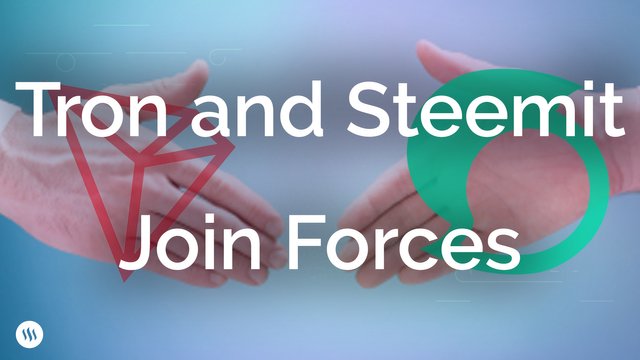 Hello Steemians, as many of you know, last Friday TRON Foundation announced that it had completed a strategic partnership with Steemit Inc. We are super excited about the partnership and we would like to respond to some of the concerns of the community.
Since the announcement of the partnership, these two teams have been working hard to connect with one another and sync up about our respective roadmaps.
Developing a Joint Roadmap
The TRON and Steemit Teams are planning to work together to develop an engineering roadmap that ultimately enables the TRON and Steem ecosystems to form a mutually beneficial connection. There are many ways of accomplishing this which deliver incredible value to both the TRON and Steem stakeholders, and we look forward to exploring these possibilities with TRON's engineering team.
The Steemit Team is Safe
As some of you may know, it wasn't that long ago (just over a year) that Steemit Inc. faced an existential threat. Since that time we have been able to tighten our belts while shipping products like MIRA and Hivemind, however, we are still a long way off from using ad revenue to fund operations. Now that TRON has partnered with Steemit Inc., our future is more secure than ever.
Delivering on Our Promises
@justinsunsteemit and his team have made it clear that the most important thing to them is that we deliver on our previous promises. Shipping communities, improving the user experience on steemit.com, and streamlining the sign up process are our top priorities as we work with the TRON Team to develop a longer term roadmap. Once the two teams are able to come to a consensus on the roadmap, that information will be shared with the community.
Win-Win
We believe that this partnership represents a massive opportunity for the Steem community and we are committed to working with the TRON Team to maximize that opportunity. If we can combine TRON's resources, engineering talent, and industry-leading platform, with our amazing community, 3rd party applications, and unrivaled technology, we are confident that we can dramatically accelerate the adoption of decentralized systems.
We look forward to continuing our work with you, the Steem community, to accomplish our mission of onboarding the masses to the blockchain.
The Steemit Team