Announcing Austin Steemit Meetup for May 24th!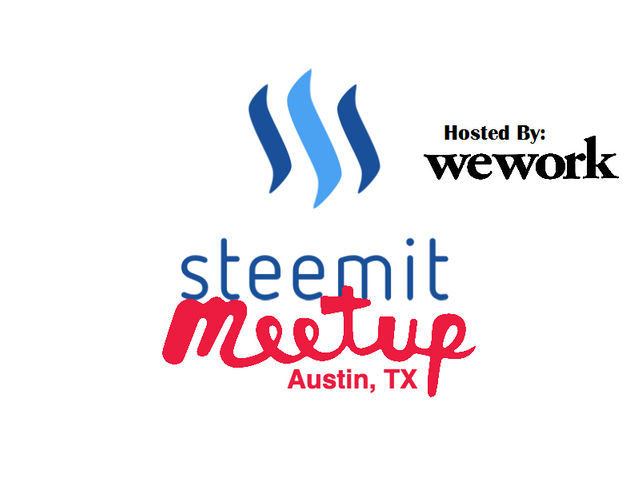 Hey Everyone!
Who am I?
This account is run by @ajaxalot who is continuing the legacy that @richardcrill started with the Austin Steemit Meetups. Please make sure to follow this account if you want to see posts about and from the Austin Steemit Meetup community.
When is it?
On May 24th we will be meeting from 6pm - 8pm
Where is it?
At the University Park WeWork campus. WeWork has kindly agreed to host our meetup, and I am so excited to try out the space. I want to give a big shoutout to @ering who made the introductions that are making this all possible. Maybe after this meetup we will have some new Steemit users from WeWork that we can thank directly as well! For now I will provide you some information about them:
What is WeWork?
WeWork is the platform for creators. We provide the workspace, community, and services you need to make a life, not just a living. To learn more about the WeWork locations in Austin, click here to book a tour or send an email to [email protected]
What do I need to do?
RSVP on the Meetup page - HERE
If your first and last name is not listed on youre Meetup account, please message it to me directly through the Meetup website or on the Austin Steemit Discord. The reason for this is to get on the list to have access to the building.
Show up and have a great time!
What will we discuss?
As this will be our first meetup in this location I don't want to plan anything major. That be said, I am willing to let anyone who has something they would like to discuss have the floor. Please message me through the Meetup or on Discord if you would like to do this.
The current plan is that I will give a brief overview of Steemit if we have any newcomers, and from there we will open the floor for people to discuss their communities or topics of interest.
I can't make it or Austin is too far away!
Don't worry I will be live streaming the event on DLIVE from this account so you can participate even if you are on the other side of the planet. The recording will also be available to be watched at your leisure once the event is over.
Questions or Suggestions?
If you have one you can leave it in the comments or find me on Discord. This will be my first time leading the Meetup, and I am definitely open to any guidance or assistance.