Steemit Data - The Most Popular and Lucrative Post Categories
Yesterday I created a personal Steemit database and brought in data from over 10,000 Steemit posts from the past 5 days. Today I'm going to share some of that data, specifically relating to the most popular and most lucrative category choices for your posts. Nothing too complicated, just summary data and some of the insights we can get from that.
All data was gathered from posts between 2017-06-29 21:54:36 and 2017-07-04 20:53:54 UTC. For the following analysis, there were 8,898 categories found in total. Categories with less than 100 posts were filtered out, leaving just the top 107 most common categories.
The Most Common Categories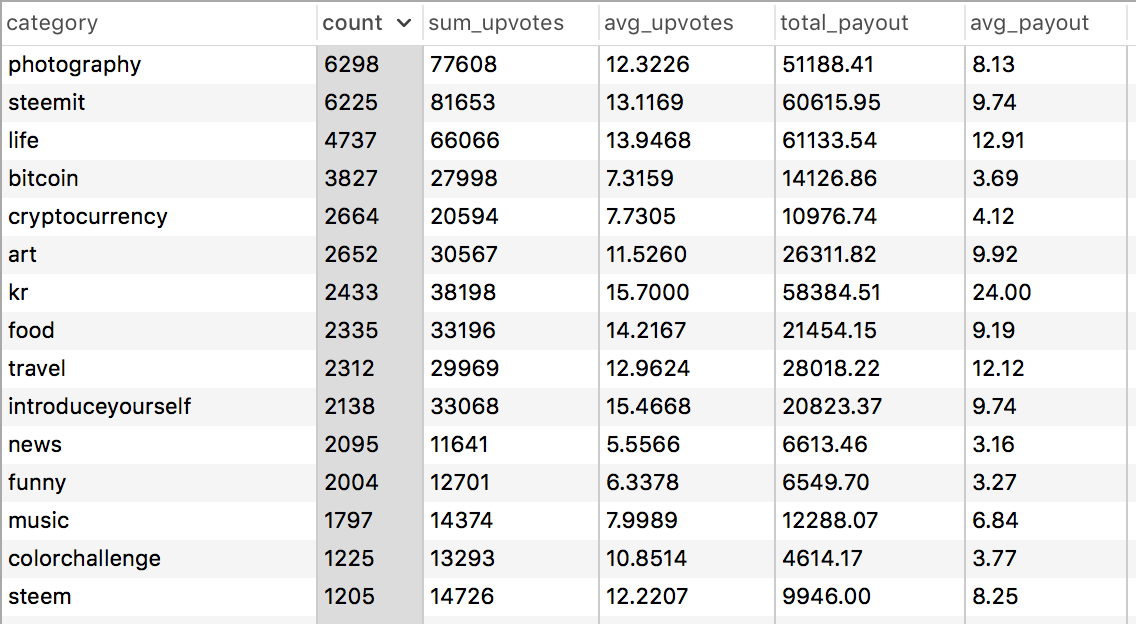 There were no surprises here through the top 6, but number 7 was unknown to me. Perhaps this is just because i've only been here a month, but I had no clue what "kr" meant until plugging that category into Steemit. For those that don't already know what "kr" means, take a look: https://steemit.com/trending/kr
This is the category tag used for Korean posts. I knew there was a large South Korean user base, but I didn't know there was a specific tag for it. I had always just assumed there was some natural filtering by language/location.
Also, nice to see introduceyourself doing so well. That means lots of new users. Although, as I pointed out yesterday in my post (Steemit Categories - The Weird, The Funny, and The Commonly Misspelled), there are a LOT of people either misspelling or using variations of 'introduceyourself', and therefore missing out on the benefit of showing up in that feed. So an auto-fill category selection might help some people out.
Highest Average Vote Count
Congrats to @aggroed and the minnow support project! Huge success so far. Also, no surprise that writing about EOS is pretty lucrative right now. There's a lot of interest among Steemians. This is just sorting by upvotes, so these posts get a lot of action, but let's see where the money's really at ...
Highest Average Payout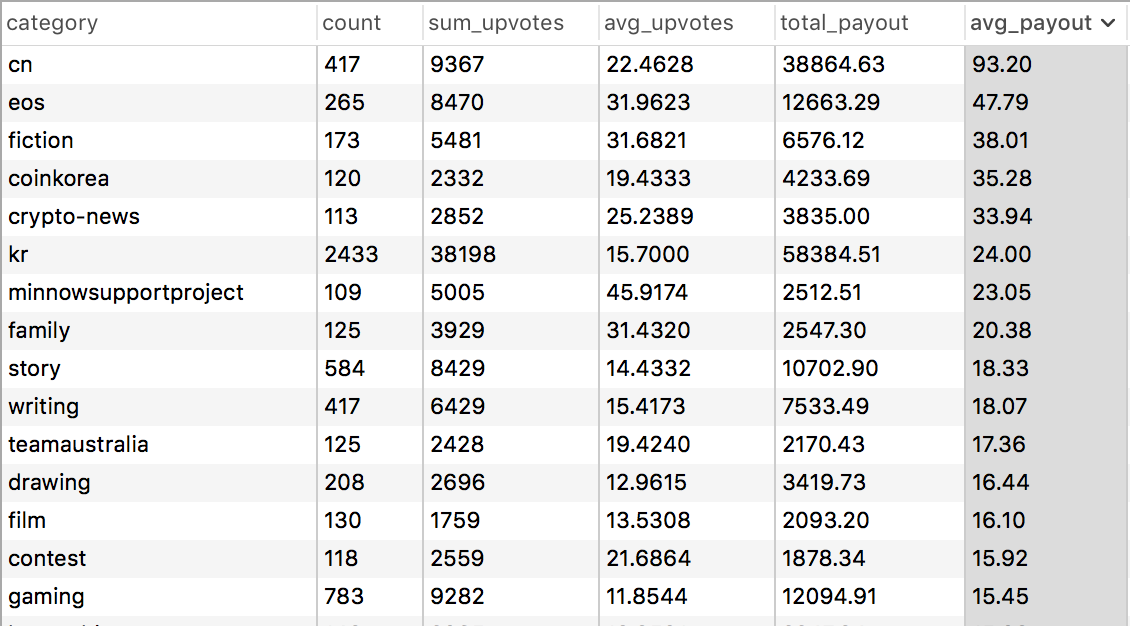 This was another surprise to me. Again, I had to look up this category to verify what it actually was, but my hunch was correct this time. Take a look: https://steemit.com/trending/cn. The #1 category in terms of average payout per post over the last 5 days was 'cn', which is the tag for Chinese posts. Interestingly, the average upvote count for posts in the 'cn' category was somewhat in line with other popular categories. The average payout, however, was two to three times greater! That implies that the average vote value is higher. Lots of Chinese whales? When looking at the trending posts in this category i see four posts making over $1,000 and i see some popular authors like @sweetsssj and @officialfuzzy. My takeaway: If you can find a way to hit your home audience and the Chinese or Korean audiences at the same time, there's a lot of money there. For instance, it appears @officialfuzzy is posting with the "cr" tag and doing pretty well with it (sorry to call you out lol, just following the data). Of course, people are only going to vote and interact with content that appeals to them. I am not advocating throwing random "cr" tags onto every post, but if your content plays well for that audience then go for it! For the sake of science, I'm also throwing a "cr" tag onto this post.
Now that we've gotten through the top performers, let's look at the less fortunate.
Lowest Average Payout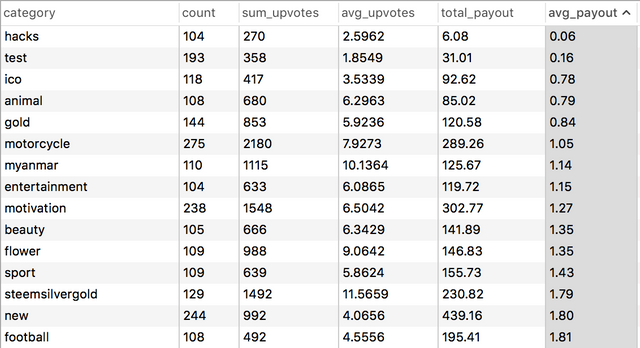 My one takeaway here is that Steemit has not yet captured the jocks. "motorcycle", "sport", and "football" are in the list of worst performers. There were worse performers, but I can guarantee you that "football" would do a bit better on Facebook than Steemit. Even though I'm a huge sports fan, I can't say i'm surprised here. The prototypical Steemit user is tech-savvy and somewhat nerdy. Current and future waves of Steemians, however, will continue to be closer and closer to main-stream.
Ok, that's it for today! I'll have more data coming every day, so please follow if you're interested!