ANONSTEEM - Create Anonymous Steem Accounts without social media
Currently, there are two ways to get a STEEM Account. The first is to sign up for Steemit with a Reddit or Facebook account, the second is to create an account using CLI_WALLET or Piston and have the account permanently linked to your own account.
Neither option really allows you to be anonymous. Want to post controversial posts, or say something that would otherwise be illegal in your country? (e.g. poor free speech laws) Then Anonsteem is here to help.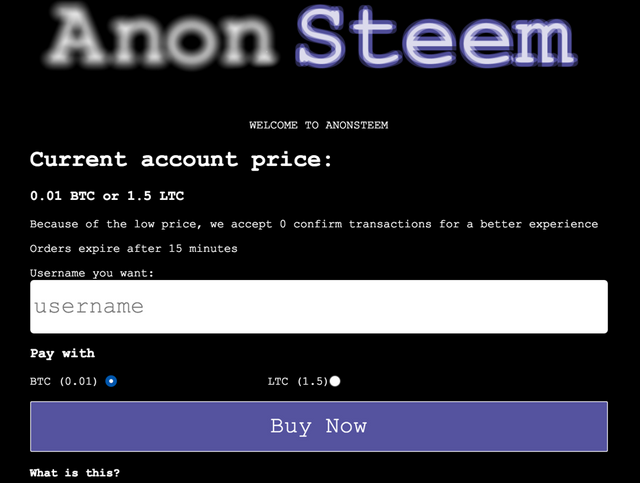 ---
So what actually is this?
AnonSteem allows you to purchase an account using either Bitcoin or Litecoin, and it will be created by the @anonsteem account within a minute of payment.
To protect your privacy, there are no IP logs, we have a TOR hidden service, and we allow you to remove your keys from our server as soon as you create the account.

We give you detailed instructions on changing your keys after creating the account, so you can be sure we're not just going to steal your account later on.
How long does it take to get an account?
Transactions are scanned once a minute, and we accept 0 confirmation transactions. This means you'll most likely have your account within 1-2 minutes of sending the payment, regardless of which coin you paid with.
Can I pay with STEEM?
We don't accept STEEM directly, as that would ruin your privacy. However, if you REALLY want to pay with STEEM, you can send it via ShapeShift (precise mode) to the BTC or LTC address you get during payment.
Doesn't this service mean more spambots?
We don't have any plans to allow en-masse account creation. Every order has to be placed one at a time, with individual payments. Someone looking to create spam bots would most likely look elsewhere.
Anonsteem is targeted at persons or groups looking for one, or a few accounts, with no social media link, and no third party tracking.
HELP - my transaction expired? - The 15 minute limit is just to avoid us checking transactions for abandoned orders. If you've already paid, just PM me on SteemitChat, or send me an email (bottom of the anonsteem page) with your order ID and I'll reset the expiry.