How Steemit Becomes Irrelevant and Dies - A Newcomer's Perspective on Why STEEM is Today's MySpace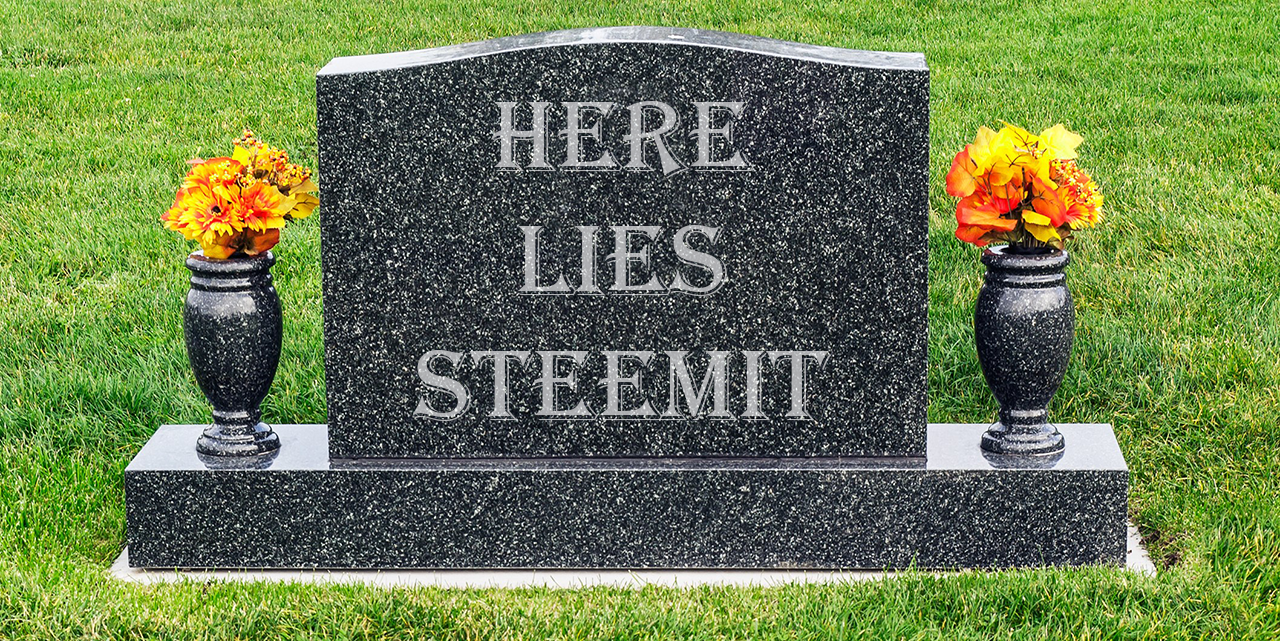 I've been struggling to motivate myself to post on steemit. It's not me. It's you.
When I was new to the platform and got introduced to the raw potential of the steemit model as it was originally designed I was truly excited to see what it was all about, and what it had managed to become in the year since it's birth.
The idea of someone's work being noticed organically based on the quality of the content and then rewarded monetarily is truly fantastic. In addition to motivating the creator to continue providing content for the platform, it also provides motivation for said content to stay at a high level of quality or even improve over time. I'm also rather enamored by the change in the power structure of the typical social media model as it is deployed today, where the user is the end product who is being sold to companies as a target for advertising opportunities.
Alas, that is not what is happening here on steemit any longer. In a very real sense, this platform has devolved into a replica of the outside world that we cryptothusiasts are striving so hard to supplant. The fact that one percent of the steemit population controls the vast majority of the power within the platform makes me wonder when the first useless, impotent cry for an 'Occupy Steemit' movement will come along. The fact that the platform has fallen into a world of cronyism, self-segregation, class separation, and ultimately disenfranchisement is truly unfortunate. This platform has a remarkable potential to help usher the masses into the brave new world of blockchain technology, but on it's current trajectory it is going to fail.
In all actuality, the more I find out about the state of the steemit ecosystem the less thrilled I am. For example, today I was introduced to the concept of dead whales. Are there really accounts out there that have been dormant for huge swaths of time that have automatic voting enabled? How big are these accounts? How did they form? Is it just because they were early adopters to the platform? If they're large investors who want to HODL STEEM for a year or two, do they not realize that using the platform in a passive manner like they're doing is turning away a large number of people who could be otherwise attracted to the platform and encouraged to buy more STEEM, thereby pushing up the price?
I don't see how anyone's best interest is being served by the existence of dead whales. Even those 'dolphins' and 'orcas' that are benefiting from it today by having an automatic payment come in regardless of what they contribute to the community are ultimately going to be worked out of a job by the process.
Someone will come along - maybe me - who will develop an alternative blockchain based on some of the same principles that STEEM was founded on, but that dramatically improves on the overall model and implements a platform where the original intent behind STEEM can be more effectively carried out. Maybe I'll call it SteemV2.
When that happens, whether it is me or someone else, the STEEM community as it exists today will slowly shrivel on the vine and the value of the token will decrease over time as new users adopt the more ably managed blockchain and existing users migrate to it for the benefits thereof. In a very real sense, steemit is rapidly turning into MySpace, and the development of Facebook is right around the corner.
I'm sure it's easy for Whales, Orcas, and Dolphins to be very comfortable in their cozy little dominions that they arrived at through either being early adopters, buying their way into power, or gaming the system until they had enough influence to affect policy and enable themselves to game the system even further. Heck, I can't really even fault them. I wish I was one of those lucky few who heard about the platform early on and made ridiculous amounts of STEEM by posting anything and everything that I could think of.
However, if that was me, I'd never leave the platform and I would do everything within my power to facilitate the platform sticking to the original ideals. By doing so, I would foster greater adoption rates and ultimately a higher BTC price for STEEM, thus increasing my fortune. Whales, Orcas, and Dolphins should all have this same philosophy. If you're not careful, newcomers will be coming to this platform to try it out, might even stick around long enough to earn a few STEEM, and they'll then dump it on the market for whatever they can get when they discover what a cozy little world a select few have carved out for themselves and into which the barrier of entry is daunting.
In the short term the price of STEEM is likely to continue to rise regardless of what happens, as millions upon millions of people pour into the cryptosphere. As soon as a better alternative comes along though, people will leave STEEM in droves and the value of your steemit account will plummet. Here's some food for thought for any whale, orca, or dolphin that happens to read this. How much money would you lose if the value of STEEM and SBD went to five cents? Don't you think that you should be doing something in the way of caretaking for the overall platform?
The first, and most obvious thing that needs to happen is to have the auto voting landscape altered dramatically. The dead/sleeping whale problem is only one of the issues that needs addressed. I don't even know how change could be accomplished, other than through the influence of those who are benefiting greatly from the current system. One of the best ideas that I have come across is outlined by @mikepm74 HERE
Another idea that occurred to me that could be put in place by just a few on the development side would be to install some methodology where repeated votes as the only action within an account, over, and over, and over... would experience diminishing returns. In other words, if a dead whale is out there that has five accounts set up to auto vote every time they post, then the value of that vote to the creator being upvoted should be decreased by 10% for every time that they get upvoted without, say, one original post or two comments on the platform by the voting whale. I honestly have no idea how a system like that could be designed and implemented as I'm no coder, but it's one way that the STEEM platform itself might be altered to help it survive.
Perhaps the most effective way to save steemit would be a complete reset of the platform, where everyone goes back to zero. Now that there are many, many more people who understand the underlying structure there would be much greater competition right out of the gate and a more organic form of growth could occur. In a model like this perhaps you could render all exiting coins before block X on the chain as zero voting weight. This would maintain the value of the existing user's tokens but render impotent their unfair advantage in the marketplace that is causing so much disruption to the ecosystem. The more I think on it the less I like that particular idea, but some kind of 'reset' is what really needs to happen.
If you want any further examples of what I'm talking about, look back into history at the dot com boom. Thousands upon thousands of companies with literally trillions of dollars of collective funding were launched, grew, and ultimately failed within a couple of short years because they were supplanted by a better idea or they failed to evolve and remain competitive as the dot com landscape itself evolved. Make no mistake, the cryptosphere as it exists today is a direct allegory for the dot com boom in 1995. This landscape is shifting rapidly, and all of these blockchain technologies are literally still in their infancy.
Does steemit want to be like Ebay, Amazon, and Google? Or would the community rather end up like Kozmo, Beenz, and DrKoop?
Ultimately, I'm a big picture kind of guy. My core self tends to see overall patterns and trends instead of paying attention to small details. The pattern I see happening here is one of a slow glide into obsolescence. It won't crash tomorrow or anything, but without intervention that is where it is headed. I don't have any great solutions, and certainly lack influence, being new to the platform and still learning. Surely there are those here who could do something about the track that steemit is on.
Does anyone happen to be listening who has that kind of power?
Unlikely, I suppose, as I don't have an angel auto-voter set up to bump this post directly into the trending and hot categories.
Steemit, I'd like to introduce you to MySpace. I bet they have something they could teach you.