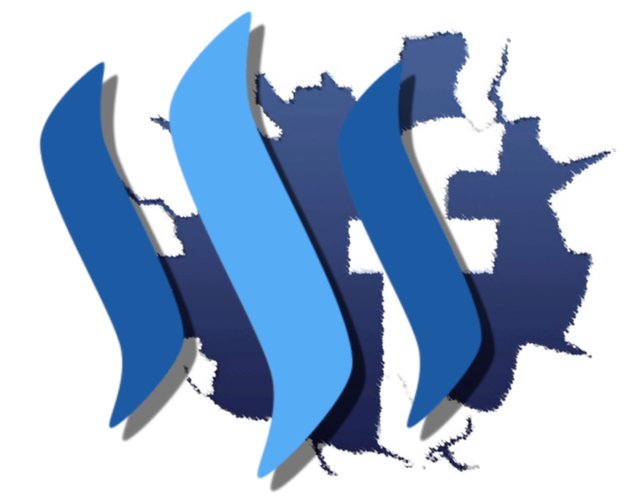 The behaviour of addicts
I learned a long time ago that I have an addictive personality (after a four month spell in a South African rehab clinic back in 2011) so I am familiar with the behaviour of addicts. Interestingly I also learned that I have ADHD and had been self medicating for years with marijuana, unaware of why I felt so much more focused after smoking a joint. They offered me Ritalin as a way of calming my hyperactive mind, but my instinct told me to steer away from replacing one drug with another. Especially a pharmaceutical drug. So instead I focused on using this hyperactive mind of mine in a positive way that benefits not only me but also others.
And since then I haven't looked back ...and life is great!
What I know is this:
An addict will go to any lengths to get their drug of choice and they will do this every day - without fail.
An addict does not see the insanity of their addictions and the idea of change is incomprehensible.
An addict cannot hear the words of others. For in their mind, there is a perfectly logical reason why they behave the way they do.
And most importantly of all an addict likes to take victims, meaning that the more people we can get around us doing the same thing, the better we feel.
I was a dedicated Facebook addict for around five years. Tirelessly posting for the sake of a few thumbs up and the odd interaction with someone.
My new addiction!
Since August 2016, after bumping into @xplice who kindly introduced me to this platform, instead of posting in the usual place, I have been posting here on Steemit and linking all posts to my Facebook account on which I have a total of 1,638 'friends'. I don't waste time writing any words, just a simple url copy/paste/post system. And I make sure my thumbnail image is a strong one which incorporates the Steemit branding. Consistently forcing those FB addicts to see another, more powerful blue logo, subliminally enticing them away from the old and into the new.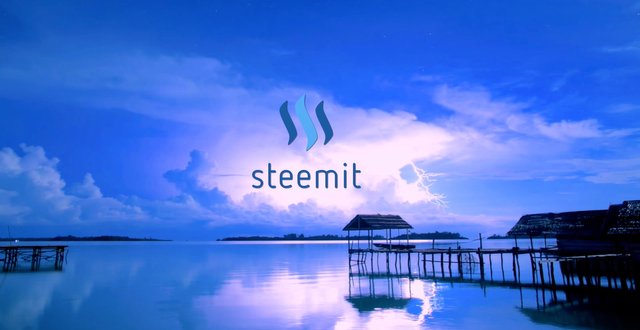 I believe I have converted many in this manner and am regularly asked questions along the lines of "what's this Steemit thing all about then?", which I am more than happy to answer for them.
But what I have found is that the most powerful tool of all is the Facebook group in which we can come together as a community with a common goal and help each other break free, utilising the actual platform which holds so many in its powerful grip.
The Facebook Group
There are hundreds of Steemit related Facebook groups now and for the most part they seem to reap little reward for the simple reason that people share on mass to 20+ groups each time they produce a new post and don't spend enough time looking at the other posts there. They may give you a thumbs up and they may even take the time to open your post and give it an upvote. But the number of people actually reading through the feed of their 20+ groups is small. Because to do so would take an eternity!
That is why there must be one group only. This buys us the time we need to actually click on peoples' posts.
The Solution
A month ago I started my own FB group, 'Aspiring Steemit Whales & Dolphins' where I am building something along the lines of the system @michelnilles created with his 'Steemit Upvotes' FB group in which he upvoted everything posted there and then sent a polite little message, reminding you that it was your turn to upvote him. I believe this is a great concept right? As long as everyone actually follows through.
A big thanks @michelnilles for the inspiration and I am curious to find out how effective this has been for you?
As a vegan I have found his posts to be completely awesome and I highly recommend following him for consistently healthy yet tasty recipes.
The problem is that the FB groups are for the most part full of minnows and total newbies. And with minimal voting power they are lost in the great Steemit Ocean, still learning to swim with the bigger fish.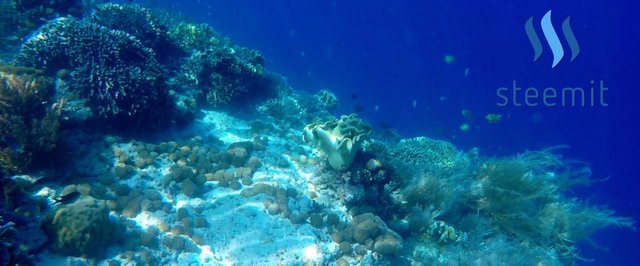 So there is a second aspect to his group that I believe was missing:
The eduction of those taking part
This is important because if you can assure the consistent rise in overall voting power of the group, everyone benefits. I mean let's face facts: this platform is not simple at first (though in truth I can only speak for myself) but if someone had been guiding me, I could have progressed much faster than I did.
It took me five months to reach a reputation of 65.5, currently ranked #287, which still sounds great, but I see others doing it much faster than this.
So I realise now that we must help each other by sharing our knowledge & experience of our success on this platform through a single FB group where we will will be assisting & encouraging other addicts to follow in our path, ultimately increasing the value of the average group upvote.
This is my group and its recently updated promise and guidelines: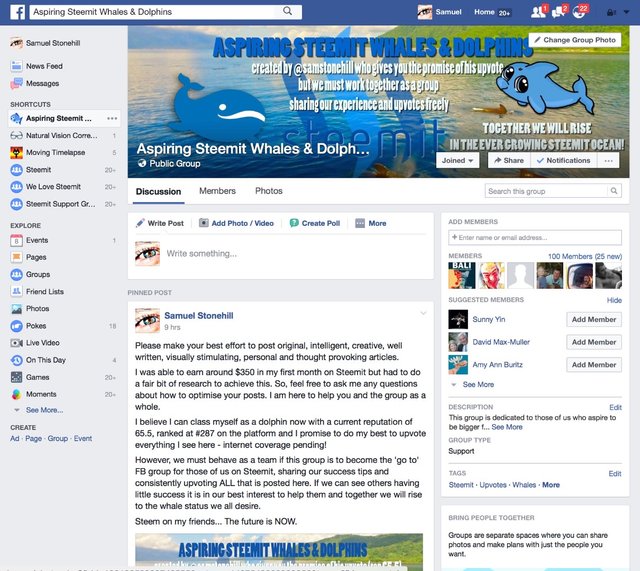 As long as my group remains receptive, communicative and faithful to the 'vote for vote' system, it won't be long before we are all dolphins... and a bunch of dolphins upvoting a bunch of dolphins is never going to be a bad thing.
Since starting this group I have noticed that every day more and more people want to join. The rise in awareness around Steem as a cryptocurrency and Steemit as a platform is absolutely clear from where I am standing and now is the time to optimise your posts and improve your ranking. Before they flock on mass from Facebook and the value of Steem rises like a phenix from the ashes of the old.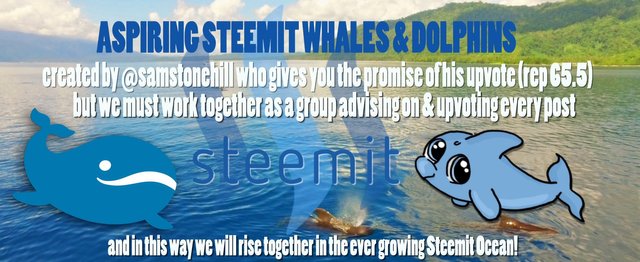 If you still use Facebook, I encourage you to join the group and enjoy the promise of my upvote and more importantly take advantage of the educational aspect of the page and resulting rise in voting power of the group as a whole... but please note that someone will be checking up on you to make sure you are sticking to the vote for vote system. I have no desire to evict people from the group, but if we do not behave as a team, out you will go. You will be given two warnings before it comes to this.
But I want to emphasise that ultimately I am here to help with your ability to succeed on Steemit.
Because if you succeed, so too do I.
Link to Aspiring Steemit Whales & Dolphins: https://www.facebook.com/groups/1281526168558106/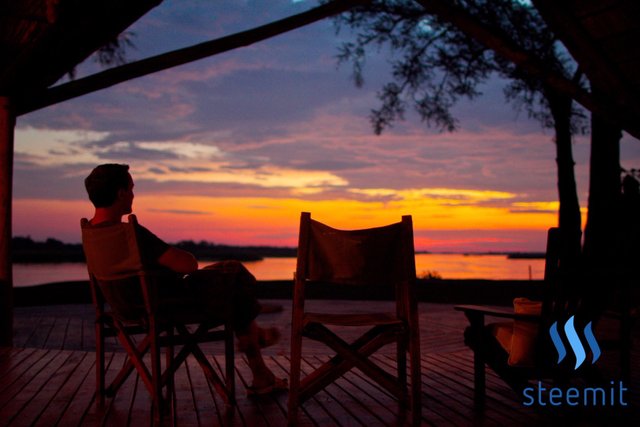 This is a picture of me sitting on the bank of the Zambezi River in Zambia five years ago, dreaming of a life in which I could fund a consistent journey around the world. Thanks to Steemit, I do believe I have found what I was looking for.
In Conclusion
The more FB addicts we can convert, the higher the value of Steem will rise and we all know what happens then.
That lovely little number at the bottom of our wallet page goes up and up and up.... without us having to do anything at all.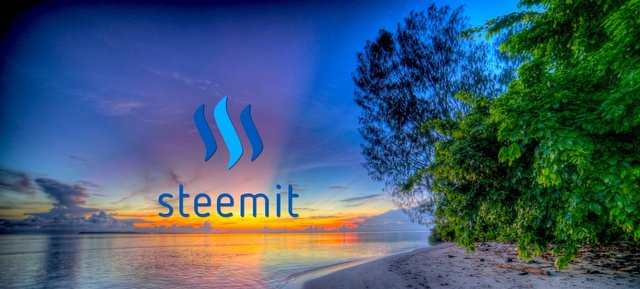 Hope you have enjoyed this post & I welcome any suggestions as to how I might be able to improve on this system.
Please follow for more 'outside the box' posts from the ADHD mind of a self-confessed addict, and don't forget to join my FB group if you want to take advantage of my current upgraded system.
https://www.facebook.com/groups/1281526168558106/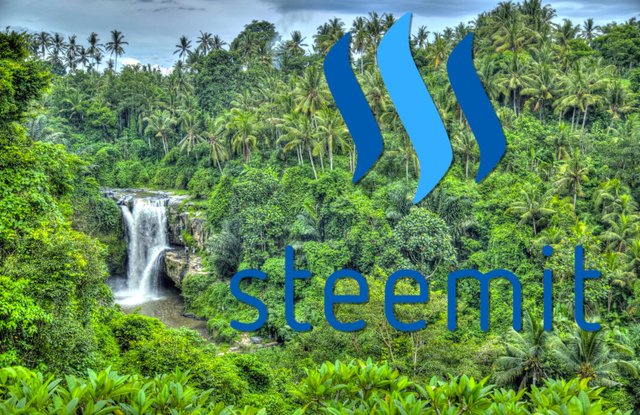 Tegenunan Waterfall, a few miles from my current home in Bali. Even here in the jungle there is a thriving Bitcoin community and an ever growing awareness around Steemit.