An opportunity for Steemit to prove itself as a NEXT GENERATION CHARITY facilitator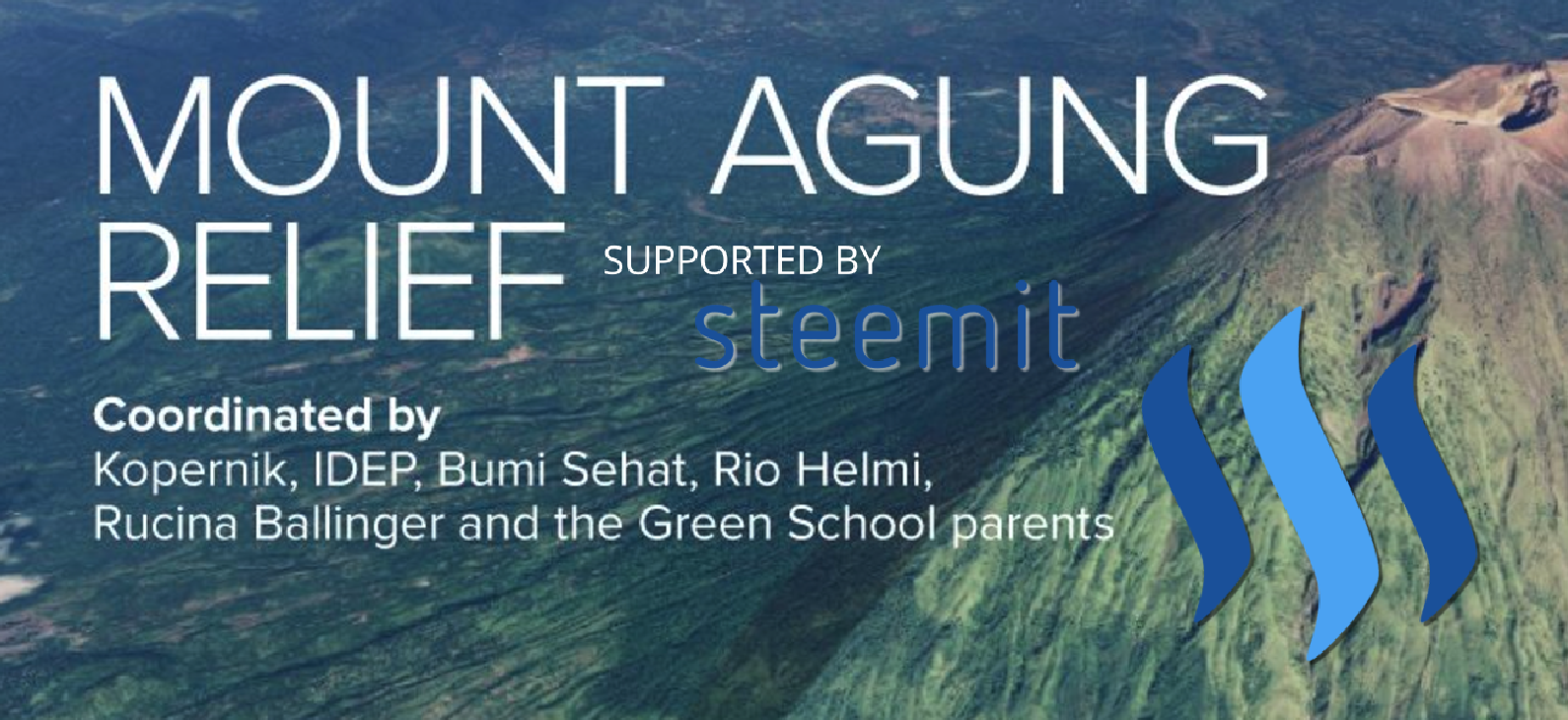 Steemit has already raised over $300 for the purchase of My Sundaya solar products which will be gifted to the underprivileged & traumatised people of Bali, many of whom do not have access to power in their camps.
Please note that all STEEM generated from my posts on this subject will go towards this important cause.

I will be filming & photographing every last part of this journey with the intention of creating regular Steemit exclusive articles from the heart of the action and ultimately I will produce a documentary which focuses on Steemit's involvement in this amazing relief effort.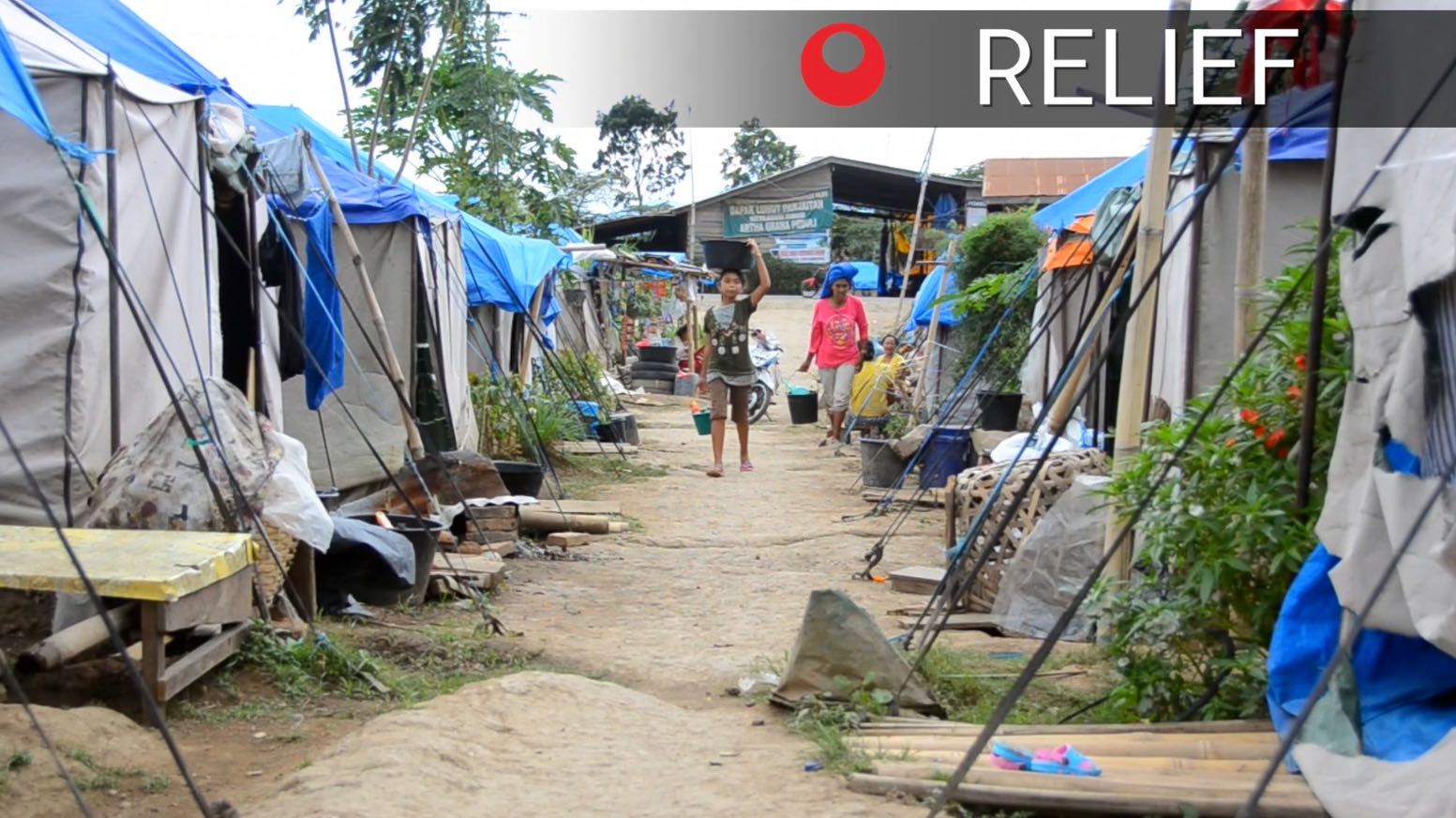 I am currently living in an Eco Community in the heart of Bali, neighbour to Petra Schneider who is CEO of My Sundaya and one of the founders of Bali NGO IDEP foundation, one of the main coordination organisations responsible for supporting the needs of the evacuees, potentially up to 180,000 people in the 500+ camps outside of the evacuated area declared unsafe by the government.
No one has any idea how long they will have to live in these camps.
But while they are there IDEP is going to provide them with the best possible living conditions their budget will allow.
---
Why is this such a great opportunity for Steemit?
This is our chance to demonstrate to the world the awesome power of this platform.
We have already raised in excess of $300 (in Steem & SBD) and with the value of Steem on the rise, this will further increase the number of solar products we are able to buy.

---
Blockchain Charity Possibilities
This event can be turned into a positive by using Steemit's involvement as a case study for all those charities out there looking at how they can best jump on board the crypto train.
The Steemit Community is the answer!
Through Steemit (and the power of the resteem feature) charities will be able to immediately engage with a huge community.
And this is no ordinary community. From what I have seen during my year here, it is the most open minded and generous collection of people ever brought together under the banner of a social media platform.
In addition to this, through the power of the Steem Blockchain donations will be instant and without transaction fees.
Accountability & visibility
Unlike traditional fiat currency based charities, here on Steemit they will be able to guarantee 100% visibility & accountability for all money movement.
Thank you Steem blockchain!

Donations received so far
Please do not feel bad if you are only able to give a fraction of a STEEM. The important thing is that you are giving something which has the capacity to grow and spread awareness not only about solar power but also about the power of Steemit!
Here is a screenshot from my wallet history today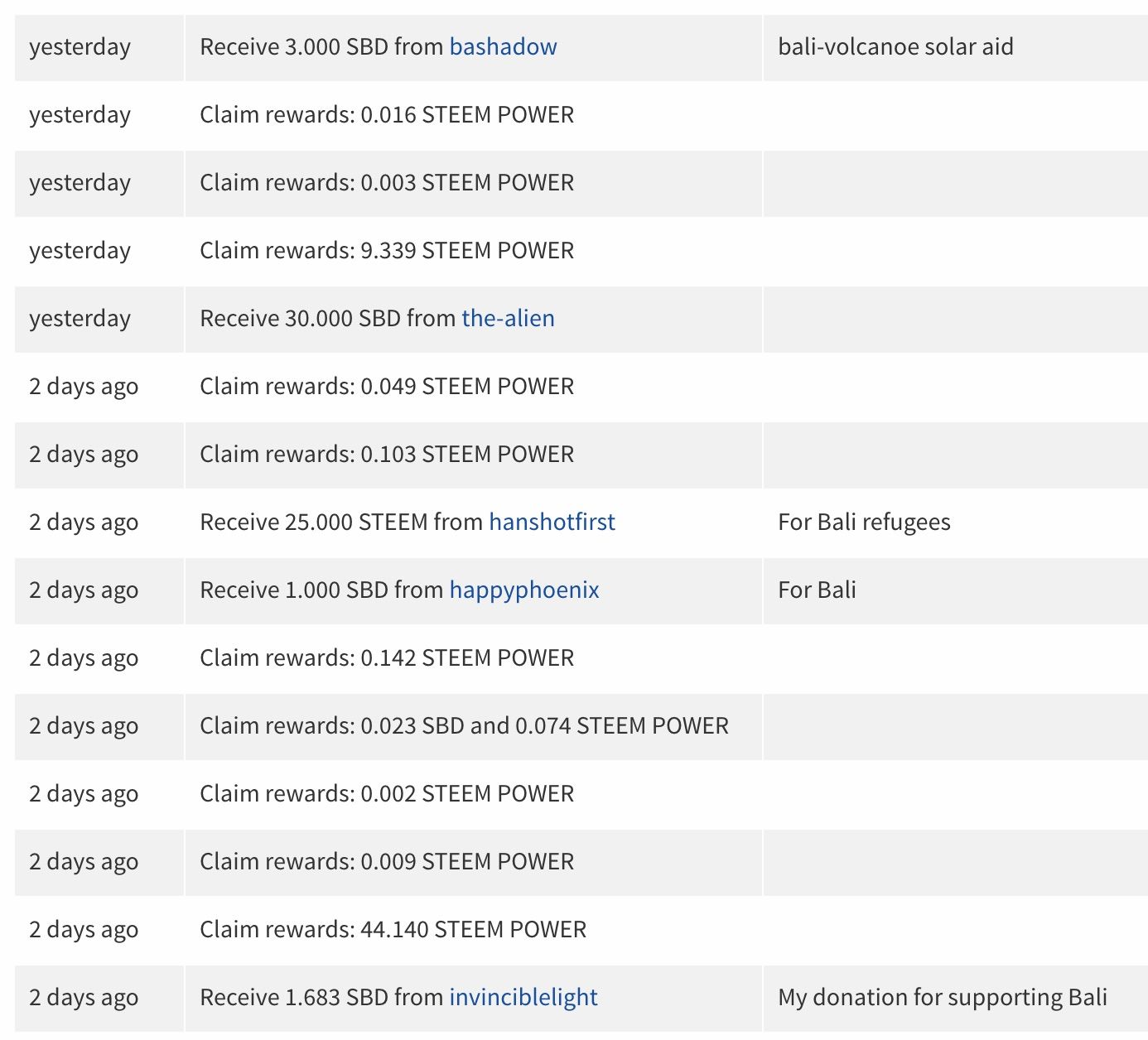 A huge thanks to all of you here 🙏🏻
@invinciblelight
@hanshotfirst
@happyphoenix
@the-alien
@bashadow
When I have a dedicated refugee aid account set up, the donations can go directly there, making it easier to retain 100% transparency with a single account for this purpose alone.
---
Current Total (after 3 days of fundraising)
These figures take into account all donations and the two previous posts I have made on this subject, which are still rising in value now.
Author rewards: $262

SBD: 35.683

STEEM: 25
Estimated total: $334
based on current exchange value

Thanks to all those who helped push the first article I wrote on this subject into the trending feed where it still sits now!
See article here:
Bali needs Steemit's help! Refugee camps are growing in size with insufficient funding
---
What will you be paying for?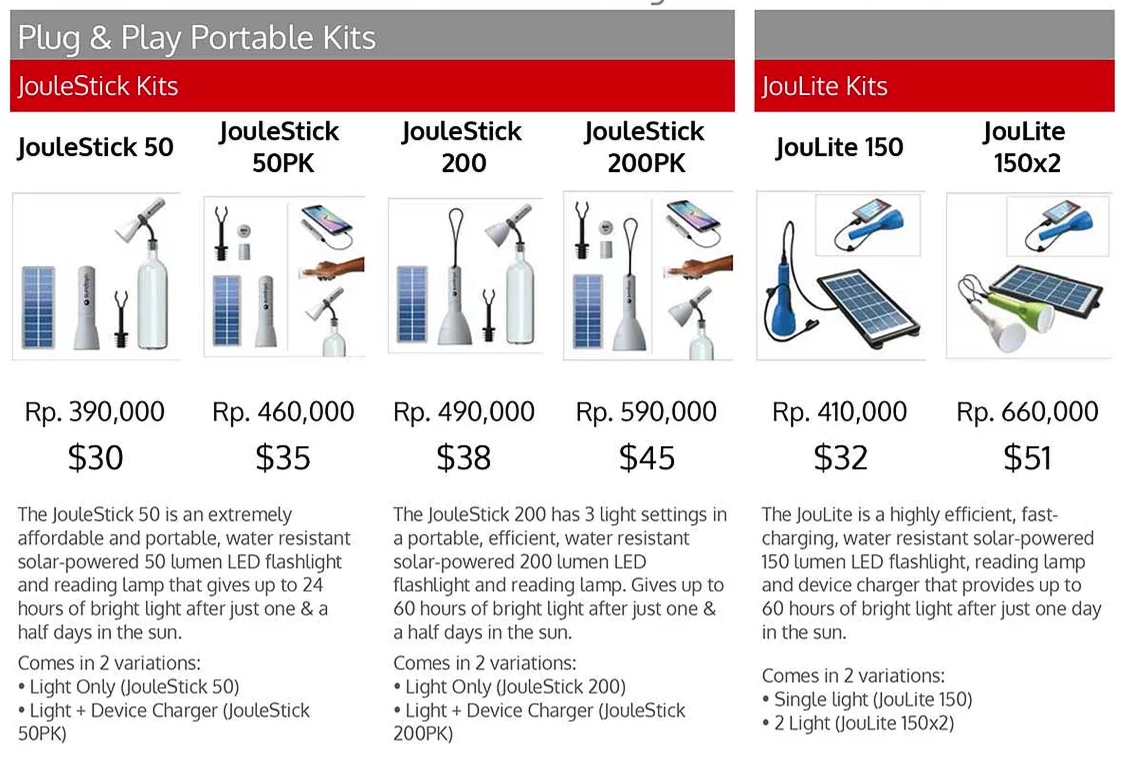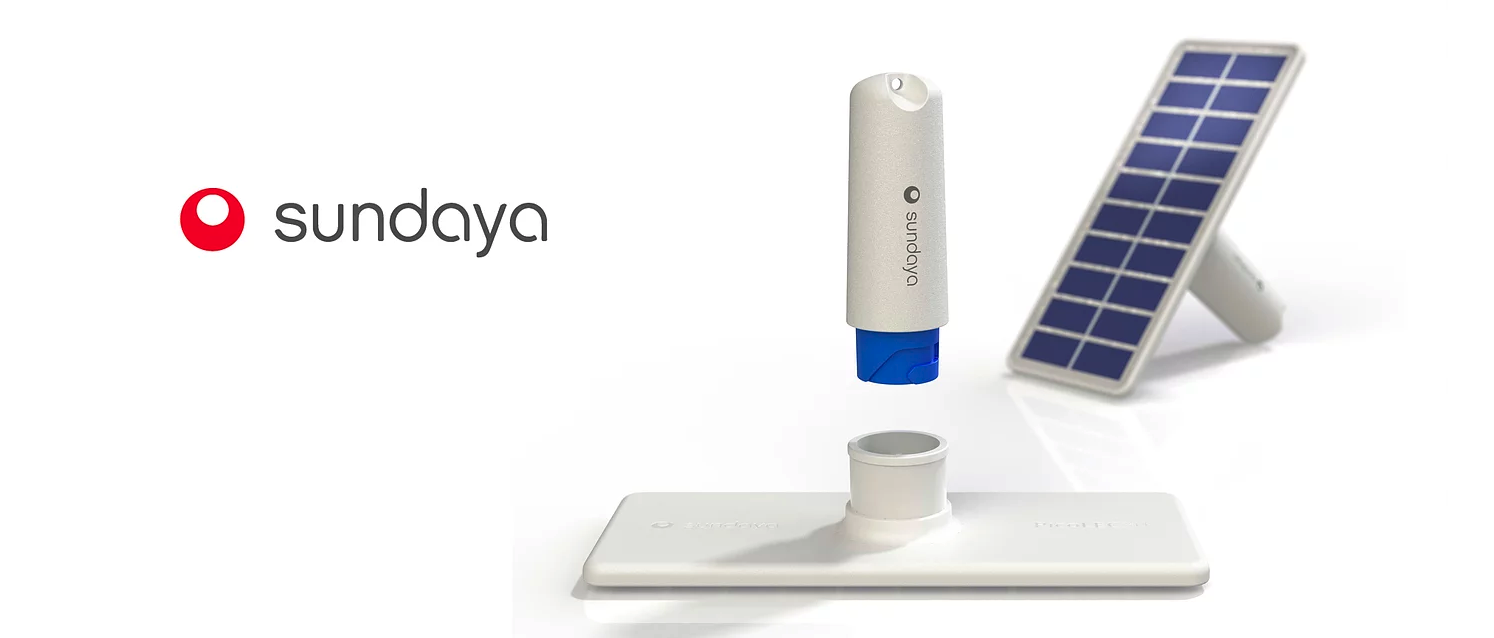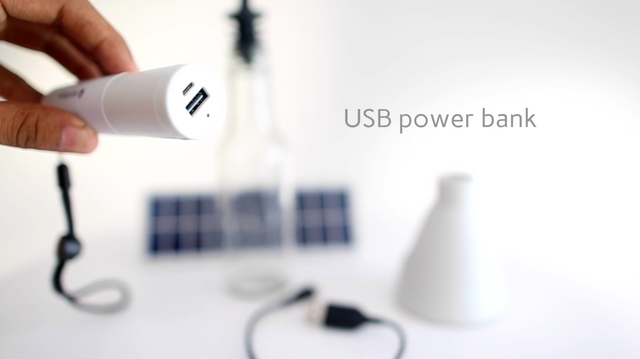 I cannot yet tell you exactly which of these products will be bought but I can tell you that I will be 100% transparent with all purchases, providing documentation and video footage.
---

The Steemit Exclusive Documentary on THIS SUBJECT!
For those of you who don't already know, I am a pro filmmaker... amongst other things!
And I happen to own the ultimate boy's toy 😜 a DJI Inspire Pro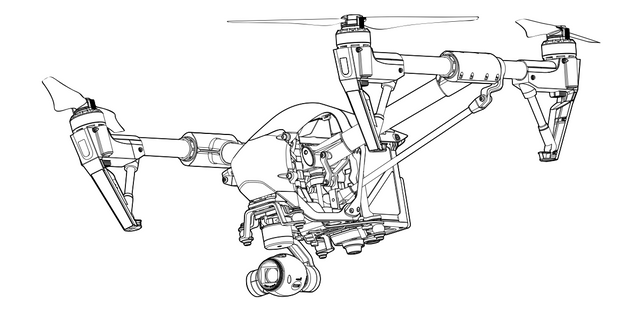 which helps me get shots like this one.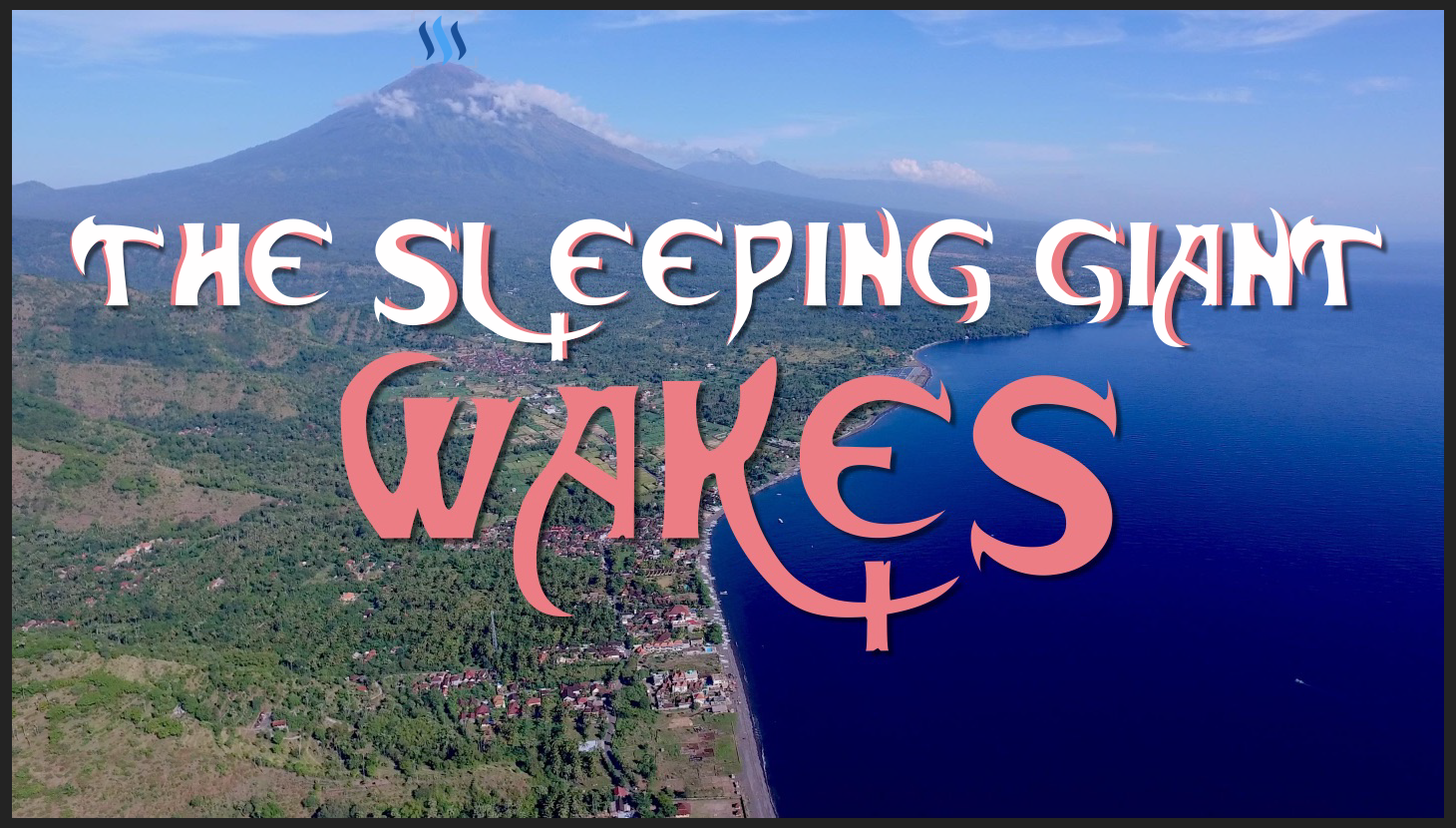 Once we are able to buy some solar products and get them to the people, the bones of this documentary will already be in place... and I will begin the editing process.
The more people I can add to the list of Steemians who have donated towards getting solar power to the people, the more power I will have when presenting the statistics in the documentary.
So please don't worry if you can only give 0.001 STEEM! Every little bit counts and so too do the number of people involved.
This film has the capacity to change the way the world looks at Steemit.
And it is our job now to pull together and work as a team to achieve this!
If you would like an instant example of my skills as a filmmaker please watch this short company profile I finished editing a few days ago for Sundaya.

I look forward to showing you the smiles upon the faces of the people we will be helping.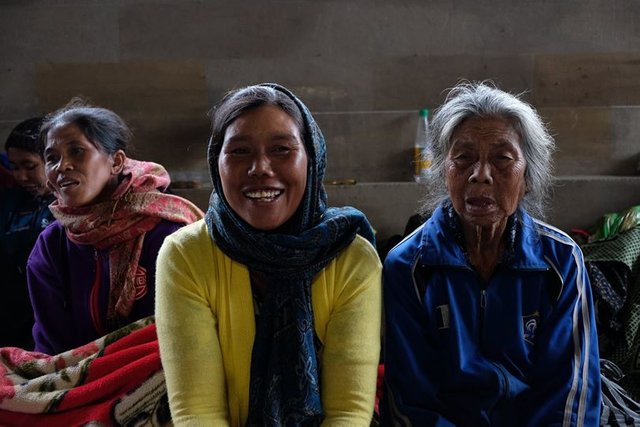 This image was taken by volunteers working with the Mount Agung relief effort, and beneath it they wrote the following words:
In the past six days, we have delivered thousands of emergency items including hygiene kits, food items, blankets, sleeping mats, tarpaulins, sanitary pads, nappies, and other critical supplies to evacuees
I hope in time she will be writing about Steemit and all that we have been able to do for them.
Not only gifting them HOPE... but also teaching them about decentralised POWER leading to freedom from their expensive and inconsistent grid. And last but not least we will be teaching them about STEEMIT!
We at Steemit will be shining light where once there was darkness 🌅
PLEASE RESTEEM TO BUILD AWARENESS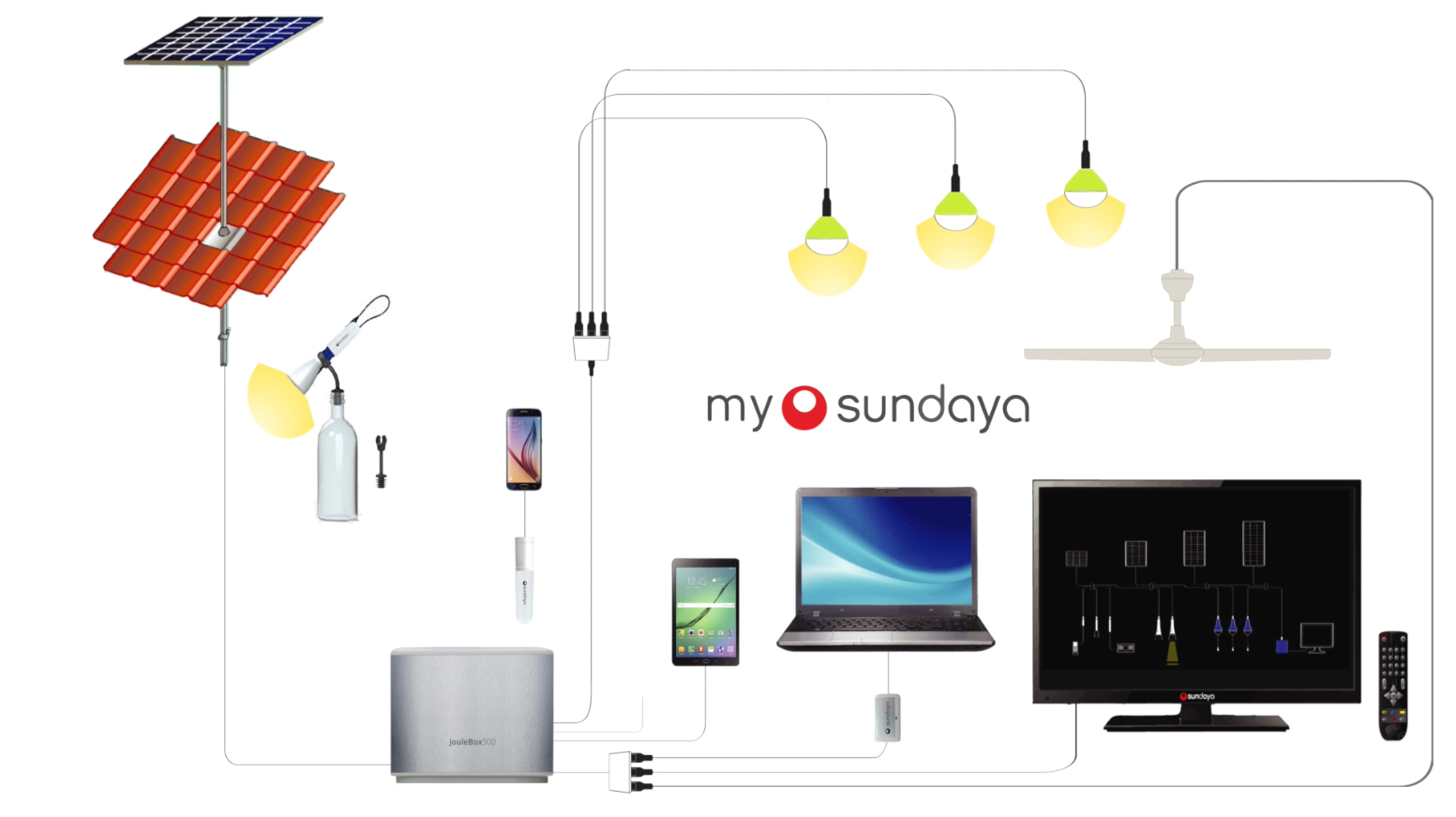 All author rewards from my posts on this subject will go towards this important cause