My first year on steemit has paralleled my last formal year in full time employment. I'd like to be able to say my earnings on steemit played a significant role in my be being able to quit my job, but the truth is they haven't. This is the case even though I probably 'earn' more than 95% (estimate!) of active steemians.
The truth is that I've been able to quit because of all my other investments, steemit has just make it a little bit easier, and it's something of a hedge.
Still, steem might still go to the moon, or even just quadrupled in value, which would be nice, so I'm going to stick around.
This post is just a quick review of what I've posted about over the last year: kind of an account of my evolution/ regression on the platform.
P.S. I've used the roadtosteemfest tag, but I've already bought a ticket, so this isn't a competition entry. Being in the wealthiest 10% of the 6th richest country on earth means I could just about stretch to a steemfest3 ticket!
August 2017

I got into crypto in June 2017 and buying into steemit in August was a natural part of my diversification. I think it was a chance meeting with an ex-neighbour outside Sainsbury's which put me onto steemit…. Given that I was already into blogging and just getting into crypto, back then it made sense.
I started off with this introductory post, which did OK I guess, then tried a few experimental posts…. About my various interests in sociology, politics, Buddhism, early retirement… none of which did too well, but it was a few extra pence.
I also did quite a bit of digging about, following, reading, commenting…. And quickly realized that steemit was full of anarchist sympathising free-thinkers, so hit on it as a place to put out my slightly oddball critical ideas and plans for early retirement – the kind of ideas that make next to no money in mainstream society given that there's no real market for them!
September 2017

September's when I got my first @curie upvote, which came as a real shock: > $100 for this post on Why I cycle to work and why you should give up the car

I was very pleased with that pay-out which encouraged me to bash out a few more in a similar vein of critiquing mundane, ordinary life, some of which paid OK, some of which didn't. Still, it was all money in the bank.
NB – by this point I was back into full time work mode, so posting on steemit was very difficult!
October 2017

By now I was becoming disillusioned, I wrote this post: 10 things I dislike about steemit – in fact I might submit this to the dead post initiative and just retitle it: '10 things I didn't like about steemit 10 months ago, 10 of which haven't changed'.
November - December 2017

I carried on posting various 'critical' posts about the irrationality of habitual action, and a few sociological observations of stuff going on in society, but this was a difficult time for me to post anything given my other work commitments and my (with hindsight correct) decision to focus on my main WP blog.
On highlight of December was entering @anomadsoul's competition about 'my typical day', although I still think the judges screwed me by not voting me in the top three. Still, I learnt that competitions are good way of broadening your follower base on steemit.
January 2018

I had something of a 'mini steem-renaissance' in the new year (must have been the XMAS break!)
It was in January that I wrote my first post about steemit – 'what's your upvote worth and how is it calculated' – in retrospect a bit of a naff topic, easy to answer, but a start of a trend which does quite well – hyper reflexive blogging about the platform.
I also started my 'early retirement' blog series – I think by this point I'd realised I'd probably be quitting work, so it made sense… 'My new 5 year plan to kill my £100K mortgage and retire by 50'
February 2018

Knowing that I'd be handing in my notice shortly, and sure in the knowledge that whatever I wrote on here would remain largely invisible, I started writing my 'Why I'm quitting teaching' series of posts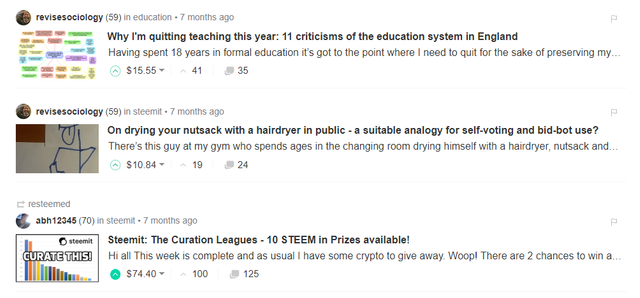 I also started writing more regularly about Steemit, which seems to be a popular topic!
And I really started to 'engage' more. I think I really started to 'get into' steemit this month.
March 2018

I resigned from work this, month, and used this post to lock this auspicious moment into the chain forever!
This was also the month I first became aware of the haejin rows, and maybe this is the moment steem started it real fall from grace?
April 2018

I got involves with the @Sndbox summer camp quest, and got involved in the @steem-times project, which was eventually successful, although I managed to miss out on the nice @snd-box upvotes, as did most of the rest of my team, because we forgot to fill in a form on time.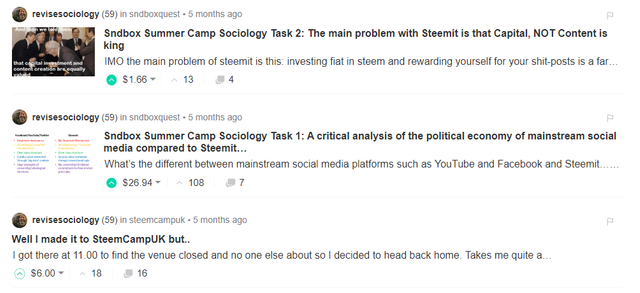 May 2018

This was quite a busy month, probably because it coincided with half term…
I got more into blogging about community on steemit…. As with this post on community curation initiatives
I also dabbled with a few contests
And uploaded my First DLive Video
And became aware of certain warning signs of all not being so well with the platform...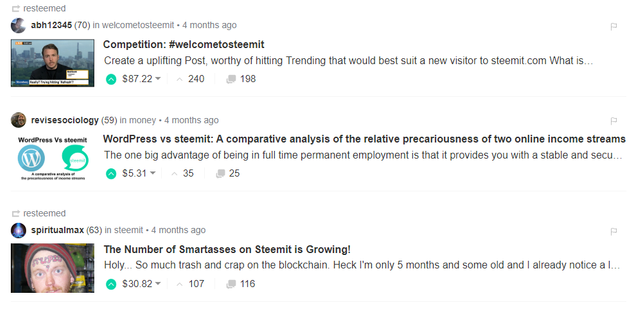 Finally, I Discovered witness rambles
June 2018

I carried on posting a lot about steemit and invested another grand in the platform…
I took part in the @sndbox Summer camp – as part of the @steem-times team – as outlined in this post
And I Discovered @steempress
July 2018

Coming onto more recent times, I've been messing around with delegating to some of the new initiatives (I do like a token), such as @Steemhunt and @Actfit, mainly because I had to post less due to moving house.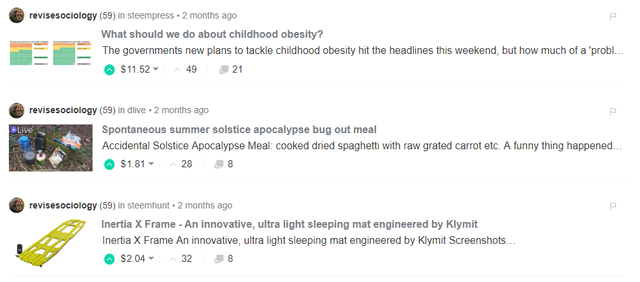 These recent months have also been quite depressing, witnessing steem's decline!
August 2018 and moving forwards…

I'm now undelegating most of my SP, and am intending re-engage over the coming months, and get back to my original aim of developing a Buddhist inspired social critique. I might even try messing around with the database and get into some steem analysis.
I'm also looking forwards to steemfest in November, see you there!