Notification Steemit App - Steemee
Steemit notification app is a must for all active Steemians. This program will allow you to be notified every time there is a new article worthy of your attention. You choose a category to follow and all articles with that tag will be searched and you will be notified of only those posts that have active authors who respond to comments and upvote others. That condition will filter out all worthless articles that are written for bots without any real effort but instead it allows you to reward content creators that are active in their comment section and reward you for participating.



Download Steemee
Just unzip the file and run Steemee.exe, no installation needed.
Steemee is the first step how to reward quality content on Steemit without endless Flag Wars. You don't need to flag anyone since Steemee will filter the bad authors for you and only notify you when there is article with active author in category you choose. Also, you can prevent displaying foreign language posts by specifying blacklisted tags (default: "kr spanish indonesia deutsch myanmar"). You also avoid content on trending page that is there only because of rich author rather than quality content.
You don't need to install anything, just download it and run. The program will notify you as soon as it finds new article fitting all your settings, it will show you title, image, part of the article and url to the full post. You will be able to copy the link or immediately open article in a new window. You also have the option to save the article for later.
What if you are watching a movie and you don't want to be disturbed? The notifications are suspended while VLC player is opened and you can also activate a sleep mode.
Why to use Steemee notifications in few points:
Quick notification about good articles
Filtering worthless content
Helping active authors
Avoiding trending posts of whales
Who it works?
You will see a small window at the bottom right corner that will appear anytime that you should be notified.



When you minimalize the window, it hides into system tray. You can open it again, just click on the Steemit icon.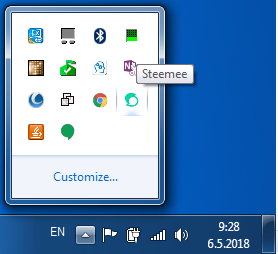 Settings tab allows you to set a few things.

Tags – category of articles that you should be notified about, more are spitted by a gap (" "), don't use too much tags because all articles with those tags need to be downloaded and searched.
Blacklists – tags and authors that should be ignored, e.g. foreign languages, spammers
Whitelist authors – you will be notified about any article with specified tag of these authors
Run on startup – application will automatically start running after turning computer on

If you wish to see a new feature, just let me know.