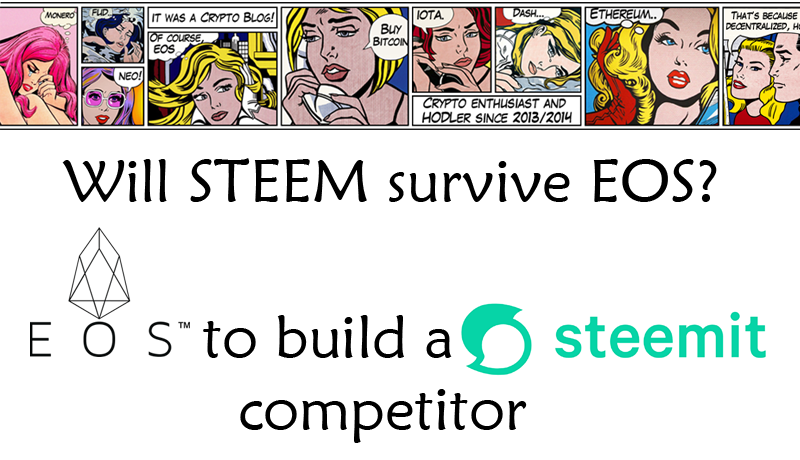 Perhaps you've gotten wind of the fallout between @dan and @ned not too long ago, and it seems like the two are no longer on friendly terms. Dan Larimer has excercised some stern criticism towards Steemit and it's CEO @ned, and has said that he would create a better version of Steemit on EOS in direct competition with the original.

THE FALLOUT
I kind of missed this as it happened, but
I came across a post by @eosgo which gave some pretty surprising details of things that have been said with regards to the situation
. I will use some of the screencaps from their post, because a lot of what Dan Larimer said about the situation was said in Telegram. I won't pick sides or go into detail about the argument, because this post is mostly about the implications of a Steemit competitor on EOS.
In short, the screencaps below should explain a lot of Dan Larimer's current line of thought with regards to Steemit: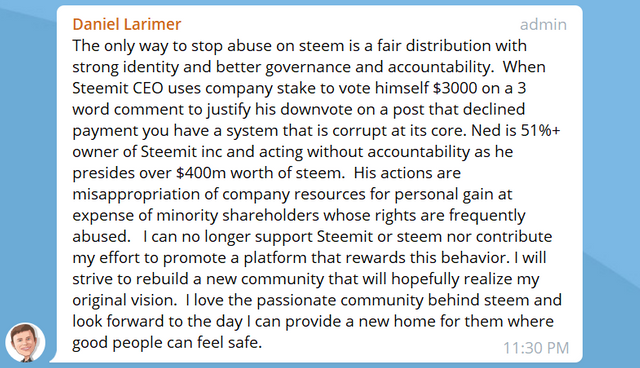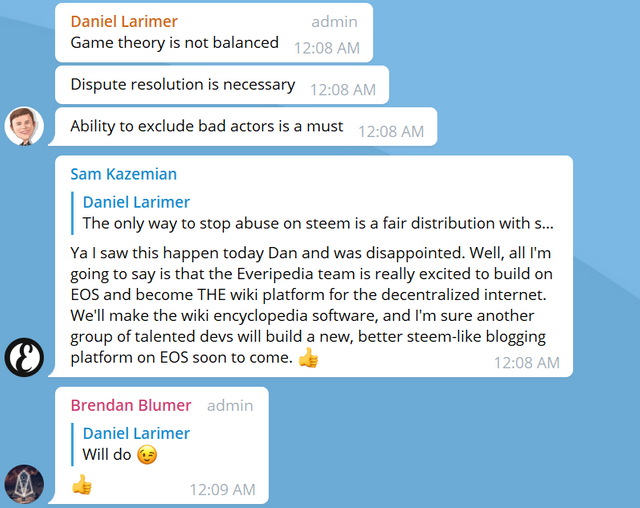 Sorry about the screencap-spam! But I felt I shouldn't shorten it too much as to not distort his words.

A STEEMIT COMPETITOR ON EOS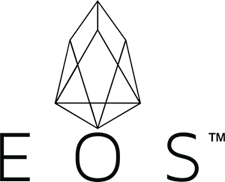 Now, people have often wondered what will happen to STEEM in the future when EOS is released. When I asked this question around months ago, the answer I got was that it was likely for STEEM to be ported to EOS in the future, but nobody knew for sure. It's hard to discover what the STEEM devs are doing, or thinking about doing, so indeed nobody really knows. I always felt it was far from a sure thing that STEEM or Steemit would be ported to EOS. After all, what happens to the old blockchain?Do you also port the accounts (whales get to be whales again...? seems like a terrible decision to make as a dev if you're starting from scratch), or do you start over?
Now it seems the idea of porting STEEM to EOS is over. At least in so far that it would be with Dan Larimer's assistance. It's clear that cooperation is not on the table at this moment. On the contrary: Dan Larimer is talking about STEEM's faults and says that he wants to build a Steemit competitor on EOS! I highly doubt we'll be able to move our STEEM Power over to that.
Maybe the STEEM devs will port STEEM to EOS themselves? After all, EOS being a public blockchain, it should be possible. But I don't think at all that this is likely to happen, and if it is likely to happen then it would likely be more of a fresh start than a continuation of the current status quo. I think it's more likely that STEEM will remain STEEM, and Steemit will remain Steemit, even with the emergence of competitors on platforms such as EOS.
THE FUTURE MAY BE BLEAK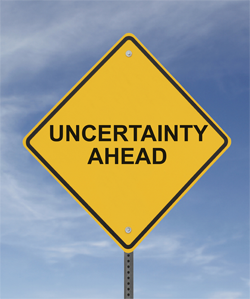 So what does this mean for us Steemians of the now and present? Surely you are all working on building your SP just as much as I am, but the future seems a lot more bleak now that collaboration between
@dan
and
@ned
seems off the table. I do not think that Steemit has such a dominant grasp on the market that it has nothing to fear from an EOS competitor. On the contrary: a competitor on EOS would allow Dan Larimer to fix many issues that plague Steemit right now, as he mentions in his telegram chat. If a better and more fair alternative to Steemit should arrive, will not everybody flock to that?
There is of course the chance that the STEEM and Steemit devs themselves manage to improve the code to fix the many issues this platform has. But they better hurry up: EOS mainnet is set to go live this summer. And judging from the development that happened on Steem last year.. I can't say that I've noticed much of anything change except for the UI overhaul. It would require bit faster pace in order to stay ahead of a new competitor.
WHAT ABOUT MY STEEM POWER?
For us regular users, the question arrives: So what about my Steem Power? We're all powering up and locking our STEEM into SP that we cannot easily get out unless we wait many weeks. If a new competitor arrives and is succesful and steals the thunder away from Steemit, then it is very likely that the price of STEEM shall go down drastically due to lessened interest in STEEM and people moving to the competition.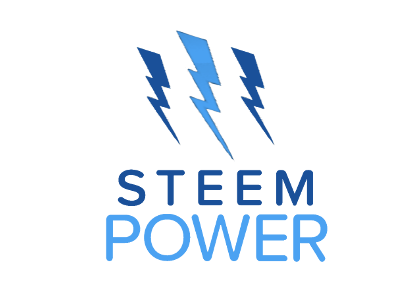 It seems risky therefore to lock up a large amount of STEEM with so much uncertainty and competition. After all, it is Dan Larimer's name attached to STEEM that means quite a lot, and indeed it is his name why EOS is subject to so much excitement. Should the price lower suddenly, you may not be able to get your funds out in time due to the slow release of SP when you power down. This is sad for small minnows who see their small amount turn to next to nothing, but it could be catastrophic to whales who own hundreds of thousands of dollars worth of STEEM. Would they risk keeping their SP locked in? Or would they start to slowly get anxious and start cashing out bits here and there - slowly creating a downward spiral for the price. You know how people are, when it comes to money it's everyone for himself - even here on Steemit.
There is good news too, though! Maybe you're feeling the FUD right now because of what I just wrote, but let me re-assure you somewhat. I do not believe a Steemit competitor on EOS would mean the instantanious failure of STEEM. After all, the blockchain is a decentralized blockchain. It will continue to exist for as long as there are witnesses running nodes. And since running a node is profitable, even with a lower price, the STEEM blockchain will continue to exist.
Secondly, although the 13 week SP lockdown period means you can't quickly cash out when the price drops, it also means nobody else can. This helps the price from falling too fast and prevents a sudden death.
There are more economic implications too. As more people leave the platform, it also means that less people are eating up the reward pool, leaving a bigger slice for everybody that remains. Though, this comes with a lowered STEEM price, so these two may very well cancel eachother out to some extent.
Lastly, STEEM has quite a headstart in terms of adoption. When the EOS competitor arrives, STEEM and Steemit will have been here for years building a community and userbase. Sure, it sounds super threatening to hear an EOS competitor of Steemit by Dan Larimer. BUT.... empty promises so far. How many times have we heard of projects creating a 'better Bitcoin', yet people don't care about altcoins and want the original. Surely if an EOS based Steemit competitor should arrive.... there will be a second, and a third, and a fourth. And perhaps there will be ten based on NEO as well. And ten based on Ethereum. And god knows how many others who will offer to create the fastest and most awesomest version of Steemit possible. It's all just words, and even when they deliver it remains to be seen if these newer Steemits will gain the same popularity as the original. Hell, maybe I could make my own Steemit too - doesn't mean anybody is going to use it yet, until they actually do.

But to be fair, this situation does concern me. Last year I started out on Steemit thinking this would never be sustainable, and I cashed out as much as I could. Slowly I converted into a real Steemian, and I stopped powering down and started to power up. Nowadays I am taking Steemit quite serious, and I am very fond of it and all that I've accomplished when it comes to my followers and earnings, relatively small as they may be. The thought of losing all of that work and having to start over from scratch is a scary thought.
I see some very good and enthusiastic people who are die-hard believers of STEEM, and I do worry about them. I hate to see people get hurt, and as my readers will know I frequently advise people to diversify. While it may be an impopular opinion to some, I feel I should repeat this here again: With uncertainty about the future, consider diversifying into some other crypto's.
I think the 50/50 SBD/STEEM split is a pretty good guideline. You can still power up 50%, but consider turning some of that SBD into Bitcoin or Ethereum. Those are pretty safe bets for the time being. Or, if you want to hedge against EOS outcompeting Steemit, maybe turn some SBD into EOS. By doing this, you have at least some of your earnings seperate from the STEEM-situation. Should Steemit collapse or disappear or whatever, you always have the other 50% that you turned into other crypto's with which you can start anew on another platform. And if EOS should prove to win, then you'll have those EOS tokens to buy your way into their version of Steemit.
I won't be changing my strategy, as I've been diversifying my SBD for quite some time already and I am willing to 'risk' my SP that is on Steemit. But if I had $100K worth of SP locked up, you can bet I'd be taking a lot of that out due to this uncertainty.
This post isn't meant to cause any FUD or cast judgement one way or another. I primarily wrote this to inform you of what's going on, and to hopefully help you make whatever decision is best for you!

(Art by Roy Lichtenstein)