Introducing PSI: Payouts Sustainability Indicator (beta) for Steem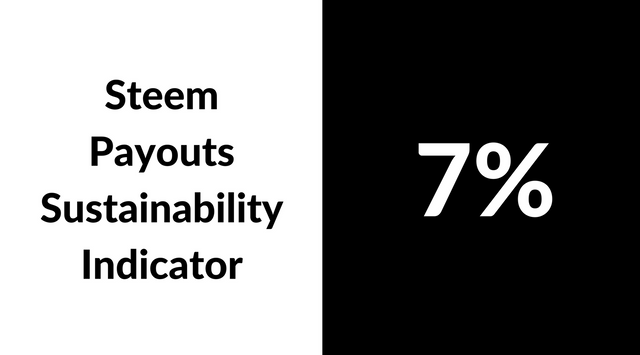 Is it possible for Steem attention economy to generate enough value to offset inflation required for author payouts? I think it is and here is why.
What is PSI?
Four key variables contribute to PSI:
Total author payouts
Share of 100% Steem Power post payouts
SBDs burned for post promotion
Average curation rewards share
PSI calculation is straightforward: 7 day moving average of sum of daily SBDs burned for post promotion divided by sum of daily liquid STEEM + SBD payouts and multiplied by 100%.
Liquid STEEM + SBD payouts value is total_payouts_value * (1 - avg_curator_rewards) / 2. Average curator reward share is currently at around 17-19%.
PSI
Dates on the chart start from the 8th of December after post promotion was relaunched.
Daily 100% SP posts payouts share


7 day moving daily average of total SP only payouts share in percents.
Daily SBDs burn / total payouts


7 day moving daily average of SBDs burned divide by total payouts in percents.
What does it mean for Steem?
Steem already has a working minimum viable product that decreases inflationary pressure of author payouts. Increasing post promotion SBD burn by 10x or even 50x is not easy, but certainly possible. It would require community consensus with regard to the acceptance of promoted posts, changes to post ratings algorithms and more resources dedicated to the promoted posts functionality among other things.
PSI Limitations
Doesn't consider power up and power down events. I am developing a metric to analyte power up/power down dynamics.
May be not a "real" sustainability indicator if promoted posts are used only as a tool to increase payouts
Not tested by time
My data may contain errors and inaccuracies
Next steps
I'm hopeful that this posts sparks a community discussion about the present and future of promoted posts. Steem has an interesting ad tech product here and this looks like good news to me.