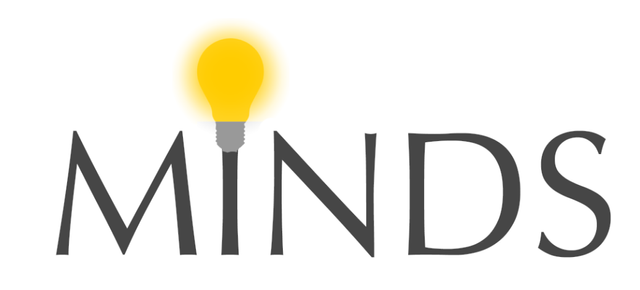 The minds logo..
Recently I've heard about a social site called Minds that was being promoted as a new site for free speech, so my curiosity was piqued.
I created an account there: https://www.minds.com/neoxian
And I made a few posts. Minds has a points system, where one point = one view. You can spend your points to boost posts, yours or others. Minds.com will promote these posts, showing them on other's screens, until they reach the purchased number of views. A boosted post has to be approved before it can be boosted, a process that can take a few hours sometimes, but you can post as many unboosted posts as you like.
You can earn points for free, just by being active on the site, making comments, getting subscribed too, etc.
Minds.com is fully open source. They have a github: https://github.com/minds . That's really good, certainly makes them way better than Facebook or Twitter.
But I wanted to understand the fundamental design behind Minds and how it stacks up to Steemit, so I made this post there (and promoted it)
https://www.minds.com/blog/view/680517894072705039
I asked:
I'm trying to understand the design of Minds. What makes it censorship resistant? What makes it decentralized? Why can't the goverment shut down minds.com? Minds is open source, and that's good. If I ran my own server, could I still access all the posts?
How are the points managed? On one server? Is there a block chain? Or a shared database?
If there is a whitepaper or some document describing the design, someone please point that out to me.
And to my pleasant surprise, the co-creator Bill Ottman (@ottman ) answered me!
Good questions. It's decentralized in that ultimately, yes, nodes will be able to optionally federate (this is still in dev). It is censorship resistant in that we allow all legal content, and in the future will integrate torrent options. The points are currently on one server, but we will be integrating bitcoin in future. Please check out docs at https://minds.org/docs or https://github.com/minds
Well that was neat, to get a direct answer like that. I was disappointed though, in that it sounds like the anti-censorship and de-centralization aspects of this site are still being worked on, and not something that exists now.
I'm sure Minds.com has good intentions, but Google used to have the motto "Don't be evil" and we can see how that turned out. Censorship resistance and decentralization have to be built into the design of a system. One can't rely on the promises and good intentions of a company.
For now, I believe that Steemit is one of the best censorship free sites there is. I have proved that with these two posts:
https://steemit.com/steemit/@neoxian/how-to-run-busy-org-locally
https://steemit.com/steemit/@neoxian/steemit-uncensored-presenting-the-uncensored-patch
And Steemit exists and works right now, with a design and a whitepaper.
I don't want to be too down on Minds though. It is a great idea, and that fact that it's open source is a great start. Definitely a step in the right direction, so I'll keep an eye on it, and cross post to there.
A little competition in the censorship free space never hurts.