Additionally to our regular policy, we will be observing the ruling of whatever Blacklist any members run afoul of. For example, we recently had an MBC member get blacklisted by BuildAWhale, and that is a permanent blacklist unless they can prove to the @buildawhale operator that they were added in error, it is not hard to prove that you do not belong on a blacklist, in fact. If a member has too many strikes they can be expelled from the Boot Camp. It is our fondest desire that this would NEVER HAPPEN to our beloved fishies but sometimes people just cannot help themselves. I believe in second chances but don't get nailed by an outside listing, many have no way off their list. But, for example, you get on the @booster blacklist, it is sometimes temporary and we will observe the same probation. But MANY or MOST are permanent. Cheetah and Steemcleaners? Avoid them. We cannot allow cheaters and plagiarists to stay in the Boot Camp. I have spent Far too much time on this and I'm over it.
No more Mr. Nice Guy!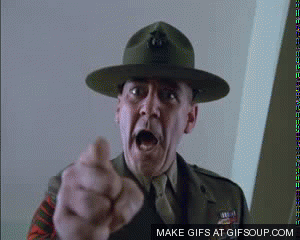 credit:
MOST of the blacklists are very thorough checkers, but if you do get on there by mistake and can prove it, they will take you off.
On the other hand, we have had some who have been warned and done very well after the warning. If the shoe fits, wear it, but otherwise, go on your Merry Way!
😎
I am also a flagship member of #TEAMGOOD and they would really not like it if I was running a "sanctuary city" for plagiarists. These people are SERIOUS, and so is "The Sarge". Not to mention my associations with The Alliance and other fine groups on Steemit. We all need to tighten up and clean our own houses, STEEM is getting ready to vault forward, and we need to have our best foot forward and present a good PR to all the prospects!
...........................................................................
Join the new @MBC-MEPS bot at Discord!