Those pesky bots.
---
One thing I've noticed on Steemit lately is the quick rise in reputation of some users who use paid bot votes to upvote their post to higher dollar values in the hot and trending pages.
Dollar amounts are one of the sole drivers of reputation, and newbies seem to be exploiting this trick as they back fill their posts with dollar laden bot votes to boost their reputational score.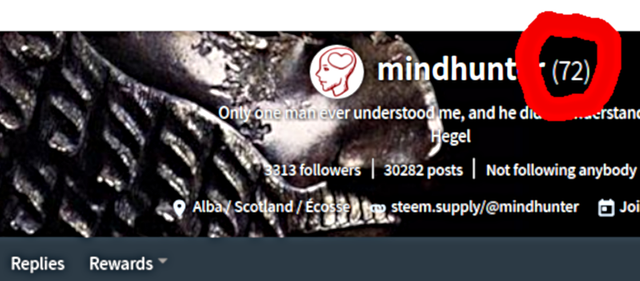 I believe reputation should only come from moral community values, and should not be subject to gameification. Others may disagree and believe it's a truly free market. But then where do our morals end on this?
I recently saw a newbie who shall remain nameless who'd been on the platform only a few months and had a reputation in the high 60s. In the old days of Steemit this would've taken nearly 10-12 months of hard writing to earn. Very few tread that path now. It's been abused by the rise of the paid bots. Quality work is plainly not being seen via the reputational score.
Community values.
---
This all comes down to the morals of a community and whether we value the reputational numbers that we hold or not - @berniesanders at -18 may be the exception to the rule here, as he is a man unto himself. Bernie is a sociopath that does attack those that prey on the gameification of reputations. Even sociopaths can do good.
The ultimate aim here for all of us is to get to reputation 100 to enable a spam-free network. But what behaviour shall we demonstrate on the way to get there? Yes, many of us on here have made errors on Steemit. Some have corrected them and some have not. @craig-grant for example has been hounded to death from the platform at reputation 75. It's sad in a way for me personally, as Craig was one of the first people I met on Steemit, but he did fall on his own sword with the Bitconnect and Davorcoin debacle.
It's taken me 18 months to get to reputation 72, and I have destroyed my idol of Steemit at times along the way as I patrol its borders and weaknesses. I've published walled garden content, inverted images and many other tricks to test @cheetah. @cheetah does great work, but I'm sure the tweaking of the algorithm persists. @pfunk has done some great work on this, and I've been caned by him and others on several occasions as I walk the perimeter fences of Steemit.
So, as @ned continues to take our platform forward on a full on assault to take on @dan (should he start his own EOS Steemit variant), my money is on Steemit. An EOS Steemit variant would need to build a reputation system with morals that exceed Steemits to be any kind of competition - and thus solve the Steemit's 'stickiness' problem with it's new users. Even after 2 years Steemit still hasn't fully solved this yet.
Hopefully by the time an EOS Steemit variant arrives we'll all have a reputation number that truly means something, as without morals and only greed, the platform remains meaningless.
Steem on!