Magic Dice v1.6 - Leaderboard - Over 120k STEEM in Rewards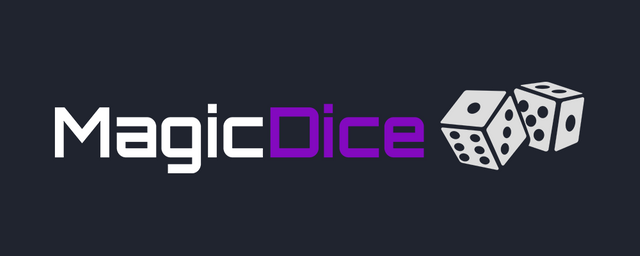 Magic Dice is a transparent and provably fair dice game on Steem. If you haven't tried the game yet, go to https://magic-dice.com and give it a try. If you want more information about Magic Dice, read our introduction post.


Over 120k STEEM in Rewards


Since the start of the dividend distribution about a month ago, Magic Dice has distributed over 80k STEEM in dividends. With the distributed referral rewards of over 40k STEEM, Magic Dice has distributed over 120k STEEM to its users!
If you want to receive some rewards as well, refer some new users or start earning tokens by playing or delegating to Magic Dice. If you need more information, go to https://magic-dice.com/referral and https://magic-dice.com/dividends.

Leaderboard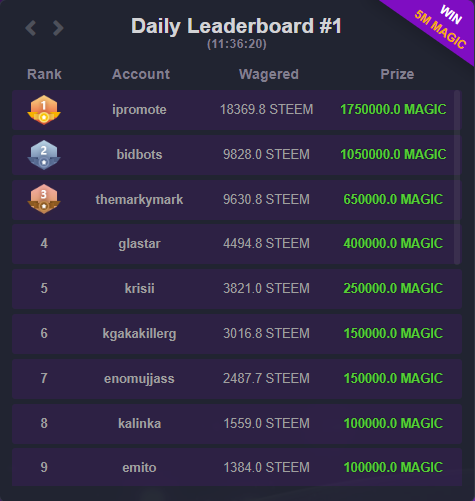 The new leaderboard on Magic Dice tracks the total amount wagered by player every day and ranks them accordingly. Every day players can win 5 million MAGIC tokens. The top 15 players will be rewarded with MAGIC tokens.
The leaderboard is a great way to keep things more exciting and create a competition between players. It is a great way for players to accumulate more tokens as well.

Token Distribution Update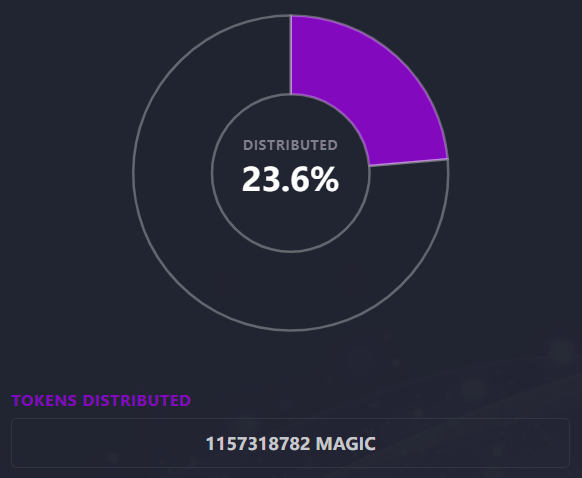 We have updated the token distribution. The old token distribution halving rate was too high. New players would only get very few tokens compared to other players before them. Especially after the next few halvings. The timing for the halving was confusing for some players as well. That's why we simplified it.
The distribution rate for the tokens will be halved after 10% of the player supply has been issued. So far 23.6% of the player supply have been issued. That means the new distribution will be 50 MAGIC per every STEEM wagered (We use the same start distribution of 200 MAGIC). After 30% have been distributed, the rate will be 25 MAGIC. After 40% have been distributed, the rate will be 12.5 MAGIC.
We believe that distribution rate is more fair for everyone and new players will have a higher incentive to play.

New games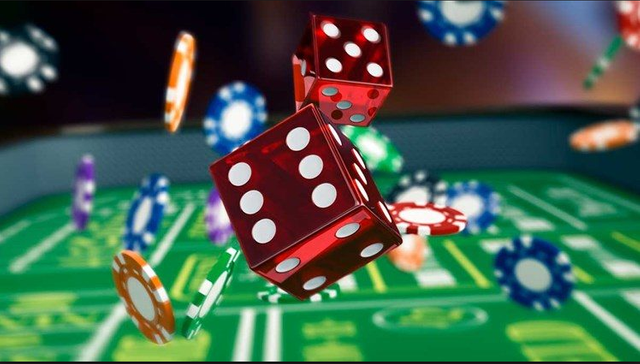 The next big update will be a new game. So far we focused our development on creating a great dice game that is fair, transparent and fun to play. If you want some extra features or have some ideas to improve Magic Dice, leave a comment.
We did some research and testing for new gambling games. The plan for now is to release a lottery or a crash game. If you have some requests for other games, leave a comment or contact us on our Discord server.

Resteem and WIN 300 STEEM and 500000 MAGIC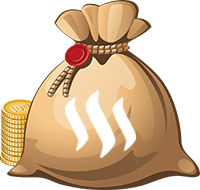 Everyone who resteems this post can win 300 STEEM and 500000 MAGIC. You need at least 300 followers to receive the reward . Every resteem with more than 300 followers will receive 10000 MAGIC for free! The rewards will be distributed in 7 days.

Play responsible and don't overindulge. Don't play with more than you can afford to lose.
If you have some questions, join our Discord channel or leave a comment. Resteem this post and follow us on Steem to support Magic Dice.


If you reside in a location where gambling over the internet is illegal, please do not click on anything related to these activities. You must be at least 18 years of age to click on any betting or gambling related items even if it is legal to do so in your location. Recognizing that the laws and regulations involving online gaming are different everywhere, readers are advised to check with the laws that exist within their own jurisdiction to ascertain the legality of the activities which are covered. The games provided by Magic Dice are based on blockchain, fair and transparent. When you start playing these games, please note that online gambling is an entertainment vehicle and that it carries with it a certain degree of financial risk. Players should be aware of this risk, and govern themselves accordingly.