FOLLOW ME BOUNTY MARKING MY 3 MONTHS ANNIVERSARY ON STEEMIT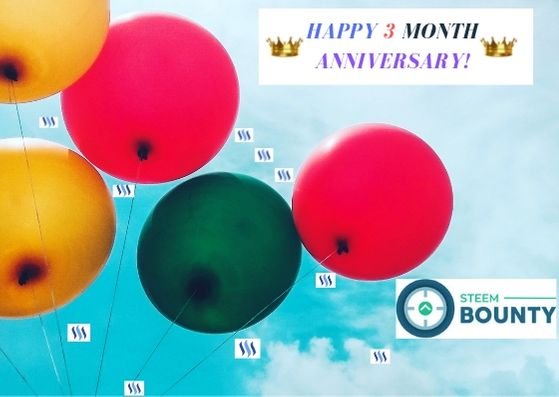 Steemit have been a great platform so far to me, I never for once regretted of joining this thoughtful creative platform. So many lessons have been learnt and mistakes also made within this last 3 months. All these put together have made my growth a worthwhile, I have moved from nothing to a reputation of 54 and still growing. However, upon all this my growth, my followers remain few, I was aiming to gain about 1000 followers within these periods but for now i'm still having 69 followers. Another area I wanted to explore was how I can get some people to delegate SPs to me freewill. In consideration of above situations, I found out that for people to gain more followers and Get people delegated SPs, they need to support the community in one or the other. They need to add value to steemit. So, I want to commence with this my 3rd month anniversary to provide support to this wonderful community. So, what is ideology behind FOLLOW ME BOUNTY.
FOLLOW ME BOUNTY
This is a Steem Bounty idea from me to gain more followers, the reasons why I want to gain more followers is because, I have observed that every resteem service that we have in steemit charges more money to the community, I want to grow and become a heavy resteem account that will bring many people's post to the awareness of the community. I have set aside 15 steems bounty on this post @steem-bounty and to be eligible you must meet the following requirements;
Requirements
Follow me @maclevis.
Upvote and Resteem this post.
Tag 5 people on comment section of this post.
PLEASE SUMMIT ONLY ONE COMMENT TO BE ELIGIBLE FOR THE BOUNTY Spamming and unnecessary comment is not allowed, just follow the stipulated requirement for this contest.
My humble shout out goes to some people who have always been there for me upvoting and supporting me within these 3 months on steemit and on this day I want to recognize them. They are; @nathanmars, @ajorundon, @peachyladiva, @onealfa, @pius.pius, @crypto.piotr, @nanzo-scoop and many more. I also joined @actifit, @share2steem, @seven77, @minnowsupport community and they have been of great help to me. Thanks to you all.
To support @maclevis and to inspire him to continue his work on steemit , please you can choose to show your support with DELEGATION; 25SP, 50SP, 100SP, 250SP. Thank you so much.