I have never reposted content before but am reposting this as I only have one volunteer and am in need of at least one more to see if this project will work.
---
Today I have a project to introduce to the Steemit Community as a way to give back and help foster love and giving within the community in memory of a dear friend. With Memorial Day happening Monday in the United States I feel this is the correct time to introduce the project to my fellow Steem Dawgs. Before I get into the specifics of what the project is I would like to introduce you to the person this project is in honor of.

Important! Important! Please Read The Entire Post Before Leaving A Reply
Meet Sgt. Michael Barkey
Sgt. Michael Barkey died of hostile action on July 7th of 2004 in Ar Ramadi, Iraq. Below is the Congressional Record of his life and death on the floor of the United States Senate. I do feel the Congressional Record describes the character of SGT Michael Barkey with great detail and accuracy in words more poetic than I ever could.


The Hamburger Saint Project
This Steemit Community Project is intended to be fun and loving just like Michael Barkey was. It should be exciting and if the concept grows, as I hope, it will be way out of my hands. I intend to give a monthly update on how the project is going and identify interesting posts I see in regard to the project. Below I will layout the concept.



Pay It Forward
I am sure many have heard the term "pay it forward". This concept is the basis for the whole project. I will begin the project by sending two Steemians a gift by mail. The two Steemians who receive a gift will each send a gift to two people. The content of the gifts will not be known, but rather a surprise. I ask whoever should participate further down the line keep the gifts non-perishable and within the legal realm. Additionally, the gifts do not have to be new. Gifts representing something personally meaningful to the sender and the desire to share it with others would be ideal. Remember this is supposed to be a project of love. The gift could be a handmade piece of art, your favorite book, or a memento with a cool story behind it. The possibilities are limitless. Gifts sent with love and thoughtfulness are the key here.



How Do People Get Picked Who Are Sent the Gifts?
The idea is the two people chosen are picked at random. There is a purpose to this and will be explained further below. For this post, I will draw two names randomly from a hat with names on paper of those who would like to participate. If you would like to participate please leave a reply below indicating you would like to be included in the random drawing. Steemers may randomly leave comments indicating they support this project and may not want to be included in the drawing without indicating that fact; so it is imperative you indicate you would like to be included.


The Use Of The Tag HamburgerSaintProject
If you are the recipient of a gift; the requirement of participation is a post about what you received using the HamburgerSaintProject as your first tag of the post and a reply to this post indicating you have posted. The HamburgerSaintProject tag will also allow for tracking to see how the project is doing in the future. Additionally, the "gift reveal" post will serve to inform others that you(the receiver) will be paying it forward by sending out two gifts. The requirements of new participants for participation will be to upvote your post and also create a post about what they have received should they be randomly picked. Eventually, there will be no way for me to track each and every post deriving from this one as the 2 Steemians I send gifts to will turn into 4 Steemians receiving gifts, 4 Steemians will turn into 8 receiving gifts, 8 turning into 16, etc. The HamburgerSaintProject tag itself will blossom and the cohesiveness of the Steemit Community will grow along with it.



Why Random?
There are real costs associated with participation in this project. The most obvious is the shipping cost. Some Steemians may choose to purchase new gifts. But, as I said before, the gifts do not have to be new. If there is love and genuine thought put into the gift then it will be special and meaningful regardless of its age. The reason for randomness of chosen recepients is if repliers to a post are to upvote to help offset costs then they must must feel they have a real chance of being picked as a gift recepient. I will personally post a video of myself drawing names out of a hat.
I would ask if you choose to participate please remember to upvote this post to offset shipping costs, not to mention it is a requirement to be eligible as a possible gift recipient. I don't personally need the funds but this will be the first real world test in regard to Steemians helping offset the cost of shipping. This post will serve as an example to others who may be fearful to participate because of shipping costs. I will either donate the funds to Gold Star Mothers from this post or put in the Steemit Savings Account to help Steemians in the future who may need help with shipping if the need should arise



What If I Don't Want My Address To Be Known?
This is understandable! If you are from the United States your local USPS office will hold the parcel for you if General Delivery is requested. The Post Office hold location may vary depending on your city size so it may be worth speaking with your local Post Office to find out which Post Office it will actually be delivered too. Fed-Ex will also Hold the Package if you request it. This option may facilitate international deliveries for those who wish for their address to remain anonymous. It may also be a good idea to include tracking with the package to help facilitate timely posting response times and to verifiy you sent the gift should something happen. As many users on Steemit are international it may require a post on its own regarding International Delivery Options, if Fed-Ex should prove too costly or is not available.



Are You Ready To Honor To Sgt.Michael Barkey?
Ok. We just covered a lot of information. Let's clarify. If you would like to participate you must upvote this post AND leave a reply below that you would like to be included in the drawing. If you receive a gift you must then write a post ,with the first tag being HamburgerSaintProject ,describing what you received, explain the project(you can use this post as a reference if you need to), and inform the reader you to will be sending out two gifts. I ask you leave a reply here when you write your posts, because I would love to see them. Additionally, addresses for the gift recepients when the drawing happens can be directed to my Private Message at facebook.com/frankquezada101
At the end of seven days after I submit this post; I will make a video of the drawing and then send out the gifts. I hope I explained it all well enough. Leave any questions you may have below.


HELP MAKE THIS PROJECT A SUCCESS FELLOW STEEMIANS! RESTEEM TO HELP SPREAD THE MESSAGE
I will either donate the funds to Gold Star Mothers from this post or put in the Steemit Savings Account to help Steemians in the future who may need help with shipping if the need should arise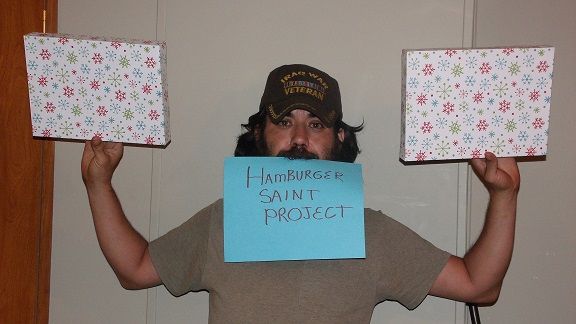 The first gifts are ready