Steemit is going to take the world by storm, way faster than Myspace, YouTube, Facebook, Reddit or Twitter ever did.
Be sure to checkout my intro as well!  I put alot of effort into it!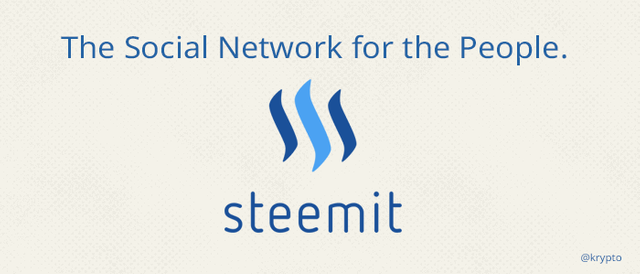 I have been around social media since before Myspace was popular, I have seen the waves of people switch over within 2 years from one platform to the next, all while the entire social media sphere has grown 100x. I remember scouring the internet for new songs to add to my Myspace page, learning HTML just to add a new background image to my profile & worst of all having to choose a top 8. At the time these things were very important to my 14 year old self and I had no issues researching how to do these things, and do them well I might add. Before you know it my page was the sexiest page out of anyone of my 200 friends! My top 8 was hidden, my song was turned into a full playlist, and my HTML game was so strong, I had background images on every widget box. I was stoked.
Then Facebook came up...
At first I was a die-hard Myspace user, and would make fun of Facebook for years to come as being boring, useless, dead & ugly. But 1 by 1 my friends all switched to Facebook, some took to twitter, and some stuck with me on Myspace. Nonetheless less than a year later, I found myself with a brand new boring, ugly, useless Facebook account and I absolutely LOVED it. Why? No idea. I just did.
After a few years of Facebook-ing, you could see the website was changing, more and more by the day, and before we knew it, Facebook was the #1 Social Network on the web, and it hadn't even broke a billion users yet. For some reason I always disliked Facebook, and I still do to this day, but do I have one still? Of course I do! How else am I to keep in touch with everyone I know? Even after learning about Facebook's relationship with the US Govt. I still found myself coming back on the daily, posting things, sharing images of my life and chatting with my friends. I still wonder why I thought it was okay to give up my privacy just for the convenience of not calling someone... but alas.. the plot worked. I was hooked.
Fast forward to today. Steemit is going to throw a wrench in things.
Steemit is finally here. Just as Facebook, YouTube, Twitter, Instagram were years ago, it has started out as a project with a goal, and that goal is users. Except Steemit has one major advantage over the competition; it pays users for using the website properly. I mean do I even need point out how important this is? This means we wouldn't EVER need things like advertising to monetize content, EVER again. Now back up 5 minutes and think about the amount of people that flocked to Facebook, just to have a little easier time connecting with friends.. Steemit is going to steemroll the competition. I promise you.
Again, just let that sink in for a second, a world with no advertisements & every author gets paid for his/her articles without a middle man. #BOOM
Also, don't forget to follow my steemit profile!  I will be posting quite a bit of #crypto, #sports, #cannabis, #life &  northwest related content for years to come! Keep on Steeming everyone!