So I have been curious as to how the votes were ranked on any given post. After observing for 6 months I have finally cracked the code.
I have not seen this covered anywhere else. But if any info is incorrect please let me know and I will revise.
Votes Are NOT Ranked By
Chronology
Alphabetically
By STEEM POWER (Which is what I initially thought)
By account value
Votes Are Ranked By
The value of the specific vote you received
Now STEEM POWER does play a roll.
As well as the PERCENTAGE of the vote you received.
For instance:
Someone upvotes your post who has 10,000 SP but only gives you a 25% vote
Someone else upvotes your post who has 1,000 SP but gives you a 100% vote
25% of 10,000 > 100% of 1,000
So the VALUE of the individual vote is what determines the ranking.
---
Thanks to all who have followed my blog and continue to upvote my posts!
---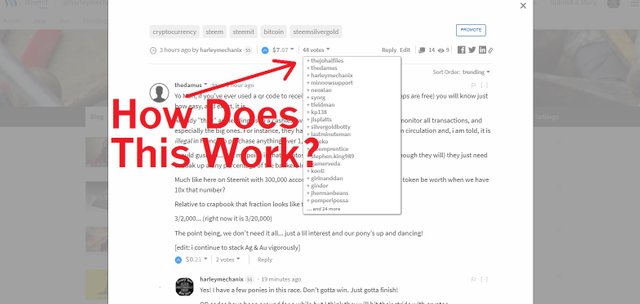 ---
Peace, HM