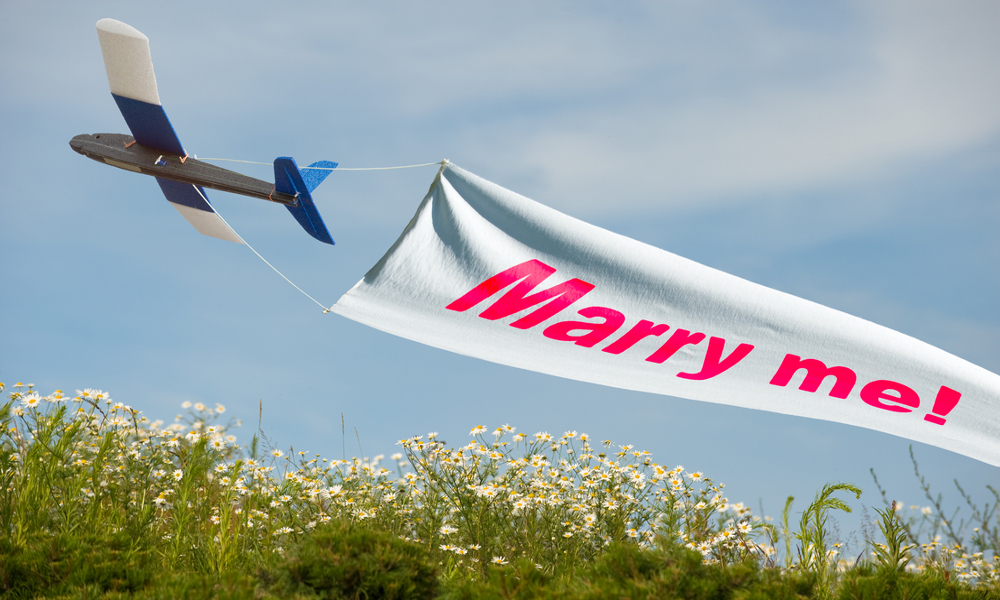 Image Source
If you're unfamiliar with our story we met in the early days of Steemit, back when I was writing poetry and Sarah ( @cathi-xx) was replying to my poems in order to inform me of how terrible they were. So I did the only reasonable thing and moved to England to live with her.
Two months ago, I decided to make Sarah my future wife, regardless of whether she liked it or not. Luckily when I got down on one knee she said, "Yes!" Which saves me the trouble of having to buy a club to marry her caveman-style.
I have been dying to tell you guys the news, but I had to fly back to the US to inform my family first, so they didn't learn of our engagement on-line. Unfortunately, the plane ride resulted in severe back pain for weeks, because I have Cerebral Palsy, so I haven't been well enough to sit down and write anything longer than a meme.
I am so grateful to Steemit for introducing us, it has changed our lives and we are so lucky that all our saved SBD covered much of our expenses such as airfare, the British Family Visa Application and Sarah's ring.
Our plan is a simple wedding at the courthouse. We already have our marriage license and now Sarah is attempting to choose a date, which is a challenge due to her weird numerology thing which somehow makes her a jaguar and I happen to be some crappy eagle.
So, now we are about to take the plunge into marriage, I love Sarah so much, she is the best thing that has ever happened to me and I couldn't imagine life without her.
In the next few weeks we will be Mr and Mrs. Gonzo, God help us!
---
P.S. If any of you are interested in becoming a sister-wife or a
brother-husband please inform Sarah on her blog, @cathi-xx,
she would love that :P
---
Links:
---
A Thank You Letter To Steemit – You Gave Us The Best Wedding Gift Ever!!!
How Steemit Changed My Life
 Chapter One | Chapter Two | Chapter Three
Chapter Four | Chapter Five | Chapter Six
Ozong Abroad
The British Health Care System
How I Nearly Slapped A Brit