Gniksivart's April Monthly Account Update - Ep. 7 - Crypto Trading and Daughter!
Not much has changed for the month of April either. I've been mainly focusing on trading crypto and trying to get some sleep at night with a new-born daughter. I've thought about posting during the late nights, but by the time I have time to make a post my mind is usually mush and I try to only publish articles that create value.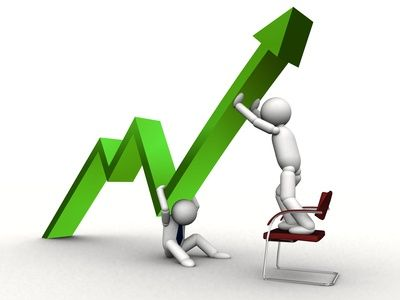 Source
I made a terrible trade and a great trade in EOS. To start off with the terrible trade I panic sold some EOS for a 10% profit after I watched the price of XEM pump and then dump in a matter of days. I thought EOS was going to do the same thing so wanted to take a small profit and ended up selling the bottom of the run (still a profit, but a terrible place to sell).
I was also able to sell some EOS near the top. It's not indicated on the chart below, but it was 3 - 4x the point at which I bought and it was right after the EOS market began to turn down. I'm pretty proud of this trade but have to admit it was pure luck. I saw the chart begin to run straight up and new a correction was bound to happen sooner or later and wanted to sell into strength.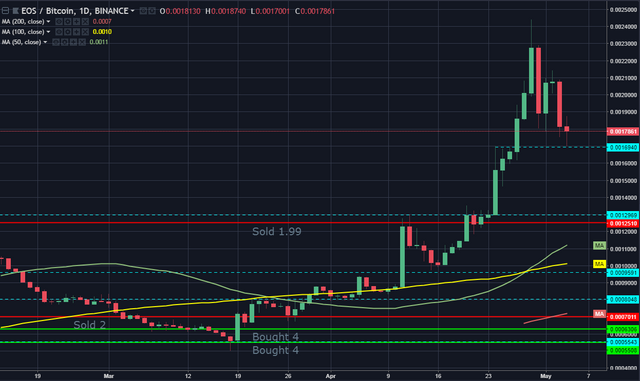 Source
16,940 seems to currently be a good support for EOS currently. I myself will be waiting until the price of EOS drops back to around 8000 Satoshi (which I believe will be the accumulation point during the next crash). I bought near the bottom, sold near the current top, and have a small bag that I will ride to the moon or to 0 since I've already made my profit on this trade. If you want to FOMO into EOS set some buy orders at 13,000 which is the next support level of EOS and I think was the previous ATH.
Number of Posts
7870 -> 7922 I've finally decided I want to write most if not completely on crypto and trading. I used to think that writing about crypto on a crypto platform was oversaturated, but I think I've spent enough time, accumulated enough knowledge, and still hungry about learning and sharing more on crypto. Would you like to see more on crypto on this account or should I create a crypto only account?
Steem Power
Once again thanks My Steemit Friends Online and @magicmonk for providing a tool that contains this information. I've gone from rank 4181 -> 4234 and my Steem Power has gone from 1,634 -> 1,659.
Reputation
My Reputation ranking went from 4,426 -> 4,549 and reputation went from 59.02 -> 59.31 in April.
Followers
My followers have gone from 1617 -> 1676 and my rank from 3510 -> 3872.
I didn't include much of an explanation for each subject this month due to the fact that not much effort was put forth on Steemit so not much to analyze. I'm hoping to start back up on my normal Steemit responsibilities starting next week and apologize for my prolonged absence after my beautiful daughter was born.
As always if you have any questions, changes, or improvements for this post let me know in the comments below.