300 Posts on Steemit!
Would you like to celebrate with me this 300th post on Steemit because if you want to grow your account you might just want to follow in my foot steps?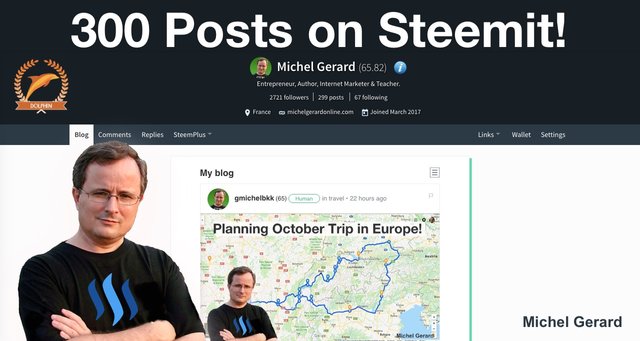 300 Posts on Steemit!
This is what SteemitBoard says about what I have achieved on Steemit: http://steemitboard.com/board.html?user=gmichelbkk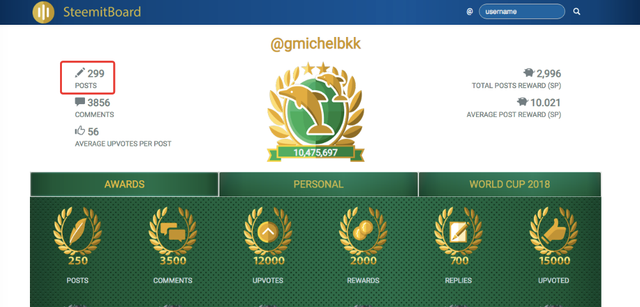 It shows 299 posts, but after I publish this one, then it will be 300.
If you don't know what SteemitBoard by @arcange is, go to check your account here: http://steemitboard.com/welcome.html. I have been seeing my progress on it from the start and it is fun.
I have written so many posts on Steemit in a year and a few months that I don't remember all of them. This is why at one point, I have decided to categorize them in bookmarks with Raindrop.io as explained in this post: Bookmark your Favorite Sites in Raindrop.io for Mac!
You can see all the categories I have written articles for at the end of this post and when I started I didn't want to limit myself to one topic, like cryptocurrency, for example.
300 posts is quite a lot and the thing is to post regularly, daily if possible, so that bit by bit your blog is growing. I have done that in the past with my other blog www.michelgerardonline.com, which has 555 posts on it.

I am still writing one post monthly on this website and it is my brand website, so even if I do not often blog on it, it is where people can learn more about me in an organized manner, contact me, purchase books and video courses or hire me for their digital marketing or book editing projects.
When it comes to blogging, Steemit is great for engagement because I have thousands of comments while on the WordPress blog, maybe a hundred, and thousand of spam comments automatically deleted.
This to say that having your own WordPress blog, even a simple one, is great for branding yourself and have a place to send people to indefinitely, and also that Steemit is also great to have an audience that will read and interact with your posts, if we don't take into consideration the rewards.
I intend to get to 555 posts on Steemit the same as my own WP blog and the thing is that I set myself to only write meaningful and quality posts. If one day I have no idea or not the time for a post on Steemit, then I think it is better not to post.
This has worked great for me, not in terms of rewards that are still less than what I could get working per hour, but in terms of building an audience and get some other opportunities to pop up because of the posts I have made on Steemit.
You really have to love writing in general to write on Steemit because for most of us, that is not replacing a full-time job income. I think enjoying the ride is more important than the rewards and if you are in to make tons of money immediately, then you are up for disappointment.
This does not mean that on Steemit we earn nothing, we are just at the start, at the right time, and I want to believe that even in this bear market where everyone is discouraged, we can see a bright future and an increase in value of our Steem.
Then, in the near future, we will be happy that day by day we have not only built an interesting blog, but also grown our investment.
Would you let me know in the comment how many posts you have written and what your thoughts are about Steem?
I hope you enjoyed reading this post.
Would you upvote this post and follow me for more because this will encourage me to write more posts like this one?
I have categorized my posts on Steemit for easy access:
Steemit tools | Steemit strategies | Steem economics | Steem on WordPress | Blogging on Steemit | Steemit posts I curated | Cryptocurrency | Cryptocurrency trading | Mac computer tutorials | WordPress & online marketing | Self-development & motivation | Travel in Thailand | Travel in Japan | Travel in France | Life in Thailand | Fitness challenge | Fruit-veggie juices & smoothies | Education | My answers on Quora | Fundition tutorials & projects | Miscellaneous writing
You may prefer to go to my Steemit Posts Directory.
The most important votes you can make on Steem are for Witnesses. The top 20 witnesses can influence the addition or removal of features in future Steem hard forks. Read my post: What is a Steem Witness, How to Vote and Why?
Michel Gerard