New Steem Rewards System? Just Noticed This...
New Rewards System?
I just made a post about CaskCoin then went on to Steemit to claim a reward I had coming in, and I saw this:
---

---
I received SBDs and Steem Power/SP as usual, but also liquid STEEM! I haven't seen that before!
Here's what the payout should have been:
---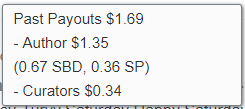 ---
Did some of the SP get turned into liquid steem? Or was some of the SBD turned into STEEM? I'm not entirely sure...
Is this going to be the new payout type moving forward? I quite like the idea of getting some liquid STEEM straight from the payout, but where is it coming from?
Any links to some news on this development is more than welcome! I've not been posting too much lately. :-)
Thanks for viewing!