Steem Stats Part 2: $ Per Comments and Upvote (June 2017 data)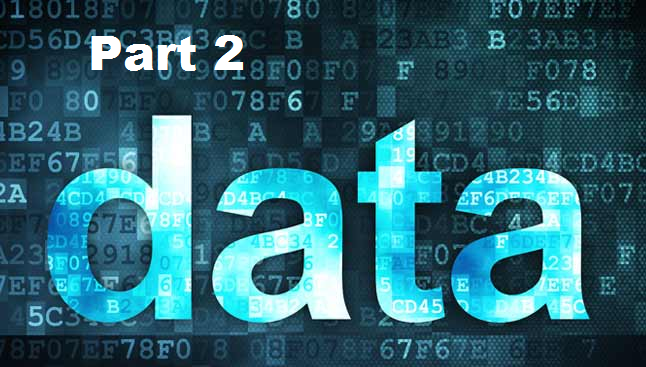 This is part 2 of a series looking at how to make more author rewards per post. All of the analysis for this post was based on Steem data from the month of June, 2017. I obtained the data using SteemSQL, if you want to read more about SteemSQL, please see posts from @arcange
You can read Part 1 by clicking here.
Please note that all the chart assumptions and limitations from Part 1 are still applicable in Part 2.
Followers Are King
If you have ever taken an accounting class, you learn pretty quickly that cash is king. On Steemit, followers are king. The more followers you have, the more you will make per post.
In Part 1 of the series, we learned that followers bring in about 12 cents per post on average, and it tapers down to about 7 cents per follower after you get over 50 followers.
To learn more, let's zoom into the authors we care about. To do that, I'm going to ignore authors with less than 50 followers and above 2k followers...they may be a distraction in the charts. Very few authors have over 2k followers (less than 1%). Authors with less than 50 followers are essentially new or inactive. Even if an author doesn't spend much time on Steemit, it probably doesn't take over a week or two to get over 50 followers if the author is actively writing posts and commenting on other posts. I think I got over 50 on my third day.
Let's dive in and look at how comments and upvotes relate to all of this.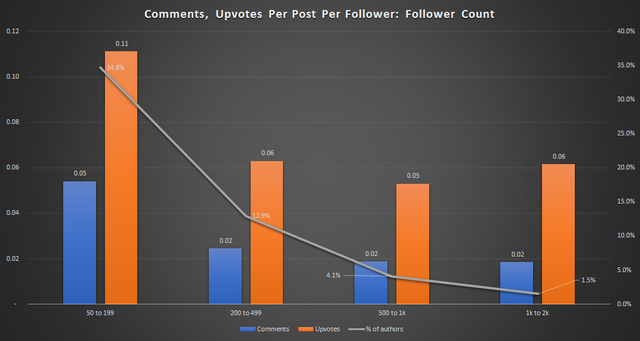 This chart shows how many comments and upvotes each author gets per average post based on their follower count. After 200 followers, the number of comments seem to flatten out. Let's see how this data relates to author payout.
This chart shows the number of the average rewards per post that authors make and how it relates to comments, upvotes, and number of posts. Each group is authors, not posts. For example, the first group that says "Less than $1", is all the authors that average less than $1 per post.
As expected, the number of upvotes per post increases as authors average more $ per post.
What is interesting is that the number of posts per month (only looking at month of June) goes down as rewards per post go up. On average authors that post once every 2 days are making the most amount of money per post (ignoring authors with less than 50 followers and more than 2k followers).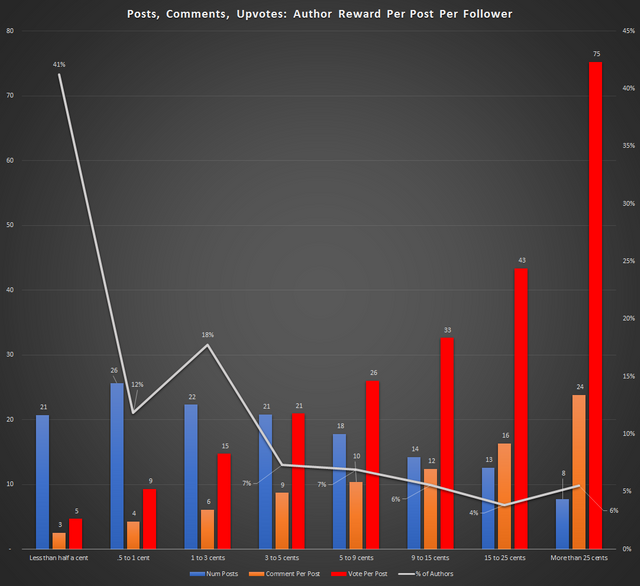 This chart shows the number of author rewards per post per follower and compares it to the number of posts per month (only looking at month of June), number of comments per post and number of upvotes per post. It's the same chart as before, except we are focusing on author rewards per post PER FOLLOWER.
Lots of interesting things in this chart. There is much more of a correlation between comments and rewards per follower. There is also a strong correlation between comments and upvotes.
Conclusion
As you grow your followers, the number of comments per post stays flat
Each comment seems to result in about 3 upvotes.
Authors that make the most per post per follower don't post as often.
As you increase the number of comments, you make more per post per follower
Followers are king Quality followers are king.

"Follow for Follow" won't make you more money. All it will do is get you more followers who don't care about your posts and won't generate you any money.
Engaged authors are what determines how much you make. Posts that get a conversation going...even if it's an all out argument, will probably make more money according to this data. If you don't agree, let's argue about it in the comments below...I'll probably make more from this post if we argue.
This data still doesn't account for comments that do nothing, such as "Great Post" or "Well Done". That's something the data can provide, so I want to look into that.
Sorry for the limited charts in this post! There are a million charts I can post, but they don't provide any insight. And I don't want to just post data, I want to analyze it and get something out of it. These were the charts that I thought added value.

Do you read anything from the data that I may have missed?
Is there anything else you think I should dig into?
If you missed Part 1, you can read Part 1 by clicking here.