Steem Stats Part 1: What Determines How Much An Author Makes? (June 2017 data)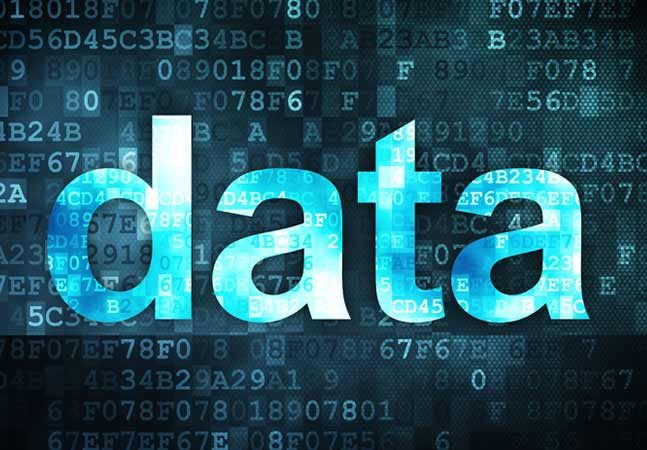 This post will show what factors lead to an author making more money per post. All of the analysis for this post was based on Steem data from the month of June, 2017. I obtained the data using SteemSQL, if you want to read more about SteemSQL, please see posts from @arcange
Chart Assumptions
The charts below are not raw data, I made some assumptions in creating them:
I converted all figures to USD for simplicity, so we can compare apples to apples. This includes Steem vests, Steem power of account, SBD, Steem, etc.

SBD and Steem varied throughout June, so I assumed 1 Steem = $2 and 1 SBD = $1.50

I only looked at authors that had created a post in the month of June (comments were not included)
Authors with 4 or fewer followers were taken out of this data. It's not hard to get 5 followers, so I almost see an account with less than 5 followers as inactive or just on their first day.
Some charts show Account Power. This is the USD value of the account based on Steem and SBD conversion rates I mention above. Account Power is a reflection of how much Steem power an account has - what has been delegated out + what has been delegated to it. Basically, this is the true reflection of voting power.
Author Rewards are the sum of how much USD was paid to authors plus what is pending. Not looking at curation rewards in this data.
Author Rewards 2 is another variable I use in all the charts. This is author rewards - self voting - promotion spend. I know every author does not self vote their own posts, but I wanted to see what the data looked like if every author self voted.

Promotion spend is based on amount spent using the "Promote" button. These are the posts that show up on the Promotions Tab.
To calculate self voting, I assumed every author self-votes their post around the 15 minute mark and are at about a 85% voting power. The 85% was based on my perception that most authors vote so much that they are around 85% on average. I will get actual self voting data in the future, but for now I pulled an arbitrary assumption out of my butt.
Chart Limitations
I have not accounted for voting bot spending (randowhale, booster, whaleshares, etc)
I have not accounted for voting bot upvotes (randowhale, booster, whaleshares, minnowsupport, etc)
Author follower count is not a snapshot from the end of June, it's from July 9th.
Account Power is not 100% accurate, because authors may have made changes during the month of June. This data only reflects the end point...it's a snapshot from July 9th with delegation changes as of June 30th.
I did not factor in post views. This data is not stored on the blockchain, so I didn't have access to it.
I did not account for resteemed posts.
Let's get to the charts already!
Here are some charts that show Author Rewards Per Post vs a few different variables.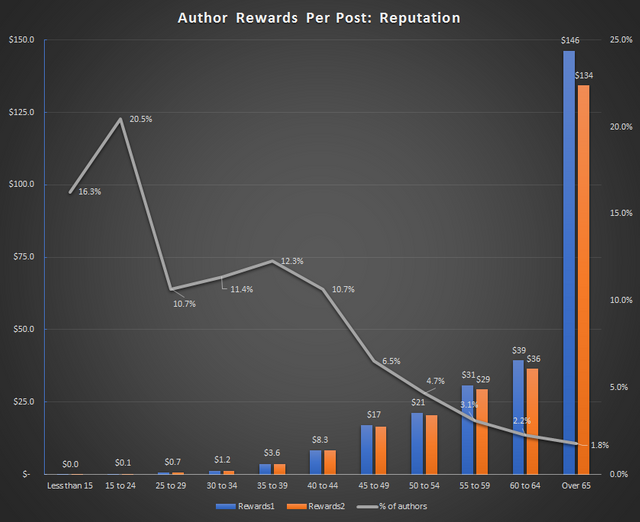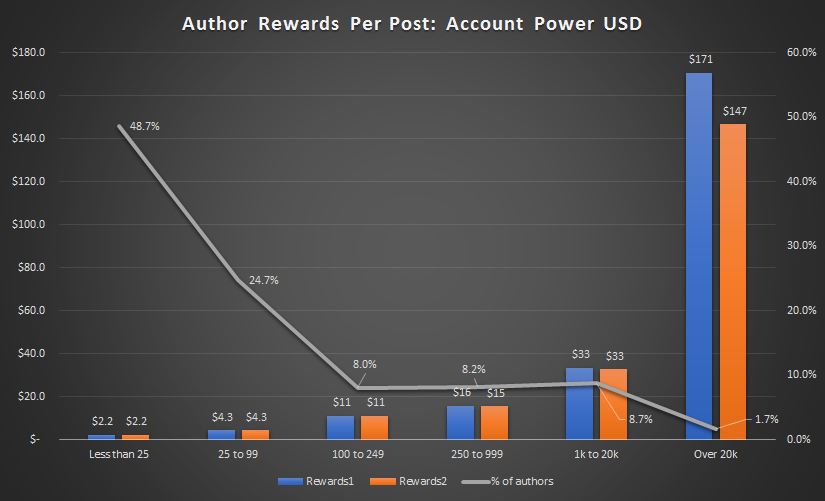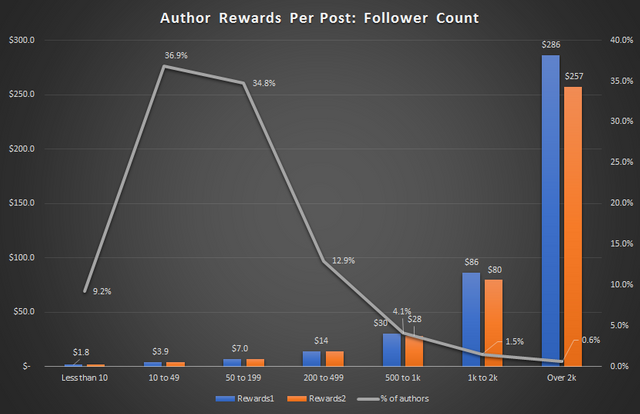 What have we learned?
The data is interesting to see where each of us fits vs other users. But, it's kind of boring data because all it tells me is that I need more followers, a higher reputation, and a more powerful account value. I think most people figure that part out pretty quickly.
Let's drill down into follower count and how that impacts how much an author makes.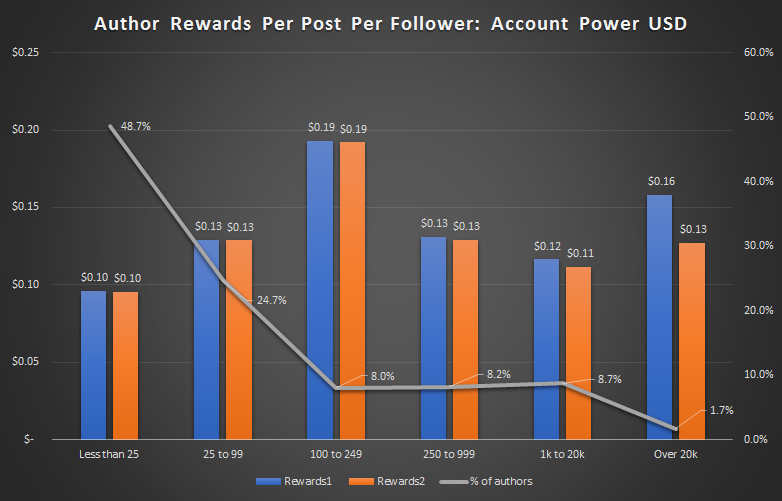 Holy shit! This chart shows that account value does NOT impact how much you make as an author per post per follower. An author with 100k account value with 100 followers will make on average the same per post as an author with a $20 account value with 100 followers. I do think that the more you have in your account, the more likely people are to take you seriously and follow you. This data is only looking at author rewards per post per follower.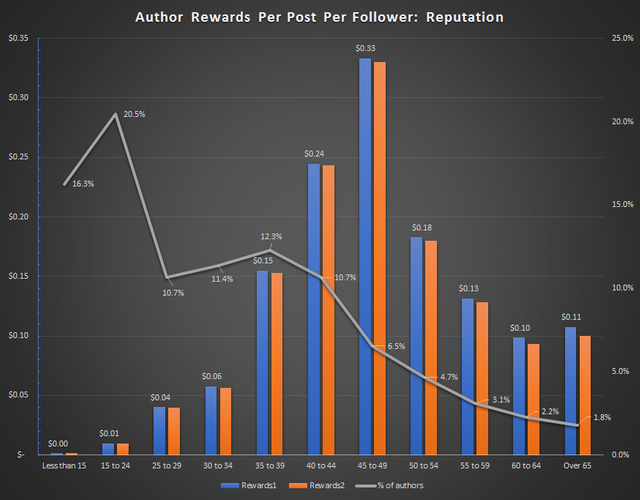 This one is strange for me. I assumed the higher your reputation, the more you would make per follower. Looks like the sweet spot is in the middle.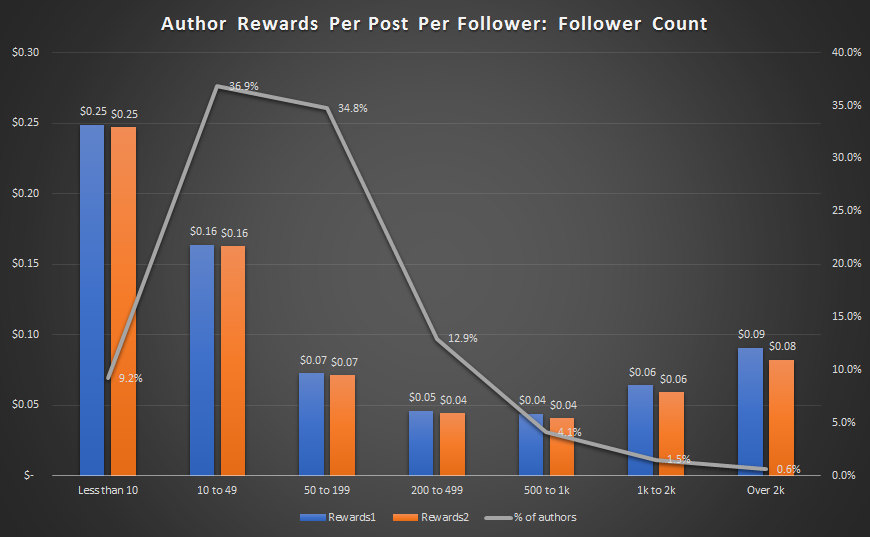 Before I saw this chart, I thought that maybe there was a diminishing law of returns when it comes to having followers. But, this chart shows that after you get to 50 followers, you continue to make about 7 cents per follower per post.
Averages for Month of June
The average author in the data I used for June had the following stats:
Reputation: 35
Followers: 154
Account Value: $3k (the whales are probably making this seem much bigger)
Number of Posts: 13 (this is not comments, only posts)
Author Payout Per Post: $10
Author Rewards Per Post Per Follower: 11.8 cents
Author Rewards 2 Per Post Per Follower: 11.6 cents (this is author rewards minus promotion costs minus self voting)
Conclusion
The Steemit platform is more of a level playing field than I thought. Authors are making about the same per post per follower regardless of account value.
Followers are the real currency on Steemit. Each follower on average brings in about 12 cents per post. After 50 followers, the rate drops to about 7 cents per follower.
Lastly, I need to do more research because this is more interesting than I thought it would be. I'm tentatively planning on posting two more parts this week:

Part 2: How do comments and votes relate to all this data. What is the real secret sauce to authors making the most money.
Part 3: Show the top 20 authors in rewards per post per follower, comments/upvotes per follower, and all around efficient authors for the month of June.
This was my first attempt at looking at Steem data, if there is some other view you want to see, please let me know.