The last month has been eventful here on Steemit by any measure.
There has been a lot of positivity
Many new users on the platform, which is great.
New marketing initiatives. I am very excited to see what @andrarchy and @zurvanic have up their sleeves.
The price of STEEM has been on a rollarcoaster but seems to have stabilised.
"The Experiment", which after an initial blast of negativity seemed to get accepted and was a positive contribution giving more power to the masses.
There were also some less positive developments
Dan leaving which has left us all sad but at least he seems to leave a post or two from time to time.
Continued high levels of people powering down. Only time will tell if it is a good thing that some early speculators are leaving.
The Standoff over Hardfork 17 which resulted in a late agreement/compromise which became known as Hardfork 18.
HF18 and its aftermath are what I am here today to discuss today.
---
What I have noticed since HF 18?
The payouts have gone a little crazy. They seem so low now, and it's still a mystery to me what happened to all the payouts that were due to be paid at the cutover. For new users it's worth noting that the reward pool (what's paid out each day) has been temporarily depleted and won't be full again for a few more weeks. After that time we should see better payouts each day. It will be back to its full level.
Payouts going back up to pre HF levels is quite reassuring but the following graphs are not so reassuring.
Can anyone provide some insight into what has happened here?, should we be concerned?
The raw data taken for these graphs is taken from Steemdata.com, by @furion. There may be issues following the HF but it appears to be up to date, despite the warning still on steemdata.com.
This data issue highlights another issue being experienced for developers. @heimendanger had a good rant about it here, SteemWhales Maintenance for HF18 - RANT INSIDE. Despite the frustration being felt by valuable members of the community we continue to get less than a satisfactory response from the Steemit core devs.
---
User Metrics
I am posting today to try to figure out what has happened since HF18. I have plotted some key metrics for each day since the 12th of March (the date of the @abit experiment), which I believe signify the state of health and strength of the Steemit Platform.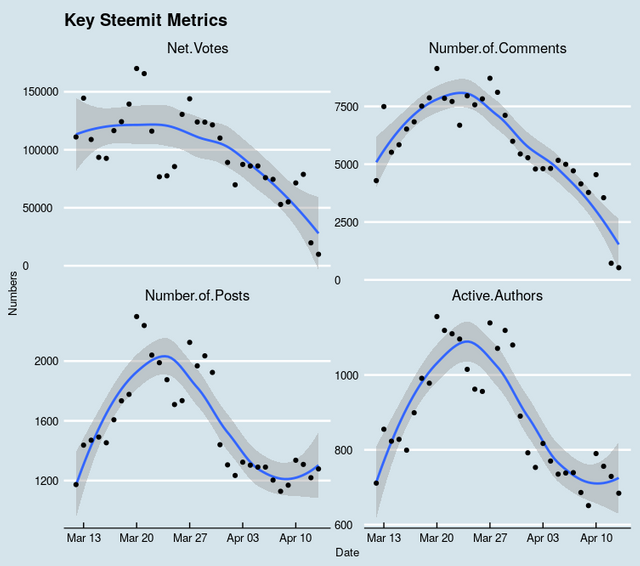 Unfortunately all these metrics are headed quickly in the wrong direction. We need to turn this Steem train around!
Observations
Votes are down
Comments and Posts are down
Active authors are down
This drop seems to coincide with the HF. It is possible these metrics are resulting from data based on broken fields following the HF. I hope this is the case. Can anyone shed some light?
What is happening?
In order to investigate these trends a little further I have attempted to segment the data to see where the drop is coming from. I cannot show payout data as it is not flowing through dataset for me since the HF. (I am working on fixing that)
What I can show is how active the authors have been since the HF. I have grouped authors of different reputation levels together and plotted the number of authors who post per day in each group. The HF happened around the 30th of March. There are significant downward trends at all levels except for authors with very low reputations. i.e. the new users.
The data suggests authors have stopped posting. It is positive there are new users posting but worrying that so many high ranking authors are taking some time off.
Will they come back.....?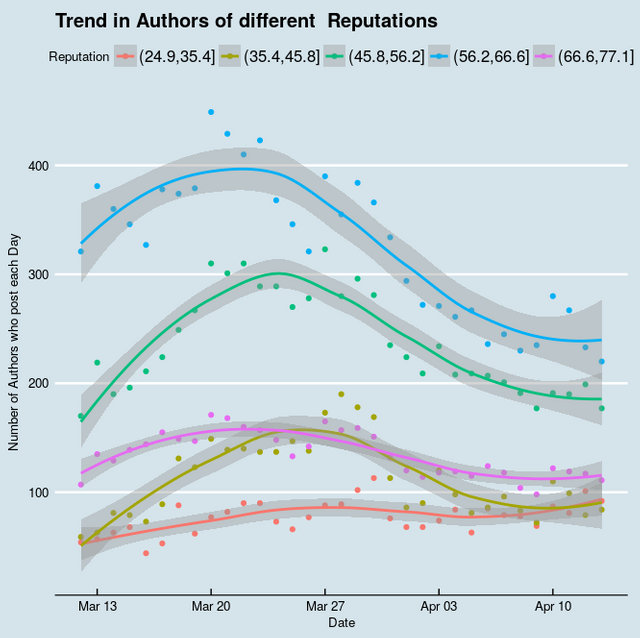 ---
Thank you for reading this. I write on Steemit about Blockchain, Cryptocurrency, Travel and lots of random topics.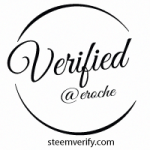 ---