DAILY STEEM REPORT DECEMBER, 3RD ( STEEM 0.17439$ )

Wow, 500+ Followers thank's to everyone for the support and the upvotes.
There are some new features since yesterday, you can see now how many views your post really have, and there are now three small icons to share the post at Facebook, Twitter and Linkedin.

And you can change your Display Name, put your Website, Location etc....

You can read the details about the changes here.
As well I did some changes at my Report, from now on you can see how many Steem worth in $ flow from the Exchangers to Steemit and vice versa. I think this is a very useful info, thanks to @xiaohui for this daily information.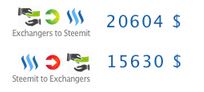 If you like the Report please follow, re-steem, upvote and comment.
Note: 100% of the payout of this post will be paid out in Steem Power!