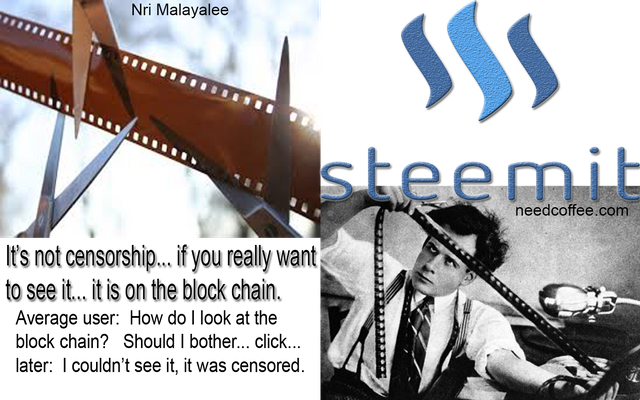 It can come in the form of reducing payouts so it is no longer feasible for an author to put as much effort into a post, article, etc. It can come in the form of making it so information can only be seen by putting in a proper request, or going to a specific location or room. These things are true of everything, not just steemit.
A common argument on steemit that I myself have made is that steemit is censorship free because it is on the block chain.
Lately I have come to realize that this is functionally no different to someone saying "It is not censored, you can put in a FOIA request and get access".
We know that is slow, and likely heavily redacted.
The problem with saying it is on the block chain is that you have suddenly limited access to those technically inclined or willing to learn how to view the block chain in the raw. That is a very limited and small audience.
That could be much like me attacking the redacted parts of documents as censorship with:
"You could run for public office, get elected, and then get access..."
"You could join the FBI and work hard and eventually get access..."
Those things obviously are far more extreme than viewing the block chain. Yet in reality that could be used to attempt to argue that that information is not censored either.
My recent thought is the idea that BARRIERS that a person must overcome in order to view information from a perception (in other words subjectively) be viewed as censorship. Is it technically censorship? NO.
Will that stop very vocal people from posting about censorship based upon their perceptions? NO.
I've also noted that negative news tends to spread like wild fire. Positive news not as much. I said in a comment earlier that you can do ten positive things, and a single negative thing and it is very often that negative thing which people talk about.
Steemit
The
roadmap for steemit that was posted earlier today
had some cool ideas about people being able to moderate their posts, communal groups, etc and determine what they want visible. It is noted correctly that the information will still be on the block chain.
I do think this is a great idea.
An idea I had when commenting was the idea of having some very subtle icon like an eyeball or something that appears somewhere near the top of the post IF that post has hidden content. Then the person could choose to click that eyeball to view that content, though the default view would always be as the moderator intended.
I proposed this because the statement that you can go view it on the block chain is likely going to be a barrier to most of the masses. You are expecting them to go and learn how to do that, use an external tool or site, etc. The likely result would instead by negative PR from the people that are uncomfortable or just mentally not capable of doing that. We are wanting to grow huge and attract as many people as possible.
I believe in the interest of this having some very unobtrusive way for people to view the block chain ONSITE of a post would be desirable. There would be no real barriers or hoops to jump through. If the icon appears there is hidden content. If the person truly wants to see what was hidden they click the icon. DONE.
I had one person comment essentially that people should be able to moderate their posts. I don't disagree. Yet, I also believe in the censorship free aspect of steem/steemit. I do not believe we need to act elite and assume that the masses will have our skills, or the ability/desire to learn how to go cruise through the block chain. It is far more likely they will simply get vocal about it. In fact, I can say it WILL happen. No doubt about it.
Now even if we were to add an icon you still would have people complain. That is unavoidable. Some people simply like to complain.
We should however attempt to build an inclusive platform, not a platform where we force our views and opinions upon how people will use it or want to use it upon everyone.
With this said... I really like the idea of moderating comments, and posts. I simply believe we should make it easy for ANYONE to see what was hidden if they choose, rather than expecting them to jump through hoops.



Steem On!