the original photo of Cut Nyak Dhien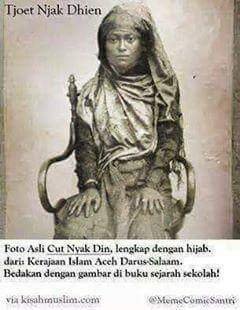 The original female hero in the land of Aceh in the time of Kesulthanan Iskandar Muda, this is a real photo in the heyday of the kingdom of Aceh.
Cut nyak Dhien was a hero who had existed at that time, almost all of the archipelago and Asia, and the world was familiar with this hero figure, it was indeed against the Dutch colonizer at that time.
The end of the life of the Hero was disposed of in Semedang, West Java by the Dutch Empire and to this day his tomb in Semedang in the Land of Java.
Tgk Umar Johan Pahlawan as his husband who is a hero who is brave in defending the sovereignty of the State of Aceh Darussam, ... With the slogan of Nyan ... .. "Can we still drink coffee tomorrow morning at Melaboh or we will be all martyrs."
The best friend of all history is the identity of a nation, if the history has been lost then the nation will disappear.
Thank you very much to all the best friends you are in, the history of the Kingdom of Aceh Darussalam is that there is HIS and all the historians know about it, if you don't know it, it's not a History expert.
follow me
duekiey