The coolest thing about the blockchain is that whatever you put on it, stays there immutably. In other words, you can't get back what you said, if you really said it.
And if you want to prove that something happened, well, a blockchain-based proof will always be 100% trustable.
With this small, but necessary introduction, let's get to work.
Does Steem.Supply Mines With Your Browser?
The short answer: yes. I wrote about that more than two months ago, and it's in the blockchain:
JSECoin - Mining Crypto Currencies In (or With) Your Browser
It's basically a presentation of a newly launched coin, called JSEcoin, which tries an in-browser mining approach. If you don't want to read the whole post (and by looking at how fast people jump to conclusions these days, I infer you don't) here's the most relevant part to our topic:
---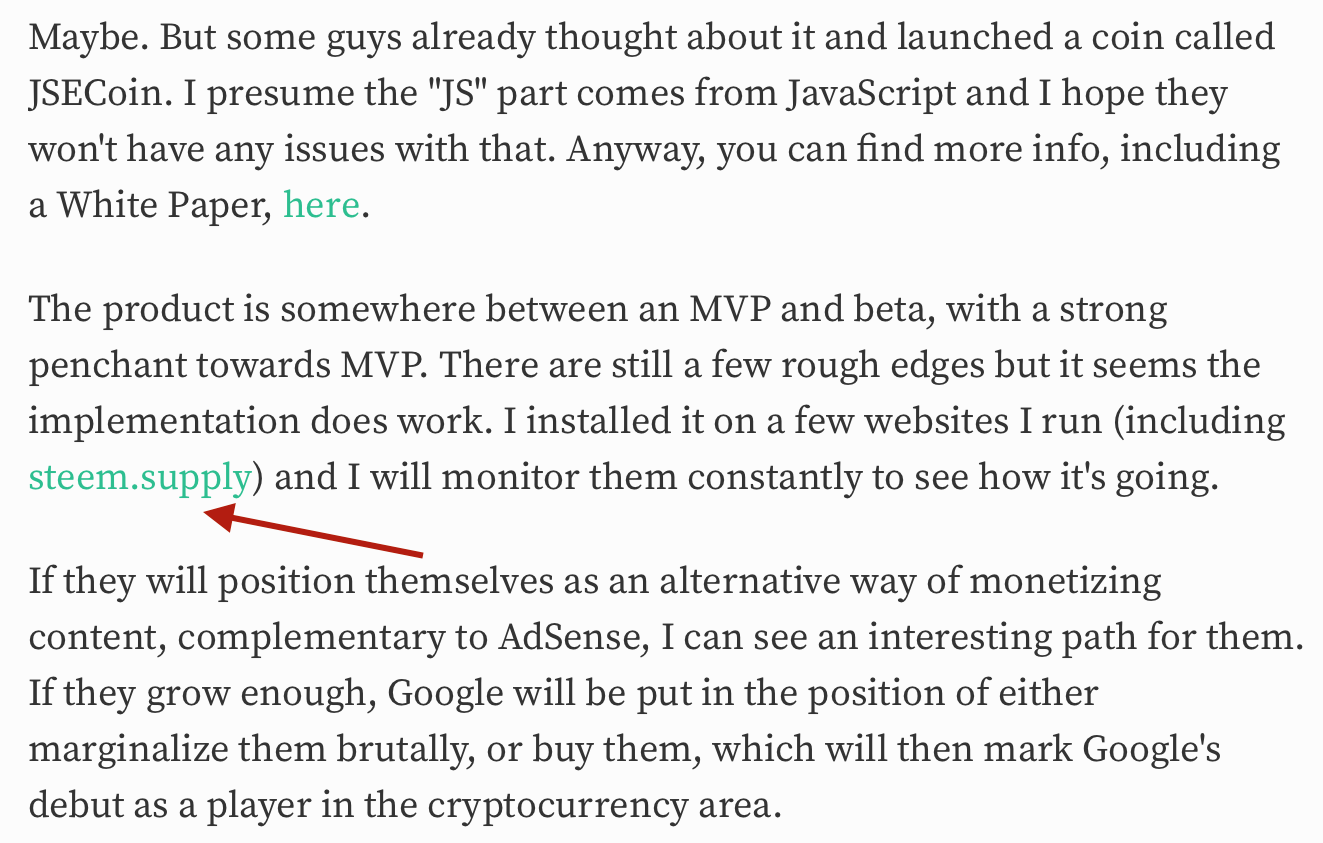 ---
I write about cryptocurrencies daily here, sometimes 2-3 articles per day related only to new coins, interesting ICOs or other relevant blockchain projects. I found JSEcoin interesting enough to give it a try. And I publicly and openly announced it.
Even more, JSEcoin has a disclosure layer showing up for each site, in the footer. It looks like this:
---

---
So there was not only a written announcement about me experimenting with this new currency on steem.supply, but also a full graphical disclosure.
Why do I insist so much on this?
Well, because recently, 2 posts in the Steemit ecosystem exploded with accusations that "I hijack people's processors for my own profit". Interestingly enough, both posts have each more than $60 in payouts. Nice. Anyways...
Here are the links to the posts:
The accusations are that I do this "secretly", in a "sneaking", "unethical" way.
Now, back to our intro: did I announce this publicly? Yes, it's in the blockchain. Is there a full disclosure about this? Yes. Go check it out, but try to have the ad-blocker disabled. An ad-blocker kinda defeats the purpose of letting announcements like this passing through.
So it's public and fully disclosed. And it's more than 2 months old. It's immutably stored in the blockchain.
Then what are we talking about here?
P.S. And to all of you who, carried away with the need to find an escape goat, called me "thief, fuck, cunt" and a few other names: if you want to talk to me, you'd better stop yelling at that mirror and turn around.
I'm right here.
---
I'm a serial entrepreneur, blogger and ultrarunner. You can find me mainly on my blog at Dragos Roua where I write about productivity, business, relationships and running. Here on Steemit you may stay updated by following me @dragosroua.


---
You can also vote for me as witness here:
https://steemit.com/~witnesses
---
If you're new to Steemit, you may find these articles relevant (that's also part of my witness activity to support new members of the platform):