Announcement: The Dollar Vigilante Witness Proposal (tdv.witness)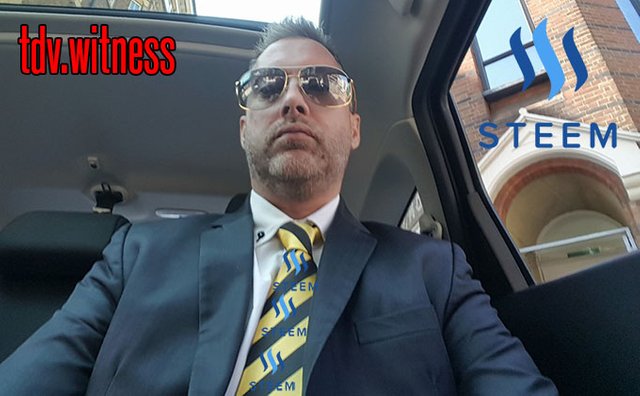 I am pleased to announce that I am submitting a Steem Witness proposal.
As many of you know, I became a massive fan of Steemit and STEEM within 24 hours of finding out about it. And, within a few more days I began to believe that Steemit and STEEM are not only amazing concepts but are truly genius.
Since, I've been focused on providing as much good content to Steemit as I can.
This includes posting my very popular TDV content first to Steemit (before even posting on dollarvigilante.com) and I market the Steemit content widely across the internet, rather than my own website's now.
One of the development proposals I am currently working on is to make it so blogs anywhere can easily post their blog content to Steemit and host it on their own site via a WordPress plug-in. If we can get this done I believe that the great majority of blogs on the internet would all post to Steem first and host Steem's content on their site. This could change everything.
As a user of Steemit I am currently, by a wide margin, the most followed on the site with over 3,000 followers as I continue to promote Steemit via all my channels. I also have one of the highest reputations on Steem, currently 69.6 (#22 of all Steem users).
And, I am also one of the top speakers at the upcoming Steemfest in Amsterdam in November.
My background includes starting two multi million dollar internet media sites. The first, Stockhouse.com, Canada's largest financial website was started by me in 1994 and grew to a value of $240 million by 2000 with over 250 staff in eight countries.
My second venture is The Dollar Vigilante, which is now one of the top financial channels in the world and the fastest growing financial newsletter in the world.
In other words, I have decades of expertise in taking a media site from very small to very big, very quickly. And, I intend to contribute as a witness to helping Steemit and STEEM become household words in the next few years.
I also have a very storied background in the cryptocurrency community, having been one of the first financial people to recommend buying bitcoin at $3 in 2011. I've since been on CNBC, Fox Business, RT, Bloomberg and dozens of other channels promoting cryptocurrencies.
I also host Anarchapulco, which is heavily involved in cryptocurrencies and blockchain technology with speakers such as Roger Ver, Trace Mayer, Tone Vays and many others, including Dan Larimer, who will be speaking at our event in 2017.
Technically, I have partnered with Rick Miller, @instructor2121, a Network Architect with Python and Linux experience. Rick will be responsible for maintaining and upgrading our witness as well as monitoring each primary and backup node.
Our witness and seed nodes are located in the USA and Europe. Backup nodes are in place.
These are our current technical specs:
Witness
Xeon E5-2670 quad core
16GB RAM
160GB SSD harddrive
CPU's are clocked at 2.6ghz
Seed
Xeon E5-2670 quad core
8GB RAM
80GB SSD harddrive
CPU's are clocked at 2.6ghz
Seed node can be reached at 45.55.54.83:2001
Witness and Seed nodes will scale on demand.
The price feed is currently running every 60 minutes. This can be viewed at https://steemd.com/@tdv.witness.
If you believe that I can be of help to growing Steemit, you can vote for our witness here: https://steemit.com/~witnesses
If you do not see "tdv.witness" in the top 50 you can enter it at the bottom of the page (without the quotation marks). If you see it in the top 50 you can just click the up arrow beside "tdv.witness".
You can also go here to see the full thread: https://steemd.com/@tdv.witness
I appreciate your support in this endeavor and look forward to working closely with the Steem community to make it a massive success.