Steepshot vs Instagram: A Comparision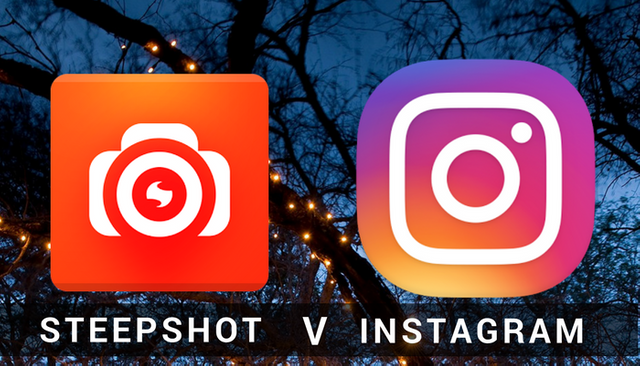 It is worthy of note and commendation to see the rapid explosion of the Steemit ecosystem. From applications like Steemit giving Reddit a run for its money, to applications like DTube following on the heels of Youtube, and now Steepshot taking on Instagram. With all these applications popping up on the Steemit Blockchain, these are exciting times for content creators and curators whose backs, for so long, the giant social media platforms have ridden to success and huge profits without any form of thank you to the billions of users worldwide.
Considering all these applications popping up on the Steemit Blockchain, it is becoming believable that Steemit is rapidly getting into a good position to rivalling Alphabet, the parent company of Google with the many applications under its wings, and Facebook who has gone on an aquisition spree, with a plethora of great applications like WhatsApp and Instagram in its portfolio. That word 'Instagram' leads to the subject matter of this post: 'Steepshot versus Instagram: A Comparison'.
Instagram is a photo-sharing application that allows users to share photos and videos publicly or privately with followers who have been pre-approved by the account owner. Kevin Systrom and Mike Krieger created this application initially for iOS in 2010 and later expanded its reach to accommodate android mobiles in April 2012. In November, 2012, the reach was expanded to web browsers with limited functionality. This limitation is such that a user can only explore, and make functional edits to their accounts but cannot upload or remove their uploads (photos and videos), which are the main functionalities of the application. It's been a free application since inception and has remained so till date. Facebook eventually bought it over for a staggering amount of $19 billion. Since this takeover by Facebook, it has become an advertisement-based application with ads flowing in from its mother ship, Facebook. No complaints there since he that pays the piper dictates the tune! Instagram is an excellent application for what it is designed to do, and it does it seamlessly. A mobile device takes a photo, describes and tags it and then uploads it for all the followers to view, share and comment. But it now has a rival on the Steemit Blockchain, Steepshot!
I will like to analyse the Steepshot features in comparison with Instagram to see where we are, how they compare and where we need to be. I have absolutely tried out this application and I must say I have fallen in love with it. It is amazing! The thought that you can share contents and people will like it and you get paid is every content creator's dream. But my special bias will not cloud my judgement here!
---
The Like Buttom
Steepshot:


Instagram:

I love the pulsating nature of this button when you click on it to like a post. It beats and beats and beats and then lights up to the sight of ka ching!!! It is obviously superior to the Instagram like button. No complaints there, and a big thumbs' up for the developers. Possibly to make it more fun, a ka ching sound can be added to up the ante! That would be nice, won't it. Walking on the road and hearing that sound all day long because people are showing your post some love and you are feeling happy about it!
Universality of App Interphase
Steepshot functionalities in the app on a mobile are basically the same when accessed from a browser, giving everyone the same opportunities to fully experience the magic of this application. The Instagram app is limited in browser interactivity. It has restricted functionalities when accessed from a browser. You cannot upload photos or videos on Instagram from a browser. You can only enjoy the full functionalites by downloading the app whereas Steepshot allows this with great ease.
---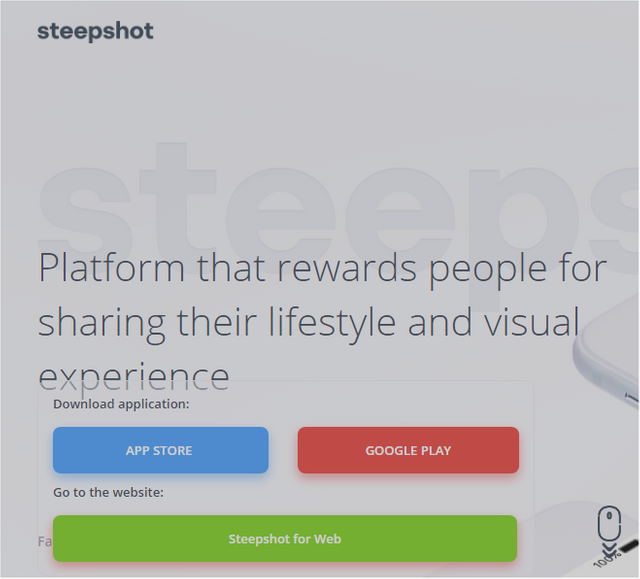 A screen shot of Steepshot landing page
---


A screen shot of Instagram landing page
---
Videos
For steepshot, the major downside at the moment is the inability to upload videos. Whether the developer(s) thinks DTude is fullfing that role already, I am not sure, but the ability to upload videos will be a very big plus. There are events and moments in time that can only be expressed very truly and perfectly in motion picture and not just in picture. If the developer(s) can add this functinallity, this will totally box Instagram in.
---
Comments
Another feature steepshot has that makes it more unique than instagram is that the comments thread allows you to respond directly to a comment made by a user on your post. Instagram does not have this feature. With instagram you only keep mentioning people as you type along using the @ tag to bring a user's attention to the fact that you have responded to their comment. But now, with Steepshot, you can directly reply to a comment in your post underneath the comment or post of interest.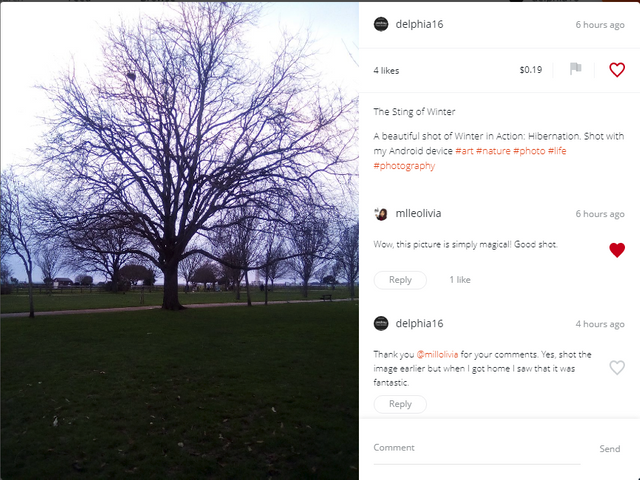 A screenshot from Steepshot
You can also like the comments of the people commenting on your shots, which spreads the goodwill around because every like, depending on the vote power, brings on the dollar sign! That's the awesome power of the Steemit Blockchain.
---
Share:
To share images or posts on Steepshot, the share button only allows you to copy the image link. This is not as robust as the same funtion on Instagram. Instagram has a more superior feature which allows you to immediately share an image with other people. The developer(s) can consider working on this to make the user interphase better.
---
Saving images
Instagram gives the opportunity for great and wonderful images shared by different users to be saved in a collection, for later viewing. This is an excellent functionality. Comparing this with Steepshot, this feature is not available. This means over time, a group of wonderful and beautifully taken photos can go down the pile and be lost forever in the world of Steemit. That is not cool.
---
Filters
Steepshot has three filters through which you can quickly navigate the app on mobile or the website on browsers to find different classes of contents namely Hot, New and Top posts. These are no such arrays on Instagram although a more sophisticated setting that links pretty much to Facebook compensates for this.


A screenshot
---
Rewards
People love sharing stories and images of their lives and a platform that gives them that opportunity as well as reward them while doing so will be an instant hit. Steepshot does this and Instagram does not, period! So on the rewards side, Steepshot takes all the points.


A screenshot of Steepshot post
---
Final Thoughts
Having used the Steepshot app, it became apparent to me that posting photos through Steepshot has an advantage over a diect post from steemit. The developer(s) allowed a five fold advantage here by allowing each post a maximum of twenty (20) tags instead of steemit's five (5).

This means you can get into twenty more leading topics on steemit when you post your photos through Steepshot than you would when you do so through Steemit. Every post you place through steepshot appears on steemit but not vice versa. Meaning your photo post on steemit will not appear in the steepshot app but all the photos you post on steepshot will appear on steemit.
One thing that isn't clear is what happens to a post that significantly gets more likes after the tipping period of 7 days? That needs to be clarified since images do better than words, people will tend to keep engaging with these images for as long as possible.
In conclusion, the Steephot app is a very welcome development. It is mearnt to disrupt the way things are done and by rewarding its loyal uers, creators and curators, the Steemit ecosystem can only expand and grow from here. A big thank you to the developer(s) of this application and I can see a time when there will be a reserval of fortunes between Steepshot and Instagram. Steephot looks like Instagram but rewards unlike Instagram!
---
If you have enjoyed this post, upvote, follow @delphia16 and resteem! If you didn't, upvote anyway!

Happy Steeming!!!