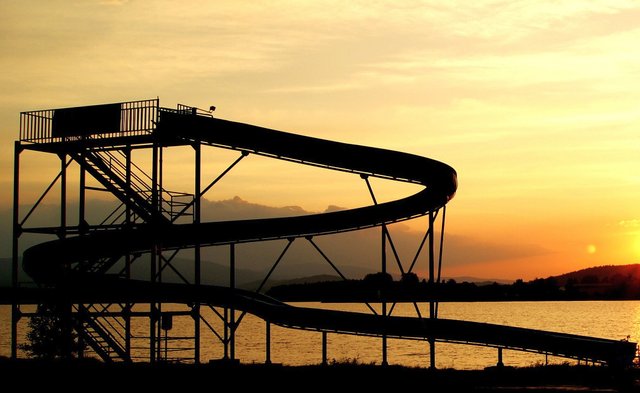 New Steemians are coming everyday, and they may ask what happens on this site, in system or community. How can they earn, why is the Steem price declining and so on. Let me try to explain. Don't misunderstand me, I don't intend to critic or attack, only to give a useful description of the situation. A summary of what I learned and read in last weeks, and may be useful for newcomers.
1. The ugly fat bear
Of course, here is a huge crypto-bear-market this year, and most altcoins are declining much more than Bitcoin. People are less crypto-hungry and aren't seeking Steem so much as earlier this year. May be, this is the strongest issue.
Lower cryprocurrency prices ––> less interest for buying any crypto ––> lower Steem price.
2. Dreams and reality
"Authors get paid when people like you upvote their post. If you enjoyed what you read here, create your account today and start earning FREE STEEM!" – this frase is which you see below all posts if you visit Steemit.com without logging in. But the reality is much more complicated:
People get paid when they upvote themselves.
People get paid when they have friends, or a community who upvotes them.
People get paid when they use robots and succeed to earn a positive ROI (return on investment=yield).
And yes, some people also get paid when they write something extraordinary interesting, but this case seems to be rare.
Most users come here and don't see any real money (not even a cent at the beginning). Than, they go away again disappointed in some days or weeks, may be the 85-95 percent of them.
Steem price surges with additional demand, mostly from outside, from new users buying Steem. Quitting users don't buy Steem, so the price stays relatively low. (There is a huge difference between the original principles and the reality, I don't know why. You can adapt and stay or you can flee.)
Many disappointed people ––> less buying interest ––> lower price.
3. Where comes the money from?
In this system, users have more voting power, and with it, mostly also more income (curating or selling votes), if they have more Steem. You can get more Steem (Power) with people's upvotes (work in), or buying more Steem (buy in). But buying Steem is extremely dangerous considering the historical price charts.
To have significant voting power, let's say, more than 10 USD a day, requires a relatively high capital (18-22 thousand USD approximately), which many people can't, or doesn't want afford. (I wrote about this earlier, with a bad title.)
There are two ways people can get involved with a crypto-currency community: they can buy in, or they can work in. Steemit white paper
To be important here requires risky investment ––> average people don't like so much risk ––> less demand for Steem.
4. The Inflation
The inflation in the Steem system is slowly decreasing, but still high, this year by about 8-9 percent per annum. This is much more than in most countries of the world. If demand stays the same and supply grows, prices must fall, always, in every market. Steem needs more demand growth than supply growth to see higher prices.
Developers are working on it, for example programming the Smart Media Tokens, and dozens of new applications on Steem blockchain. But that requires some time to take effect. (More about inflation here and here.)
More inflation ––> more supply ––> lower price by stable demand.
5. Readers and curation
As mentioned in part 2, not only the best content gets payed, and one consequence of this is, unfortunately, that we must struggle for the good content. ("Trending" or "Hot" lists are not always the best.) Reading Steemit regularly also needs work and attention: clever selection of the followed people, searching for interesting tags (topics), searching for curation digests. (Many readers may come from Google searches.)
Difficult to read ––> less readers, less readers ––> less users, less users ––> less Steem buyers, less buyers ––> lower price.
Bottomline
I think the best way to have success here is, invest and work at the same time. (Invest only what you can afford to loose.) And have a lot of patience, some day will the next crypto-hype show up and Steem can turn around.
Despite the problems, I feel good here and I want to stay, but may be I'm a little different than others. I'm willing to take very high risks by investments, and also a graphomaniac who would write a blog even if nobody pays for it. But the typical user may be less enthusiast.
Disclaimer:
I am not a financial advisor and this content in this article is not a financial or investment advice. It is for informative purposes only, or simply to make you think, entertain, increase testosterone and adrenaline level. Consult your advisers before making any decision.
Info:
You can message me in Discord.
(Photo: Pixabay.com)