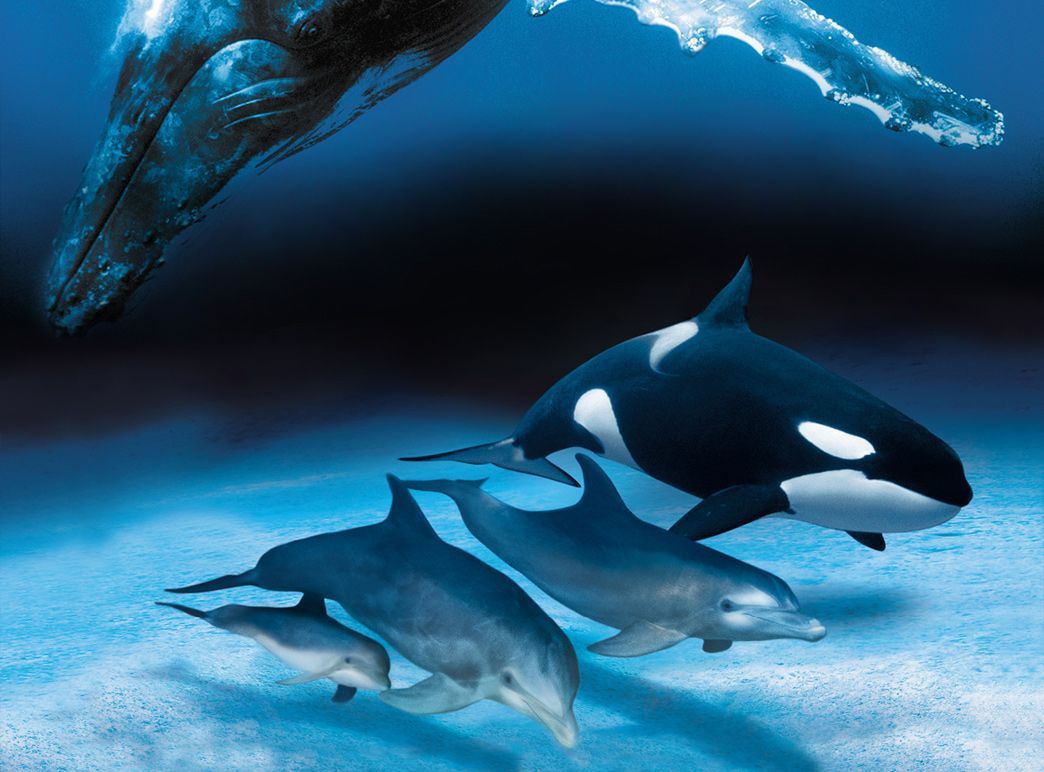 First of all, I would like to thank all the Dolphins and Whales who supported me for quality of my content. Well, they are not many, but for me a few dolphins and 1-2 whales are enough to give a boost to my confidence and motivation on steemit. 
Let's first talk about Dolphins:
Dolphins are those users on steemit who has more than 5000 SP in his/her steemit account. They either invested that amount or they have earned it over the years by providing good quality content on this amazing platform. They are actually the most engaging people of steemit and they mostly encourage newbies to contribute more and more content on Steemit on a daily basis. They are actually WHALES Work-in-progress. 
Now, Let's talk about Whales:
Whales are the godfather on Steemit. They have vested interest and also have a huge investment on this platform. They are those who can give you a tip of $10-$50 in a second if they liked you work. They generally have more than 50,000 SP in their account. Some even have 1,00,000 - 10,00,000 SP in their account which makes them a major part of this community. They can move market if they want and the every move by WHALES can be seen on 'Hot' and 'Trending' page whether it's is upvote or downvote. They can be also be seen as the 'Witnesses' on this platform. Witness are those who mines the STEEM for steemit and in return they get healthy payouts per hour. 
Now, I have a message for whales and dolphins, more like a word of appreciation. For a few days I have been watching the pattern of some whales and even talking to most of them on discordapp. I get to know that, some whales are just self-obsessed. They always upvotes their own content and they posts numerous times within a day. They won't reply to the comments of their followers and never upvotes their posts. That's just kinda selfish.  
But some whales and dolphins are really co-operative. They always reply to your comments, support you with your projects, help you to get some exposure and even give you some tips related to steemit posting and marketing content. I am lucky to find these whales and dolphins. I would like to point out the name of some whales and dolphins who are co-operative and kind.

@ausbitbank -- He is the man who have done a lot of work on steemit. He introduced steemvids.com and many others services like that. The best thing about this man is his supportive behavior for minnows. He always upvotes quality content randomly. You don't have to join any curation team to get his support. He also introduced a voting bot named @discordia to help minnows. All in all, a great man who respects this platform.

@officialfuzzy -- This name is synonmous with Steemit. He is the originator of Whaleshares and Beyondbit Tokens, to help minnows getting exposure for their content. Recently, we have heard about a conflict between him and the founder of steemit named @ned. But the whole community supported fuzzy for his contribution for steemit. He is indeed a great man.

@exyle -- Personally, I like him very much. He is an IT professional and an investor of Cryptocurrencies. You can watch his wisdom on cryptocurrency in his profile. He always posts about his life in general in form of a vlog on daily basis. A few days ago I talked to him and found him very co-operative. A big thumbs up for his work.

@jerrybanfield -- A name which you must have known. He is a great blogger since ages and have a strong social media presence outside of steemit too. He works hard and provide value for all the steemians. His blog generally concentrated on his income and tips from online world. You can definitely learn a lot of things from him. 

@patelincho -- She's a very kind woman and a very supportive one. You can talk to her anytime and she'll definitely support you with all your problems. She also contributes heavily on steemit platform. She conducts a lot of contests and games for users to earn whaleshares and she actively supports minnows. 

@jphenderson -- He is a great contributor and person of good wisdom. He generally contributes the use of Whaleshares and Beyondbits. He offers these token if participate freely in the very contests generated by him. He remains active and fulfill a major part of steemit by his work. 
So, my message for whales is this -- Thanks a lot for your contribution on Steemit and I'd really like you all to help minnows as much as possible. They are the reason of steemmit popularity. They holds the major portion on steemit and they actively try to support you. Although their upvotes worth nothing, but still they support you wholeheartedly and actively participate in all the discussion initiated by you guys. 
So, together we can make steemit a better place where everyone would be happy and content. For that your support is needed. Please support your followers and actively help them. 
Thanks for reading :)
Image Credit: www.strangesounds.org