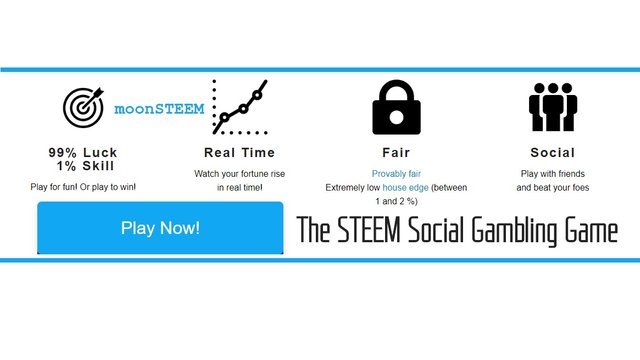 There has been a recent Exit Scam on Steem from @magicdice and @moonsteem also decided to end their activity. Unlike Magicdice they are doing it a proper and fair way allowing everyone who was in it to claim back their balance. I always respected @moonsteem and was a satisfied investor/player since the start. I will break down my final overall results in this post.
---
As a Sports Bettor who is always looking for an edge, I was never drawn to the magic-dice and most other games that offer a model where playing earns you tokens that give part of the profit. That model is pretty much a -EV Ponzi in my eyes.
The moonsteem model was much more balanced and allowed to invest Steem that was used as the bankroll for the game paying out dividends. This pretty much came down to being the house and having an edge on every single game that was played by players on the platform. this also came with the risk of taking losses which is only fair. 50% of all profit went to investors | 25% to token holders | 25% to the team. Playing, Investing, delegating and referrals were all things that could earn you tokens gave dividends on the 25% of the earnings. This system gave some motivation to play while not too much weight was put onto it.
In games like magic-dice it's easy for the creators to gamble big amounts losing Steem to themselves while earning a big part of the tokens in the process. Moonsteem could not do that without also rewarding the investors. Also, 1/360 of the tokens were destroyed each day as a long term system to keep things balanced. If anything I believe a system like this if the token burning was a bit higher could be sustainable.
I believe the main reason that moonsteem stopped is because they were not comfortable with revealing their identity because of legal issues (understandable). The confidence in gambling dapps really took a dive after the magic-dice exit scam and killed some of the action. Also, the longer moonsteem was going to run, the harder it would be to ever stop their activity because the ones that made losses just to grind tokens would feel scammed.
---
My Personal Moonsteem Final Results
I always approached playing/investing in Moonsteem with a clear plan. The biggest risk was them running off with the Steem I invested which was a Gamble I was willing to take. It's something of a gut feeling and I always had a sense of honesty with @moonsteem (similar to @nextcolony and @brosino) that I never had whatsoever with @magicdice and other gambling dapps along with games like @drugwars.
I managed to do quite well overall with moonsteem and honestly don't mind so much losing future dividends from tokens as I always just saw that as a bonus on top.
Total investment
I had a total of 500 STEEM invested over time and the plan was just to keep it in place for as long as the program would run cashing out the dividends each week.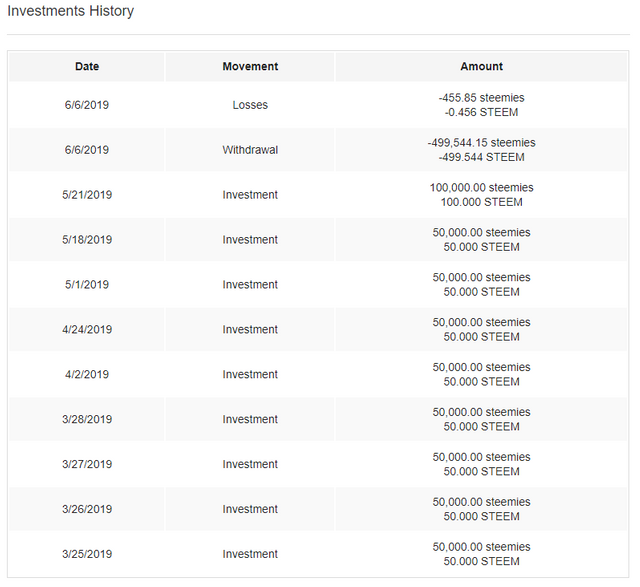 From what I understand, the losses on Investment will be compensated by @moonsteem the moment they close down along with a symbolical compensation to the ones that earned tokens.
Total Dividends
The Dividends from Investments / Tokens / Affiliates added up to 41.321 STEEM

---
Gambling Losses
Even though I loved the game they offered, I never really played it for 'fun' as it is simply impossible to beat the 2% edge. The only reason I played was to be part of the 2.4 hour upvote lottery. When you make the calculation it was very much +EV to wager 1 Steem. I did run quite a bit under the expected value on the bets I took and lost -7 STEEM. I'm not sure if it's possible to calculate my exact ROI as I don't find the totam wagered Steem anywhere.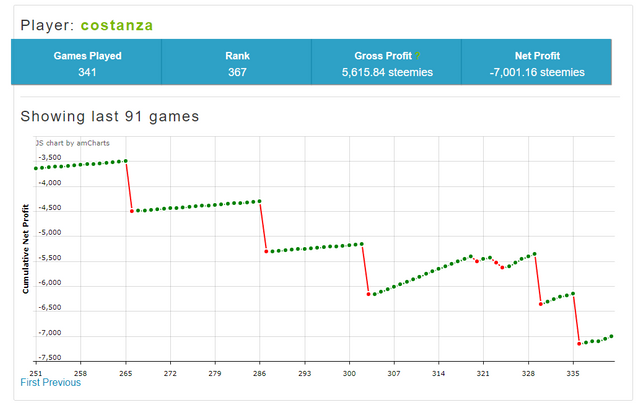 Steemit Upvotes
I managed to get regular upvotes by playing and they added up to 7.88$ after getting 11 upvotes. Which is around 22 Steem at the current Steem price. Rounding it down to 20 Steem and taking away -25% Curation rewards it comes down to 15 Steem.
Total Result (rounded down)
| Dividends | 41 STEEM |
| --- | --- |
| Playing | -7 STEEM |
| Upvotes | 15 STEEM |
| Total | 49 STEEM |
---
It all added up to a nice
+49 STEEM
after a couple of months on a total 500 STEEM investment.
---
Also Special thanks to my affiliates that signed up with my link!
@stimp1024 | @homesteadlt | @fullcoverbetting | @beat-the-bookies
I hope they all managed to play responsible, managed to get some of those upvotes and did not feel scammed by the end of moonsteem.
---
I'm sorry to see them close down but had a lot of fun with this game and managed to come out on top. Thanks to the owners and I wish them good luck in their next project hopefully also on the Steem Blockchain!