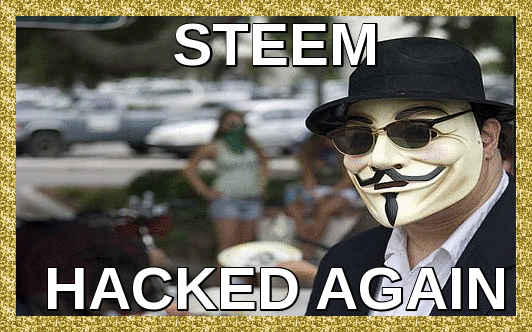 and this time it's far worse. Just what have you gotten yourself into? Have a working brain?
Then read... You need to know a couple things, and I'm the only man who'll tell you.
THE LEAK
Hacking the Steem management security layer was a little harder than I expected, I gotta admit. At first. For days I busted ass trying, and then (as freakin' always) my resulting stunningly clever bytecode vector - based on 0-day Skype exploits - had to be hurriedly stuck on the back burner.. because I suddenly started seeing results from my originally fairly lame social engineering efforts to penetrate the inner circle.
Was almost disappointing. Human emotions, as always, proved to be the weakest link... But that's not what astonishes me the most. It's what I found nosing around, that's what you need to know before they shut me down.
I don't care if this post gets censored or downvoted, because like Ed (Snowden) & many nameless others before, I have to expose what is really going on, even if costs me all my Steem Power (all $20 of it). Other than that, good luck rooting me out of your systems @dan and @ned, and to the FBI boys, have fun tracing this connection. Spoiler: it leads back to yo momma.
... Finally, I was in. I was able to befriend and seduce a small pet rodent belonging to @theoretical, who just so happens to be his trusted confidante in these emotionally trying times. Like all mathematicians, @theoretical talks mostly to himself, and only in gibberish, but he sometimes breaks down and pours his heart out to this rodent in bouts of uncontrollable sincerity and human-rodent bonding. Adorable, and just what I'd hoped for.
In case you actually care, the rodent turned out to be a domesticated office chipmunk called "Mips", and while Mips doesn't talk as such, Mips always watches. That was more than enough for someone with my extensive background in 5th Gen Assymetrical Interrogation techniques.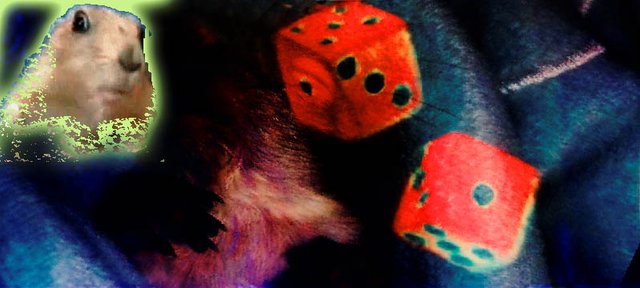 Thanks Mips, and sorry for what will probably happen to you after this expose hits, little buddy.
THE PAPER
We all read the STEEM White Paper, at least those of us who are still partially literate and don't just upvote based on skimming pics:
Steem is a blockchain database that supports community building and social interaction with cryptocurrency rewards. Steem combines concepts from social media with lessons learned from building cryptocurrencies and their communities...
Yadda, yadda. That's what you, Joe Public, get to see. But guess what, deep within the Steem intranet, a very different paper exists for the execs and coders on the inner circle. What blew my mind was that it was not even encrypted, it's just a text file they all keep on their desktop. You could say the truth was hidden in plain sight.
Until now.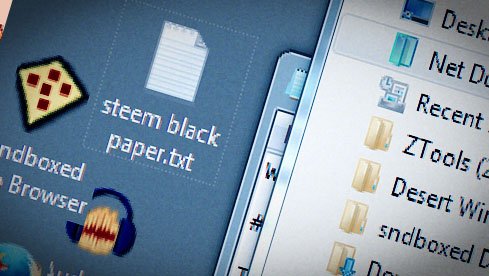 Hold on to your shit, because you're not going to like this. What I saw in the Steem Black Paper was horrifying and yet, deeply enlightening.
WHAT IS STEEM, REALLY?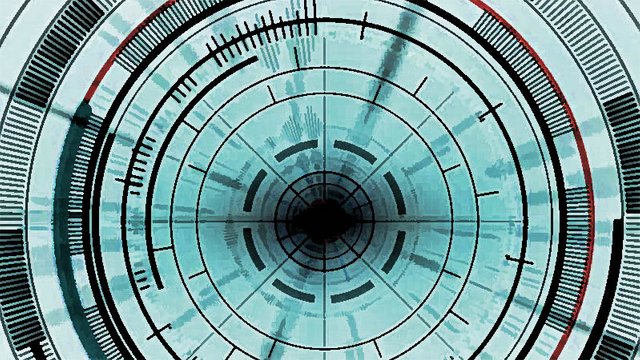 ---
You see, my friend, STEEM is a system. It is a system for transferring real world cash, via the Bitcoin intermediary, from enthusiastic crypto-currency speculators directly to ridiculous bimbos.
---
That system is our enemy. But when you're inside, you look around, what do you see? Sexy businesswomen, UX designers, balloons being launched, blueberry cakes baked. You see whales, dolphins, and minnows, all upvoting that basic-ass shit. In a way, you see the very people I was trying to save with my earlier post here. But until we save them, these people are still a part of that system and that makes them our enemy.
You have to understand, most of these people are not ready to see the Steem Black Paper as it is. And many of them are so inured, so hopelessly dependent on the system, that they will fight to protect it.
---
So instead of posting the disgusting naked textfile here, I made you a visual map that's worth 1000 words, and explains it all. This is how it actually works: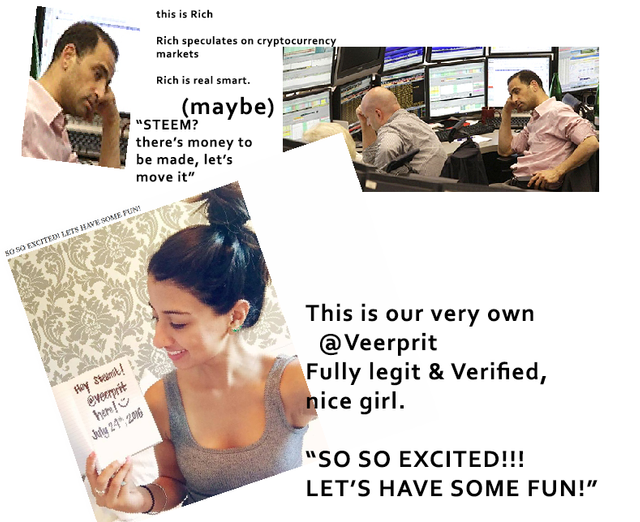 Fun starts: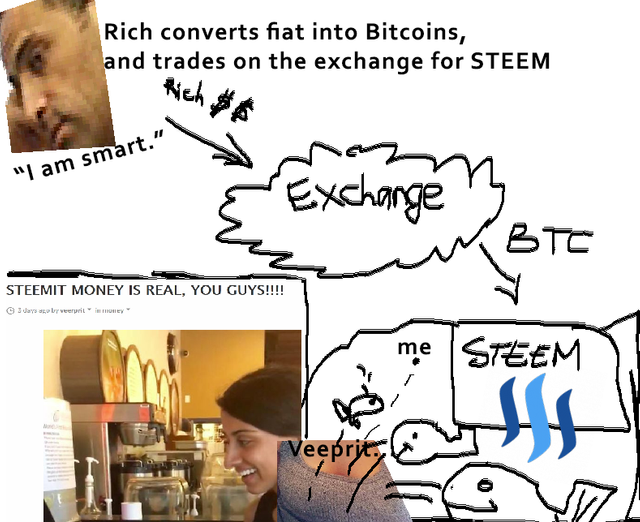 After protracted whale bukkake, Veeprit converts STEEM back into fiat via Bitcoin.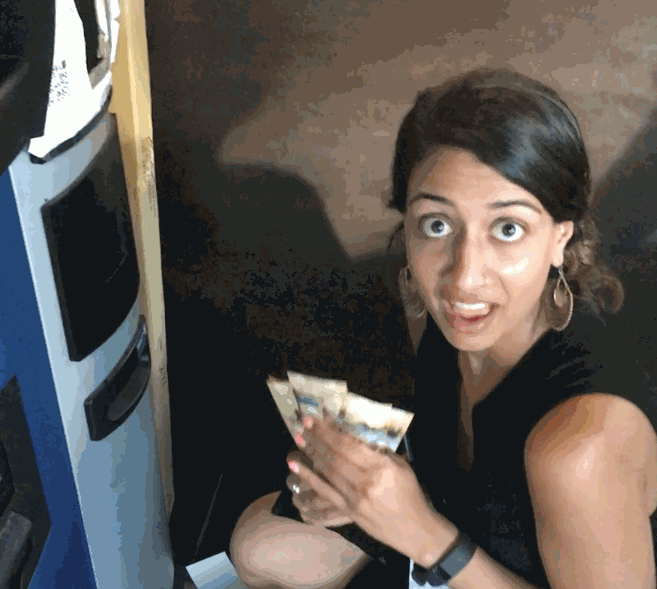 (Veeprit. You gotta love this girl!)
.
. .
. . .

---
Don't know about you, but I get the chills just looking at it. It's like the most gruesome trainwreck, unfolding in slow motion in your mind's eye. The STEEM Black Paper goes on to explain that the reasons they're doing this are twofold:
'Cuz everyone likes bimbos
and
'Cuz we need to transfer material resources from male trailblazers & investors in crypto who generate and grow them, to the bimbos, who generally spend them, keeping the overall world economy afloat.
Before STEEM entered the scene, the wealth generators were pretty much marinading in their own juice here; bimbos were completely unheard of and everyone was quietly making money on bitcoin, litecoin, even shitcoin. We just had it too good, guys. It couldn't possibly last.
Consider how it is in the "real world". You have your normal government taxes, the inflation tax due to your friendly banker, some bridge tolls you probably pay here and there to the trolls with badges & guns... but if you think that's about it, you're way mistaken. There's also the very important female sex tax, and the bachelorhood tax on men. What we romantics call marriage, is in fact a brutally pragmatic resource extraction scheme. First, you spend all your cash on your wife. Naturally, she deserves the best. Next, your remaining resources are "equitably split" during your divorce (that is, they go to the woman) by the courts. Then you have child support due for 18 long years per lovechild, if you were stupid enough get entrapped that way. And finally, court-ordered alimonies to whatever wives you had over the years - often for life - so she can maintain whatever level of material comfort she had while with you, whilst seeing new men and exploring her sexuality.
I think you'll agree, it just wouldn't be fair if the crypto world kept on going with its unregulated and untaxed sophomoric swagger and kept making money just for itself. Sorry crypto, it's time to grow up, and man up. Enter STEEM: The Arranged Marriage of Bimbo to Crypto. You may now upvote the Bride.
Even as you read these words on your flickering device, I am gently hacking my way through the reptilian jungles into your rational brain. Here I am, Friend Coyote calling to you from the wilderness with my tin-and-string dialup. And it's not the hoarse call of an emergency or of somebody in need, but the voice of a brother seeking to rouse another from his unlikely slumber under the bright-bright infinite stars.
You are only in this tight spot, entrapped this way, because you probably don't know any other ways to be, and the Steem B̷̧la҉̸c̷͠͏k̢͞ P͏̶ap͠e͢͡r̶̕ is very explicit that your passivity is your c̥̥̘̞̝͓̟̲̗o̺̬̘̗n̮͖͍̯͈̞͉̟̙͇͇͕̟͕̹s̲̱̣̩̫̗̠̲̹̣̰͔̬ͅe̺̬͍͓̯̳̹̞͙̤̞̱̖̞n͚͉̯̬͓̳̜̟̝̣ͅț̜͔̺͕̻̦ ͙̻͙̭̳͓̦̠̣̥̞̱ṭ̱̣̲ͅo̲̞̘̗̤̳̬ ̩̬͚̹͔͉b͙̥̪̱̲̮ͅe̜̦̬͈͔̭̗͉̭̙͚ͅ ̺̺͓̯̳͚̬e̺̩̯̮̮̗̻̦̬̯̼͇x̮̤̯͙̯̩̤̦̜̦p̱͓̟͙̯̲̙͔̣͕͍̺͍̱̱̖̪̝͔l̥̯̼̳̘̝̼̬̤͉͉̳̱̟o̺̦̗̺͈̜̻͕i̱͉͕͍͍̙̫̘̪ͅt̫͕͕̙̮͚̯̫͍̝͎̝̪̗̻͇̣e͖̠̗͈̠̙̠͉̱͉̫d͖͎̻̻̤̙̭. They would do nothing without your consent, they are not idiots.

We, the Others
I hear @ned is working on a Community Constitution for the site. Good luck with that. As for us, us free spirits from the wilderness, we never needed a constitution or moral pats on the back. All we need is insight, a simple Yes, a simple No. A straight line. A goal.
How simple it all is! Look at those bullets and paragraphs, how they drop very harmlessly to the ground mid-flight - just because we willed it. The System extends its reach way beyond just SteemIt, indeed it's sitting happily deployed right now in the basal ganglia of your own brain. It's in the wetware, like it or not. To even begin fighting back against it is unthinkable at first, and we may need to sit down, close our eyes and admit our abject defeat. Gotta start somewhere, and the honest truth is not a bad place to start. Thankfully, once you know what the system is, you cannot un-know it. I know some of you shitlords are smirking in there right now "thank-you SO much for ruining everything". You're welcome and #$&$ you too, I tried to be gentle for our first time.
Here, for lack of a better term, is what might pass for our own lil' constitution, post 9/11, post Black Paper revelations. Giving it to you raw and unedited, with the original coarse language intact.

If I can pontificate abit, for your edification, one of the rules of the Internet is "there are no girls on the Internet". This rule does not mean what you think it means.
In real life, people like you for being a girl. They want to fuck you, so they pay attention to you and they pretend what you have to say is interesting, or that you are smart or clever. On the Internet, we don't have the chance to fuck you. This means the advantage of being a "girl" does not exist.
You don't get a bonus to conversation just because I'd like to put my cock in you.
When you make a post like, "hurr durr, I'm a girl" you are begging for attention. The only reason to post it is because you want your girl-advantage back, because you are too vapid and too stupid to do or say anything interesting without it. You are forgetting the rules, there are no girls on the internet.
The one exception to this rule, the one way you can get your "girlness" back on the Internet, is to post your tits. This is, and should be, degrading for you, an admission that the only interesting thing about you is your naked body.
TL;DR: tits or GET THE FUCK OUT
FELLAS, DOES IT REALLY MATTER IF SHE IS VERIFIED OR NOT? REALLY?
THE IMPOSTORS AND THE LEGIT WIMMINZ BOTH POST THE EXACT SAME CONTENT FOR THE EXACT SAME ENTIRELY UNDESERVED REWARD. NIP IT IN THE BUD. THE PROBLEM IS YOU, NOT HER.
THERE ARE NO GIRLS ON THE INTERNET.
Peace, sexy girls put back in their place, and freedom to attempt the unimaginable.
this article ONLY accepts upvotes made with the middle finger