I have been on steemit for more than 2 months and I've earned almost $100 and withdrew them. But lately I don't earn so much, that's why I don't care about money and I will give some of my earning to random people that upvote and resteem my posts. And I will not stop doing that till I get at least $5 or more from each post I will write. So I want to giveaway $3 STEEM DOLLARS to 100 people: $0.03 for each random one who will upvote and resteem this post or any posts I created.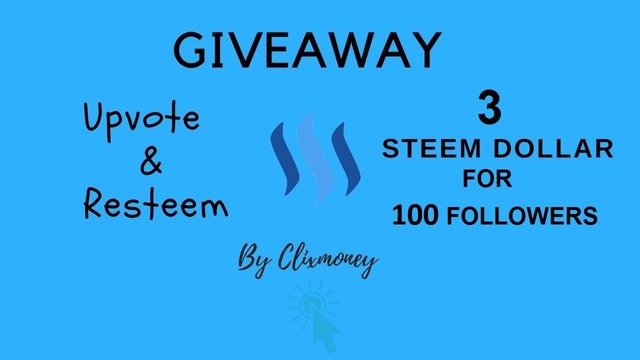 If you don't know how to resteem check it here : HOW TO RESTEEM ON STEEMIT ? 💡
When I send money I will share it in each post I write, with proofs and I will write your logins and advertise them in my next posts.

Keep following @Clixmoney .
---
Youtube channel - Twitter - Instagram - GOLOS - FACEBOOK GROUP -RESTEEM TO BE RESTEEMED
---
It continues, I still send $0.03 SBD to random people who will upvote and resteem my new posts.
---
More I will earn more I will give ! Spread the news and everyone will be happy ☺.
If someone is looking for proofs go to my page at @Clixmoney and go to my wallet and you will see that I am always sending people steem dollar like I promise !
Go ahead, upvote and resteem and receive your prize !