Is there any room for short form content?
I realize my opinion might not be popular, but it's something I've been considering lately. The truth is that it's hard for everyone to agree on what it means to have quality content being posted on Steem, since quality and beauty is in the eye of the beholder, as they say. But my concern comes from the possibility of Steem achieving mass adoption.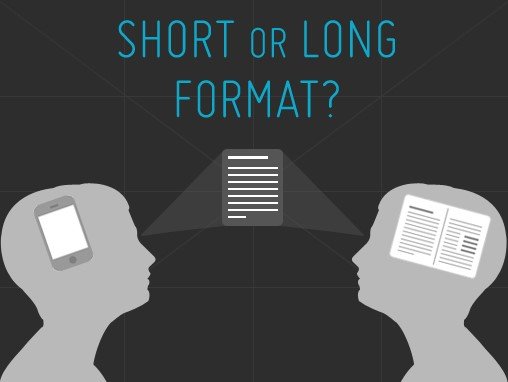 img src
I've read quite a few opinionated Steemians on this subject, some believe that short form content is OK, but only if the content makes a small payout. I don't know what to say about that honestly. I can understand effort, I can understand merit, but I'm also aware of something called talent or skill, and that makes all those definitions a bit blurry.
As a musician, I tend to think that skill and talent are much more important that bulk effort. Basically, if someone has spent most of their lives becoming a skillful player, singer or writer, it's not too relevant if their post took them five minutes to make. The post cannot effectively show the trajectory taken to achieve that level of efficiency.
I know professional musicians that take hours to record a song, as well as some (the ones I prefer) that can do it in one or two takes. The final results are arguably the same, but the recording itself does not present evidence of the time spent on the tracks. This is why this question is so interesting to me.
Mind you, I'm fully aware that Steemit as a platform is nothing but an application built on top of Steem and that other applications are sure to come and take over niches. Dtube, Dsound are some great examples of applications built on Steem, but they are still not catering to absolutely everyone.
Mass adoption, maybe we are not ready
Might not be possible with the current Dapps built on top of Steem. Maybe this realization of mine will be perceived as a negative statement, but I'm trying to be objective about it. If Steemit (not steem) is so quick to reject short form content, flag it without discrimination, regardless of payout amount (I've seen this myself). I can't help but to imagine would be Steemians give up lost in confusion.
"Was I not allowed share a short prayer?" - "Was I not allowed to post a quote?"
I certainly learned early on not to even consider posting short content, as I got criticized heavily for it. However, nothing of the sort was ever explained on anything we could even consider as "rules".
I'm posing this question today, simply because I'm curious as to how everyone else feels about this big challenge, this negative stigma Steemit users seem to have towards short content.
I doubt I'm alone on this perception and experience...
Hope everyone is having a beautiful weekend
@chbartist