Hi everyone , i have a proposal ..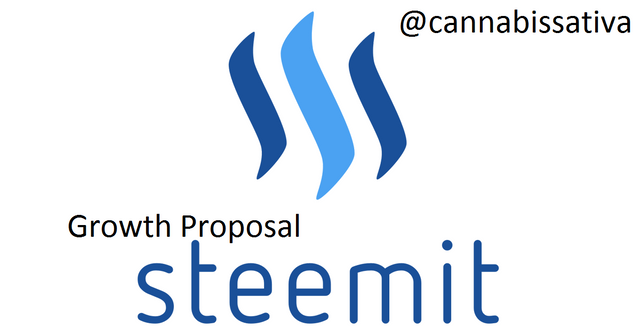 Lately i am a bit boggled by what it seems , a very unfair distribution of wealth .
I also notice hat a lot of people having problems with this issue , and this had me thinking of a way to improve this for steemit , and making this a bigger , better , and more fair community. A community i really like , but certainly has some issues to work out.
I am not fully aware of how everything works , so excuse me if i make some bad assumptions and please correct me on it ! This is just my personal experience in my time here on steemit. And i am not so techy as some of the people here are.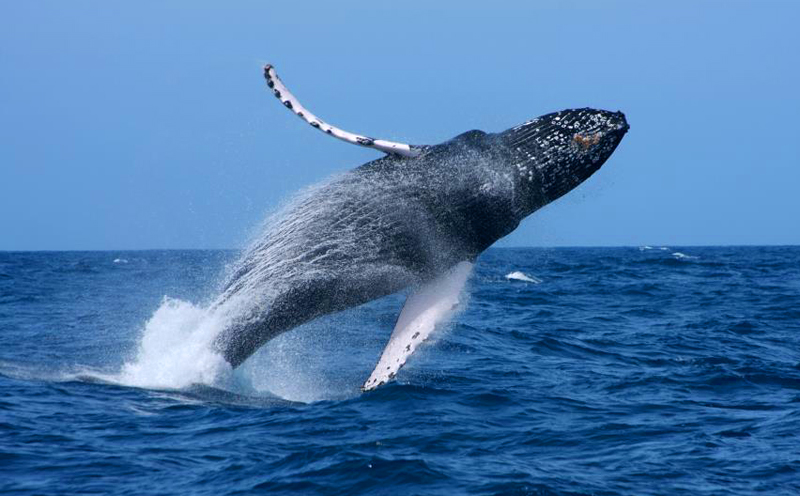 Whales.
I think it's clear for everyone , what the influence of whales is in this community . They have a lot of voting power , and have a great influence on the rewards of your posts. And although some whales are following many people . I rarely see them upvote content , that doesn't come from other whales. Which to me feels a bit like an elitist inner circle. I understand they want to protect their investment , but is it really fair for a small group to decide what good content is ? I don't agree on this one . The rewarding system now is more based on WHO follows you instead of your content.
A lot of comments i got is that whales are here to build this community up etc. But then again , they only seem to upvote other whales. My proposal to this you will read further up in this post.
Minnows .
I want to show the role of minnows in one single circle chart .

Where are the green minnows at ? That's right , we are nowhere. Our role is minor , and we seem to have no influence or what so ever.
In my opinion it will be the minnows who will build up this community. Cause they will be the one , adding the most content to this community. And thus creating the most value for this , once the distribution of rewards is straightened out .
There is no way to compete with the minnows for the whales once this goes mainstream. Looking at the number of facebook users , the role of the whales in number , would be very small. So i think it's a smart move for steemit , to make to minnows have more power. Again , you will read my possible solution for this.
The system how it works now , feels like being part of the fortune 500 , for the whales that is.
Since i am pretty sure most people joined the world of crypto currency , is because they are sick and tired of elitist banksters , and want to be outside the banking system , this is very damaging for the growth of steemit. Growth which all the whales , seem to support.
This has to be changed.
Working out a non fraudulent system.
Since i read comments , approving this system , to keep fraudulent fake accounts out of sight , which i totally agree on.
I have a small pre proposal , to fight this .
Since i am an online gamer , a community which has a big burden of fighting cheaters , i know the following thing is possible.
Which is to connect your account to your hardware.
In the online gaming world they are able to give someone a hardware ban , which makes people unable to use their account with their current hardware configuration. In this case the private key you use , will be connected to your hardware , this in combination with ip , and maybe some other things that are possible combined , should make it very hard to make fake accounts. Something which i fully support , since i've spotted some here and there already .
So how do we keep whales still in control , but distribute the rewards more equal ?
I have a proposal for this .
Since the whales are here to build and strengthen this community , (as they say) i have my most important proposal .
What if we limit the rewards of whales , to like 10 - 20 dollar , and distribute the rest over to ACTIVE single accounts. Per post , this will be very minor , but in the long run this could this build and make the community stronger , and there will be rewards due to content , and not due to who follows you. Since i have more faith in people , voting with their heart instead of their wallet.
Top 10 trending posts.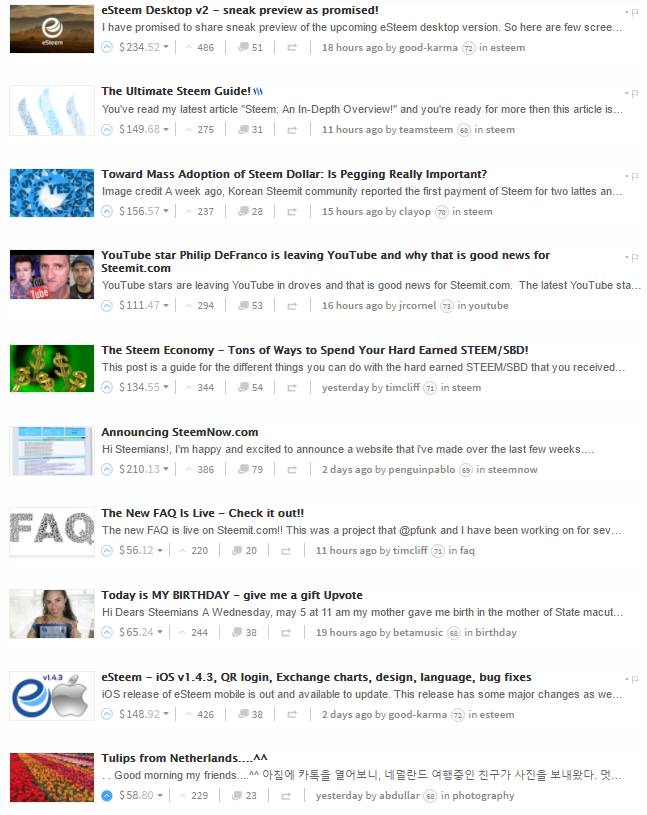 All posts have reputation over or near 70 or + which i consider to be whales ,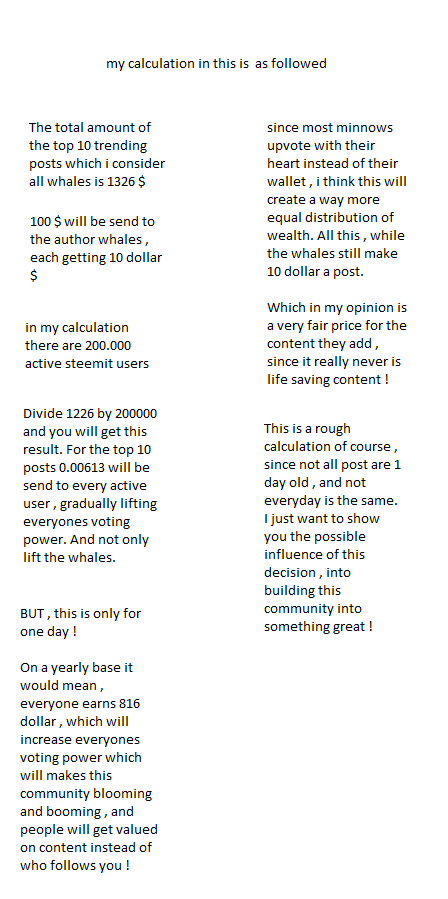 This resolution , will give the whales time to breath while still making good money each day , depending on their own posting activity , and move the power of the whales more towards the minnows , which are really the ones to build this community. It will add more value on content , then on who follows you , and will be more rewarding for your efforts .
It hurts a bit to put so much effort in a post , and not to be rewarded , cause you weren't lucky enough a whale didn't see or like your post.
This system is wrong , and will stagnate growth of this community .
A community i love , cause it gives so much great opportunities for peole in poorer countries , who possible add amaing content.
I also want to give a shoutout to @fyrstikken , the only whale constantly upvoting people and not caring about his voting power , you are a great person !
@demotruk
@ned
@fyrstikken
@good-karma
@neoxian
@dollarvigilante
I am sure this solution will bring a number of problems , like every change does!
But i also have faith , that we , as a community , can work our way out of it putting our heads together.
Me and me wifey @fernwehninja love steemit , and we will move mountains to improve this community !
This has huge potential , and i will do everything i can to improve this .
This post cost me 3 hours to make , so i will take a rest now hehe . But i love steemit , so you do what you gotta do!
I hope you all have a good day and keep steeming !