Yesterday Was a Massive Media Day for Steemit -- Here's How You Can Keep Momentum Alive!
After days of anticipation, my column on InvestorPlace Media, which discussed how Steemit represents a major risk to Facebook's seemingly sacrosanct dominance of social media, went live yesterday! You can check out my article here -- http://investorplace.com/2017/06/facebook-inc-fb-fear-social-media-kingslayer/#.WUJOItyQyM_
Ironically, although my Steemit postings advertising the mainstream coverage did not generate much interest, the mainstream media networks absolutely LOVED IT! Indeed, I was able to snag the "Big Three" -- a republishing through Nasdaq, MSN Money, and Yahoo News! This might even be the first time in history that extensive Steemit coverage was republished across the major networks on the same day!
Here they are for posterity's sake:
Nasdaq

http://www.nasdaq.com/article/why-facebook-inc-fb-should-fear-this-social-media-kingslayer-cm803506
MSN Money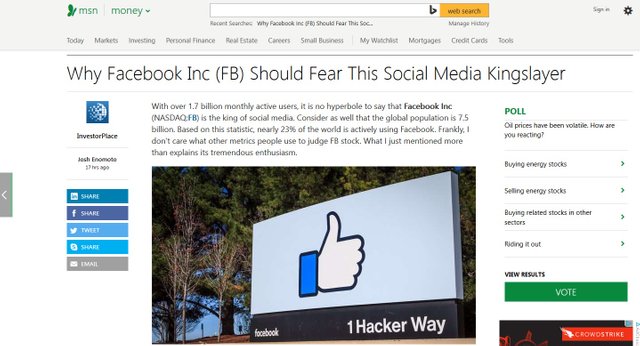 https://www.msn.com/en-us/money/topstocks/why-facebook-inc-fb-should-fear-this-social-media-kingslayer/ar-BBCG0o5
Yahoo News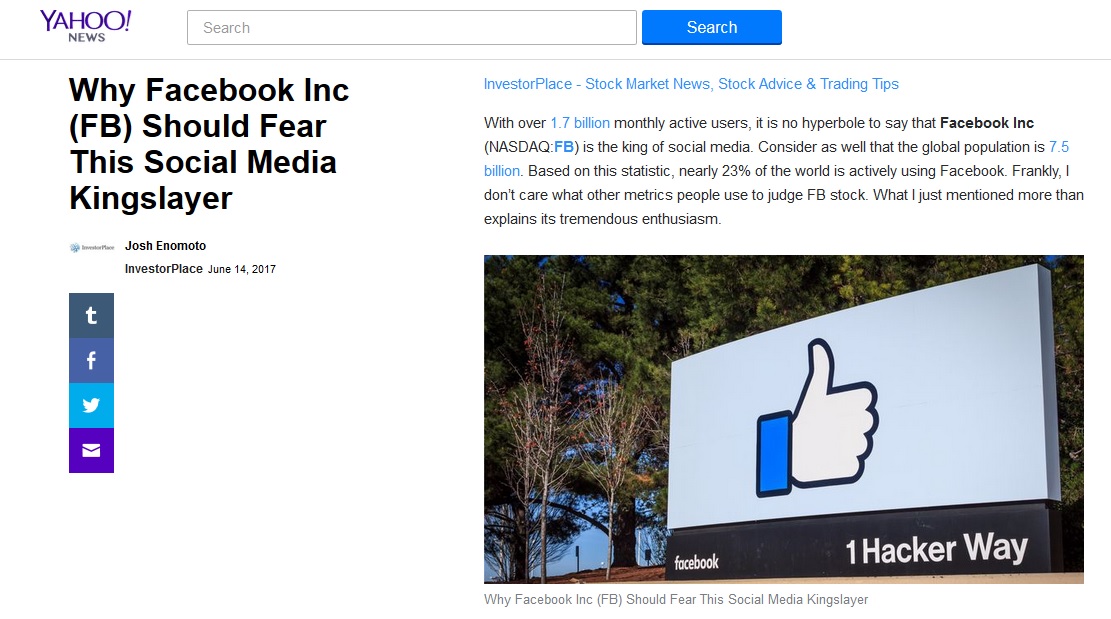 https://www.yahoo.com/news/why-facebook-inc-fb-fear-154842519.html
Keep It Going! And Don't Resteem Me!
I've had many conversations with people who wished that more people would come onboard Steemit. Logically, more volume means more engagement, and therefore, more profitability for all of us.
Well, this is your opportunity! Share this InvestorPlace article -- http://investorplace.com/2017/06/facebook-inc-fb-fear-social-media-kingslayer/#.WUJqA9yQyM8 -- with your friends and family! The more we get the word out, the quicker we can turn Steemit to the FB slayer that it is!
By doing this, you are also helping bring cryptocurrency news to the mainstream. Presently, I cannot write about bitcoin, ethereum, and the other cryptos because the interest is simply not there. But if you read my InvestorPlace article, it will prove that people are genuinely hungry for crypto (and STEEM) news!
Honestly, I'd much rather you visit my InvestorPlace article and share it on Twitter, Facebook, or what have you, rather than resteeming me. I appreciate the resteems, but in this context, it's sorta like crypto-masturbation. The point here is to draw new folks in, not circle-jerk each other.
It's Up to You...
You can either help build this momentum, or you can let it drift into Steemit compost. I'm alright with either option. But if you choose the latter, I will not be able to help the cause, so to speak. I'll be exclusively assigned to paper equity markets, while the foreseeable future Steemit coverage will have to be generated through internal circle jerks.
Now, don't get me wrong. Circle jerks are fun! But they're boring because they're preaching to the choir. At some point, we got to get out to the mainstream and acquire real reputation and real credibility.
Folks, this is it ... I started the story. Hopefully, you will compose the rest!
http://investorplace.com/2017/06/facebook-inc-fb-fear-social-media-kingslayer/#.WUJOItyQyM_