Follow your followers the manual way shortcut
If you try to keep up with your followers everyday it can be a tedious task, especially if your list is huge and anybody who isn't quite good at programming or implementing tasks like me is in the need of some shortcut when it comes to deal with data masses.
Here I present you one solution in Firefox for quickly skimming through the Steemit followers list and to follow them back.
If you logged into your Steemit account, go to 'My Blog' to get your overview, here in the headline you get the info of your followers if you click on it.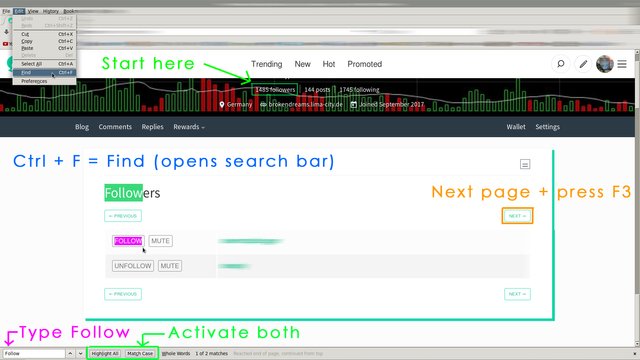 After that you hold the control key and press the F key for Find, now you should see the Firefox search bar somewhere down there.
Just put in the word 'Follow', check and activate the buttons 'Highlight All' and 'Match Case'
Now Firefox will highlight only your NEW followers and you can easily run through the whole list with hitting the key F3 or arrow down in the search bar again and again.
If all followers on that page are checked it will automatically return to the head line Followers showed here in green.
After that you can press alternately the NEXT button and F3 to go on and scan through your whole list.
I hope this helps a little to fullfill this everyday task :)
Have a nice day and as always, have fun!