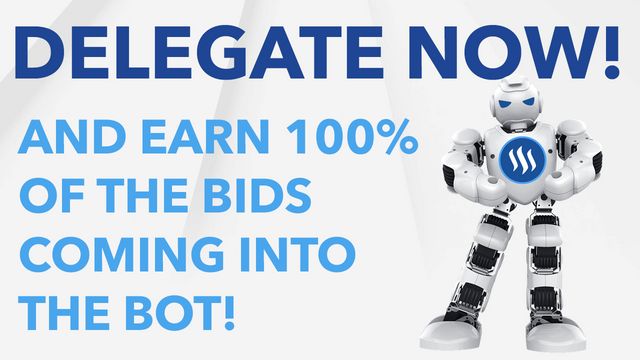 Earn 100% of All Incoming Bids
Starting today, delegators will be earning 100% of ALL bids coming into my upvote service! This is HUGE!! This is equivalent to having your very own upvote bot on your own account (minus the curation rewards). Current delegators will see a nice increase (10%) added to their payouts starting tomorrow! And if you haven't delegated to my service yet, now is the time!!

How Can I Delegate And Earn Passively?
If you would like to support the @minnowfund, and earn 100% of the profits in daily SBD and Steem payouts, please consider delegating to my service. Your support goes a long way here! Simply go to https://steembottracker.com/delegation.html and insert your username, click Load, add @brandonfrye as the Delegatee, and insert the amount of Steem Power you would like to delegate.
Note: I recommend delegating a minimum of 50 SP.

Why Would I Do This?
The answer to this question is two-fold:
My main goal with the @brandonfrye promotion service is to add Steem Power to the @minnowfund initiative which delegates out Steem Power every week to minnows on the platform. By increasing the payout to delegators, I will bring on many new delegators, and in the process, increase the overall vote worth of my account. This means more curation rewards will be earned on my account which are all paid out to @minnowfund.

Like you, I REALLY enjoy using my bot. It's one of the few upvote bots that actually returns a positive ROI. So, by bringing on new delegators, we can all use my bot more often as it will have an increased vote worth. 😁

Blacklist & Terms of Service
I do my best to ensure that my service is not used to promote spam, scams, plagiarism, cons, or the like. Not only do I monitor the bids coming into my bot, and their corresponding links, but my bot is also utilizing the @buildawhale blacklist so that known "problem accounts" cannot use my service.
You Will Be Blacklisted And Lose Your Upvote if:
No effort was put into creating your post (i.e. two sentences long, a single image, etc.)
You take advantage of our service with multiple upvotes on the same post using threaded comments
You plagiarize content (including images, audio, video and text)
You send spam via wallets, comments, posts, etc.
You are caught scamming or committing fraud
You create (or upvote) posts that are complaining about upvote bots
You are already on the @buildawhale blacklist
If you're caught doing any of these things, you will lose your upvote and NOT be refunded! These bids will be paid out to the @minnowfund initiative as a donation.
We also DO NOT allow the following tags:
NSFW
steepshot
dmania
Due to the lack of effort involved, low quality, and high amount of plagiarism with these posts, we cannot promote them. But you will receive a refund if you place a bid on a post that includes any of these tags.
Please note that I'm not perfect and am capable of making a mistake. If there was a mistake on my part and your account was blacklisted, I will personally refund your account and make things right. Just reach out to me via https://steem.chat/ and we'll work it out there.
Please reach out to me and report abuse if you see it!

How to Promote Your Post & Current Bot Parameters
If you would like to promote your (or another person's) post then simple send a minimum bid of .05 SBD or Steem to @brandonfrye with the link to the post in the memo field. The percentage of upvote you get will be determined by the amount of your bid. For example, if two people bid during a round and one sends 1 SBD while the other sends 2 SBD, the first person will receive a 33% upvote while the second person will receive a 66% upvote.
Current Bot Parameters
Minimum Bid: .05 SBD or Steem
Minimum ROI: 1%
Max ROI: 10%
Min Post Age: 15 Minutes
Max Post Age: 3.5 Days
Allows Comments: Yes
Bot Leaves Comment: No
Automatically Refunds Invalid Bids: Yes
These parameters could be changed at anytime. I recommend viewing the @brandonfrye upvote bot on https://steembottracker.com to always have accurate bot details. You can also see the current bidding round and the recommended bid value.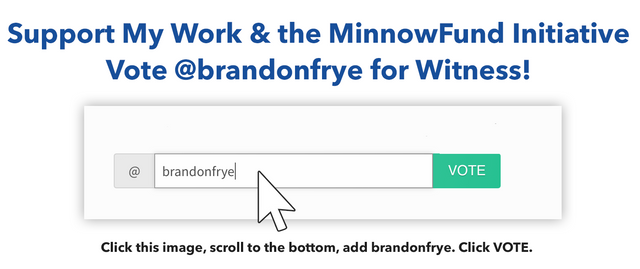 If you'd like to support my efforts to make Steem a better place for both content creators and investors, please consider voting @brandonfrye for witness