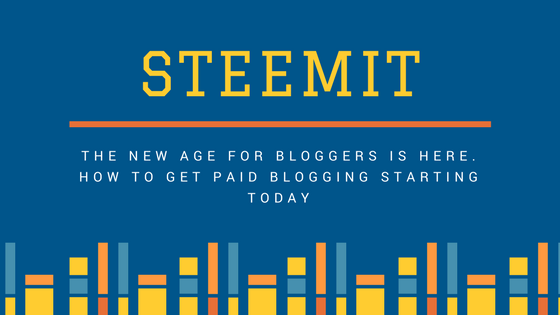 I know you hear it all the time you can make money blogging but no one really gets into the fine details of just how much effort has to go into it. Many now expect that making money blogging is not possible or will take years of work to get your site to start ranking.
However all of this has changed due to Cryptocurrencies!
You see right now you are on a site called steemit, which is a social media site that allows you to make money blogging.
There is no cost to get started all you have to do is join and start blogging about things your good at. One thing I learned by helping small business owners out is that everyone's has a unique and special ability that they should be sharing with the world.
How does blogging on Steemit make me money from blogging ?
By posting high quality content on steemit in a blog type format you are providing information that is helpful to others. Other currently on the steemit network can then upvote your blog post for 7 days anywhere from a 1% vote to a 100% vote. These votes hold a value of steem and steem back dollars which represents the vote value of the person voting on you.
For example currently I have nearly 4,000 steem powered up on my account. This makes my vote at the moment worth about $2 per vote. As I find content or comments that hold value and I like I can vote on them and then earn a curation bonus in 7 days. So not only am I now making money from blogging but I am also earning money by commenting and engaging with my audience and other steemit users.
Your First Steps
Steemit users hold high standards as they care about the community and the quality of the growth here. It is because of that I highly recommend you first browse around, leave a few comments on posts you liked and follow those people. From here write you first blog post I recommend a introduction post.
Take serious time and effort on this post as others in the community look here first to find high valued content writers and people they will enjoy spending time on their posts.
Things you may want to include in your introduction post...
Tag it as introduction (only one time per person can this be done)
Include a picture of yourself with the date and your steemit username (shows you really are who you are, plus it is also fun to look back on a few months from now)
Information about yourself, what you do, your family, your skill sets etc all paint a picture of who you are and people can start to relate with you.
Now its time to jump on board and start blogging for cryptocurrency. The days on old drawn out hard work of blogging are over. Jump on the new age of blogging with Steemit.
---