Now advertising Steemit on Reddit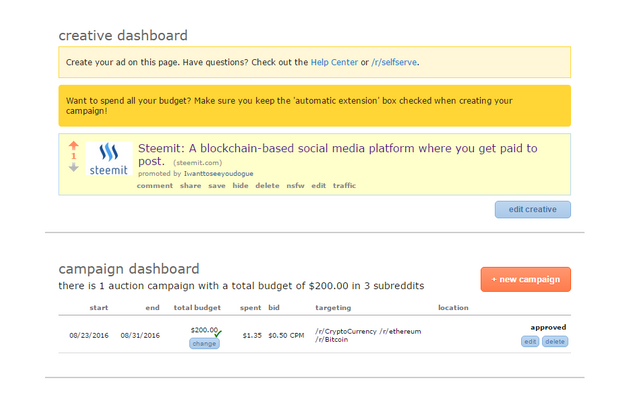 With the earnings from previous posts I have started an advertisement campaign for Steemit on Reddit. I have chosen Reddit as my next platform to advertise on, because it is quite similar to Steemit. I think a lot of people from Reddit will be interested in Steemit.
If you would like to see the results from the ad campaigns I have been running on Coinmarketcap.com and Blockchain.info you can check it out here.
For now, it's a $200 campaign, costing $0,50 per 1.000 impressions. It is advertised on the subreddits /r/CryptoCurrency, /r/ethereum and /r/Bitcoin. If you would like me to add other subreddits to this, let me know in the comment section and I will add them. The SBD earnings from this post will go toward extending this campaign. I'm almost out of funds so the outcome of this post decides if I can continue my Steemit promoting efforts.
I'm asking others to follow my example, so we can make a lot more people aware of Steemit. There is referral tracking in place through the link https://steemit.com/?r=youraccountname but it has not yet been decided what the rewards for referrals will be. Please be responsible when using referral links, don't spam them, that will result in a bad reputation.
Here are some banners you can use for advertising. Credits go to @pfunk for making the first two.