Why My Fiancee Decide To Never Post On Steemit Again?
Hello Steemit, 
This world is very strange but steemit is more stranger, I believe in democracy on steemit and I respect member's freedom so I'm not posting this to complain I want just understand the way of thinking on steemit.
Couple Days ago I have convince my fiancee which is a primary school teacher, artist and blogger to leave Google Adsense even delete the most profitable and clickable adsense banner to advertise steemit on her food blog to join steemit community and start posting on steemit so I have create an animated banner and replace adsense and advertise steemit on her food blog http://www.our-meals.com/ with more than 15 000 unique visitor per month, the banner still there and any one can check it.
Introduction Post:
So she was very happy to post her Introduction and make some photos of her artistic peaces that she have decorate and paint, she have make a small video prove her love to steemit and guess what , she get only 5 up-vote including mine and her up-vote, here is some of her work photos:
People Don't care about posts they care about money:
Most of people on steemit care about money not about posts, they up-vote only posts up-voted by a whale or a dolphin or their posts, if a whale up-vote some post people will follow and up-vote even a test post, like I said I'm not complaining I wanna just understand,  stino-san  is one of my favorite bloggers on steemit and I'm following him since weeks, he post yesterday a test post, guess what people up-vote an empty test post here is the proof :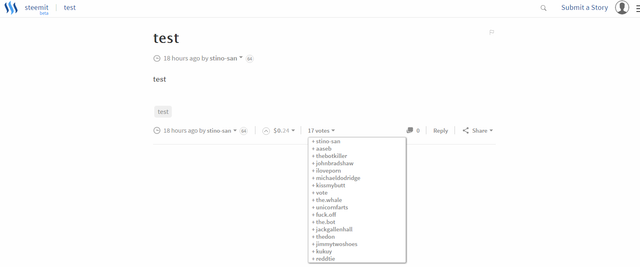 After she has saw this post my fiancee decide to never post again on steemit but still advertising steemit on her blog, why?
Because steemit is a great idea, unique of his kind and because steemit is a peace of art for her that's why she will keep advertising steemit on her blog.
I have write this post for her honor and to ask a simple question: Please tell me how do people think ?
May this post will be ignored like 100's of other posts but it will be never deleted from steemit.